When former Clippers GM Elgin Baylor opted for center Michael Olowokandi over point guard Mike Bibby with the first pick in the 1998 draft, Baylor's response to his skeptics was, "If you have both a good lightweight fighter and a good heavyweight, who do you take? You always take the good big man over the good little guy."
Every summer, we hear executives and analysts euphemize 7-footers with limited skills as "projects," while guards get passed over for being an inch or two "undersized." The suggestion is that you can't teach size, which is why only nine of the first 30 picks in the June 2008 NBA draft were guards.
The top two guards selected, Derrick Rose and O.J. Mayo, have been lighting up the league during their rookie campaigns. What's been more surprising, though, is the procession of guards that followed Rose and Mayo in the 2008 draft. Sure, big men like Kevin Love and Michael Beasley have had their moments, but the guards have made the most profound impressions -- and Rose and Mayo are just the tip of the iceberg.
Oklahoma City's Russell Westbrook and the Los Angeles Clippers' Eric Gordon were the next two guards off the board last June. Westbrook and Gordon are decidedly different. Westbrook has an explosive first step and scores from midrange, while Gordon has limitless range and uses his physical strength to get to the rim. They both came into the season with the "combo guard" label.
In the context of evaluating a player's potential, "combo guard" has traditionally had a slightly negative connotation. It often means that a player's ball-handling isn't quite dependable enough to run the point in the NBA. At the same time, the combo guard might be overmatched on both ends against the league's bigger, more physical shooting guards.
That hasn't been the case for either Gordon or Westbrook. After a rocky November, the Oklahoma City rookie dazzled in December, putting up numbers comparable to both Rose's and Mayo's.
Never known for his outside shot, Westbrook has been much more effective at driving to the rim and finding shots for himself inside 15 feet. Westbrook can get in the air and is fourth in the league in rebounding rate among starting point guards.
Gordon experienced baptism by fire with the Clippers when virtually every scorer on the roster landed on the inactive list. On Thursday night he scored at least 20 points for the sixth straight game in the Clippers' 106-84 loss in San Antonio. Gordon has shot 48 percent from the field over the stretch and hit 43 of 47 from the line.
Both guards have emerged as primary perimeter stoppers for their respective teams. Westbrook refined his defensive instincts under Ben Howland at UCLA. His length, quickness and ability to anticipate screens make the 20-year-old already one of the best defensive point guards in the NBA.
Gordon's dance card has included Allen Iverson, Kevin Martin and Jason Richardson in recent days.
The biggest surprise of all might be another combo guard, San Antonio's George Hill, who has known Gordon, a fellow Indianapolis native, since the two were in elementary school.
Were it not for an early-season injury to the Spurs' starting point guard, Tony Parker, Hill might not have logged many minutes. But when Parker went down, Hill stepped up. He averaged 11.1 points in 24.3 minutes per game. As a backup point guard, Hill protects the ball and is selective with his shot -- but not afraid to drive into traffic and draw contact. And like Westbrook and Gordon, he plays an aggressive brand of on-ball defense.
The list of successful rookie guards runs deep, and each player faced a slew of doubters skeptical about his ability to adapt to the NBA game. Some critics wondered if Courtney Lee had the athleticism to be an effective wing in the NBA. In Orlando, Lee has learned to find open shots along the arc and has been indispensable as Stan Van Gundy's best perimeter defender.
Charlotte's D.J. Augustin was regarded by many as far too small for the pro game. Less than a year later, he's finishing games for an improved Bobcats squad and finding his way to the rim.
Nobody was underestimated more than the Heat's Mario Chalmers, who slipped to the second round on suspicions that his dribble game and ball-handling weren't up to NBA standards. But Chalmers has let Dwyane Wade do the creating in Miami, while he waits patiently for open looks on the perimeter. Defensively, he's got some of the quickest hands in the league, leading the rookie class in steals.
Rarely does a guard with a complete package arrive on the NBA's doorstep. What the Class of 2008 has shown is that guards of various shapes, sizes and skill sets can thrive with the right opportunities.
Kevin Arnovitz is an NBA editor for ESPN.com.
Dimes past: Dec. 20-21 | 22 | 23 | 24 | 27-28 | 29 | 30 | 31 | Jan. 1 | 3-4 | 5 | 6 | 7 | 8
By Henry Abbott | ESPN.com

Anybody see the end of the first half in the Cavaliers vs. Bobcats last night?
At the end of the blog is the play-by-play of the last 16 seconds.
What we have there is four technicals in 12 seconds. They were all called by referee Michael Smith.
We could all live the rest of our lives and never again see one referee call four technicals in 12 seconds, barring some kind of bench-clearing brawl. And they all seemed to be pretty low-rent technicals.
Juwan Howard
got the first two, and he wasn't even in the game. The delay of game calls were the kind of offenses that often go unpunished, like an untucked shirt.
One guess is that the first two ended up seeming a little harsh -- Howard and his coach Larry Brown both looked downright sad and disappointed at how it went down, and whatever Howard said, he was certainly calm -- which led to the next two. But who knows. In any case, it was unusual, that's for sure. And delightfully, it had little to no influence on the game. Both teams made two free throws, and the Bobcats got blown out all the same.
To read the entire TrueHoop blog, click here.
By Maurice Brooks
ESPN.com

THURSDAY'S BEST
Chris Duhon, Knicks
: New York led Dallas by five at halftime thanks to a perfect shooting performance from Duhon. He went 9-for-9 from the floor, including 4-for-4 on 3-pointers, scoring 22 points before intermission. He finished with 24 points and seven assists.
---

THURSDAY'S WORST
Jared Jeffries, Knicks
: In 23 minutes of action, New York's starting center did not attempt a shot from the field or foul line. It's a good thing that the Knicks' Eddy Curry made his season debut Thursday.
---
QUOTE OF THE NIGHT
"In the second half, they hit everything they shot. We have to change the way we play our game, like playing better on defense."
-- Clippers rookie guard
Eric Gordon
after his team was routed by the Spurs
• See Thursday's daily leaders
By John Hollinger | ESPN.com

After Wednesday's 42-point win over Oklahoma City, Minnesota has moved all the way up to No. 20 in the Power Rankings. Believe it or not, the Wolves are 6-4 over their past 10 games, including winning their past four. In fact, if Minnesota hadn't blown a 29-point lead in Dallas, it would own a six-game winning streak -- the longest in the league.
Two factors have seemed to be key for the resurgence. The first is that Randy Foye has settled in more or less permanently at shooting guard, where he's picked up his production quite a bit. During his past 10 games he's averaging 20.7 points and has made at least half his shots in all but two of them. •
Read all five Hollinger Insider Gems.

Tim Legler shares his views on the NBA with Frank Dale and Joe Mead, including what is wrong with the Celtics right now.
NBA Today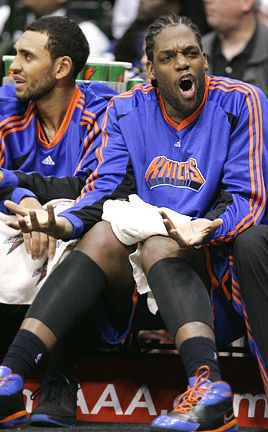 AP Photo/Donna McWilliam
Eddy Curry, who missed 33 games because of a knee injury, saw his first action of the season in the Knicks' 99-94 loss to the Mavs. The big man had two points and two rebounds in three minutes off the bench.
---