Stopping Warner key to containing Fitzgerald:
Standing between Steelers defensive coordinator Dick LeBeau and another Super Bowl championship is the player he describes as the wide receiver who has the best hands he has seen in his 50-year NFL career. "He's the best I've ever seen at catching the ball," LeBeau said of Cardinals receiver
Larry Fitzgerald
. "He plays like he's 7 feet tall. With timing, extension and the best eye-hand coordination I've ever seen -- and I've seen a few receivers. "The thing that makes him so formidable is the quarterback can put it up there with accuracy to where it becomes a contest between Fitzgerald and whoever, and so far it's been him." So what is LeBeau's game plan for defending Fitzgerald in Sunday's Super Bowl XLIII? It is brilliantly simple: sack Cardinals quarterback
Kurt Warner
before the ball leaves his gloved hand. LeBeau seems to know that not even his top cornerback,
Ike Taylor
, can possibly control Fitzgerald, who already has accumulated 10 more yards (419) than Jerry Rice's league record for postseason receiving yards, with the Super Bowl still remaining.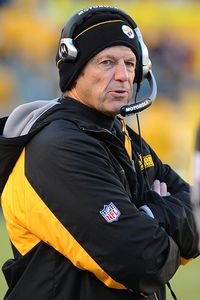 George Gojkovich/Getty Images
Slowing Larry Fitzgerald may be one of the toughest challenges Dick LeBeau has ever faced.
But LeBeau might be able to dominate at the point of origin of Fitzgerald's five postseason touchdowns. Outside linebackers
James Harrison
and
LaMarr Woodley
have combined for more sacks this season than any other tandem in Steelers history. "No question about it," LeBeau said. "If Warner's on the ground, we don't have to cover Fitzgerald.'" Not only that, but Warner often has put the ball on the ground when he's sacked. He has lost seven fumbles this season, and nobody has caused more fumbles than Harrison, the NFL Defensive Player of the Year for the league's top-ranked defense. Woodley has multiple sacks in three consecutive postseason games. "The thing that got them here is their great passing offense and a great quarterback," LeBeau said. "You can't let them throw ball over the place, or you're in for long day." LeBeau knows that even if the Steelers become the Cardinals' first opponent to control Fitzgerald, Warner has two other 1,000-yard receivers in
Anquan Boldin
and
Steve Breaston
. Five offenses in NFL history have had a trio of 1,000-yard receivers, and Warner has been the quarterback for three of them.
Steelers safety
Ryan Clark
, who has delivered some of the most devastating tackles in the league this season -- ask
Wes Welker
or
Willis McGahee
, assuming they are conscious -- has noticed that Fitzgerald has expanded his repertoire of routes he's able to run, making him more impossible to cover. "In past years, even though he was going to Pro Bowls, he was a fade-ball guy, a deep 9-route guy," Clark said. "Now he's running crosses, he's catching post routes, running after the catch, so he's really turned himself into one of the elite, complete receivers in the league. So I don't think there's anything you can do to prepare for that." But Clark and other Steelers players believe LeBeau will devise a strategy that prevails. One likely key to the Steelers' ability to generate pressure on Warner is forcing him to hold the ball by having Pittsburgh's cornerbacks take a physical approach. Arizona offensive coordinator Todd Haley says the Cardinals' receivers cannot allow themselves to be rerouted. "If we come out there and hit them and are physical with him, and get a good hit early, I think they might go back to the quarterback and say, 'Hey, how about you don't throw the ball in there,'" Clark said. "But if I had to go into any game with any defensive coordinator, I think this is the game with Coach LeBeau. This is a game where he's important. He's going to give us opportunities to get hits on them, for cornerbacks to get hands on them and disrupt them as much as possible." Or they could just sack
Kurt Warner.
-- Ed Werder
Each week, Football Outsiders takes a look at every game with a mix of interesting numbers and in-depth statistical analysis. Football Outsiders stats explained here. (All times Eastern.)
Pittsburgh Steelers vs. Arizona Cardinals, Sunday, 6:28 p.m.
Three weeks ago
, I noted that Carolina ranked first in the league running in short-yardage situations, but also first in the percentage of its rushing yards that came more than 10 yards past the line of scrimmage. When I wrote that, I said no team since at least 1997 had done this on either offense or defense. After a couple of late-season statistical fixes, that's no longer true -- because the
Pittsburgh Steelers
accomplished the same two-fer on defense this year. The Steelers allowed only four runs more than 15 yards all season, while the average team allowed 19 such runs. During the regular season, the Cardinals had the best third-quarter offense in the NFL, while the Steelers had the best third-quarter defense in the NFL. (This is true according to both total points and our advanced DVOA ratings.) The difference between these teams came in the first half. Pittsburgh's defensive DVOA in the first half of games ranked second in the NFL. Arizona's offensive DVOA in the first half ranked 20th. Even if we remove the Week 13-16 period when the Cardinals suffered three huge losses, their offensive DVOA in the first half still would rank just 15th. This actually might be the biggest change for Arizona's offense in the playoffs -- it suddenly has been starting games hot instead of finishing them hot. During the regular season, the Cardinals averaged 6.0 yards per play in both halves. In the playoffs, the Cardinals have averaged 7.7 yards per play in the first half and just 4.0 yards per play in the second half. Arizona averaged 17.2 yards per pass on deep passes, those that went more than 15 yards through the air (not counting passes intentionally thrown away). That was the highest figure in the league. However, the Pittsburgh defense was the league's best against deep passes, allowing just 8.5 yards per pass. The Steelers were especially good against passes to the deep left, which is where cornerback
Ike Taylor
usually is stationed. Only six of 25 deep left passes were completed during the regular season by Pittsburgh opponents, for an average of just 6.8 yards. That's generally the side where you will find
Larry Fitzgerald
. However, Fitzgerald also runs a lot of routes that have him crossing into the deep middle of the field, and Taylor isn't so great covering those types of routes. We have Taylor listed as the defender on six deep middle passes -- including two by San Diego in the divisional round -- and five of those six were complete for a total of 127 yards. (Note: Obviously, we're talking about a really small sample size here, so judge things accordingly.) There's a lot of talk about each team's strengths, but one of the most intriguing matchups in the Super Bowl comes where each team is weakest: special teams. When
Santonio Holmes
returned a punt for a touchdown against San Diego in the divisional round, it was Pittsburgh's first special-teams return touchdown of the season. Combining kickoff and punt returns, our numbers estimate that poor returns cost the Steelers 19.7 points' worth of field position compared to a team with average returns. However, the Arizona coverage teams also were the worst in the league, allowing a combined 22 points' worth of field position compared to the NFL average. •
More Steelers-Cardinals:
Intel Report
|
EA Simulation
More from Super Bowl XLIII previews by Football Outsiders