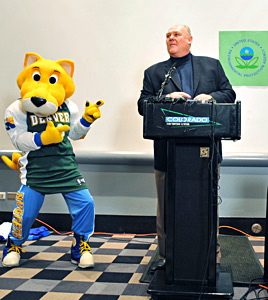 NBAE/Getty Images
1. Mike Brown, Cavaliers:
Even after losing to the Wizards and getting crushed by the Magic, Cleveland has the best record in the league and is 37-1 at home. The Cavs are just the 38th team to win at least 62 games, and with three more wins, they will match the 1985-86 Celtics for the best home record in NBA history. (Last week: 1)
2. Stan Van Gundy, Magic: The Magic PR department has put together a nice video, seeking end-or-the-year honors for SVG and Orlando players. (Last week: 2)
3. Rick Adelman, Rockets:
He was chosen as the West Coach of the Month after leading the Rockets to a conference-best 11-4 record in March. (Last week: 3)
4. George Karl, Nuggets: Denver has won seven straight and 12 of 13 with an average margin of victory of 12.3 points, has moved up to second place in the West and has taken control of the Northwest Division. (Last week: NR)
5. (tie) Erik Spoelstra, Heat and Nate McMillan, Blazers: It is almost impossible not to have Spoelstra on this list. Miami won 15 games a year ago, and this season with a rookie point man, the first-year coach has the 41-win Heat in the postseason.
McMillan has guided the Blazers to a 16-8 record since the All-Star Game, earning them their first playoff berth since 2003. (Last week: NR and 5)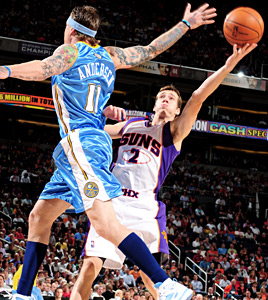 NBAE/Getty Images
1. Dwight Howard, Magic:
He pulled down 11 rebounds and blocked three shots when Orlando beat up Cleveland and followed that effort with his ninth 20-20 game (21 points, 23 rebounds) of the season against Atlanta. He also blocked four shots. (Last week: 1)
2. Dwyane Wade, Heat: He is second in the league in steals (2.3) and 16th in blocks (1.3). (Last week: 2)
3. LeBron James, Cavaliers: It was impressive watching the James Gang limit Tim Duncan and the Spurs to 39.2 percent shooting and outrebounding them 44-34. (Last week: 3)
4. Shane Battier and Ron Artest, Rockets: Houston is holding its opponents to just 91 points per game on 42 percent shooting at home. (Last week: 4)
5. (tie) Chris Paul, Hornets and Chris Andersen, Nuggets: Paul led the Western Conference with an average of 3.2 steals per game in March. The energetic Andersen is making Denver fans forget about Marcus Camby. He is averaging 5.7 blocks per 48 minutes. He is second in the league in blocks, rejecting 2.4 shots per game in just 20 minutes of court time. (Last week: 5 and NR)

Awards Watch columnist Maurice Brooks talks about the outstanding seasons Chauncey Billups (right), Brandon Roy and Deron Williams have put together.