AP Photo/Jae C. Hong
Dawson tangles with Tarver again
Confident but cautious. That is the way light heavyweight titleholder Chad Dawson is approaching his rematch with former champion Antonio Tarver.
They'll meet again at The Joint in the Hard Rock Hotel and Casino in Las Vegas on Saturday (HBO, 9:30 p.m. ET) in Dawson's HBO debut and the first bout of his new contract with the network. Also on the telecast: a replay of Manny Pacquiao's history-making second-round knockout of Ricky Hatton to win the junior welterweight championship last Saturday.
Dawson should be confident. Seven months ago, he schooled Tarver. He dropped Tarver in the 12th round to put a cherry on top of his lopsided 118-109, 117-110, 117-110 unanimous decision victory that netted him a title belt in a fight two years in the making.
Although there is really no public demand for the rematch, it is taking place because the only way Dawson could get a shot at Tarver in the first place was agree to a rematch clause in the event he won. Dawson did win and Tarver exercised his rematch option, although many question why HBO would pay a whopping $3.2 million for the right to televise a sequel to a Showtime fight that didn't even sell 1,000 tickets the first time around.
Still, despite the lopsided nature of their first encounter, Dawson (27-0, 17 KOs), one of boxing's best young guns at 26, is also cautious because fellow southpaw Tarver, 40, has been outstanding in rematches during his career, fashioning a 3-0 record in sequels.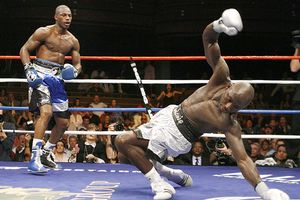 AP Photo/Eric Jamison
Antonio Tarver, right, has a knack for pulling himself together in rematches.
"I didn't cut any corners in training camp. Eight weeks and I trained my butt off three times a day," said Dawson, who had to postpone the bout from March because of a slight left hand injury. "I'm still young and some young fighters take that road, but I cut no corners. This is my life and career. This is what I do and I take it very seriously.
"Just knowing Tarver is 3-0 in rematches, just knowing that got me up for this fight. I want to be the first person to beat him twice. He does better in rematches, but I am not worried about it. I am cautious of it."
Other than the loss to Dawson, which he has a chance to reverse, and a lopsided decision loss to Bernard Hopkins, Tarver (27-5, 19 KOs) has avenged his three other defeats:
• After losing a majority decision to Roy Jones Jr. in November 2003, he scored a blistering second-round knockout in the rematch six months later in a tremendous upset. He also defeated Jones via unanimous decision in the rubber match in 2005.
• After losing a split decision to Glen Johnson in December 2004, Tarver rebounded for a unanimous decision six months later.
• After getting knocked down and losing a unanimous decision to Eric Harding in June 2000, Tarver risked his mandatory challenger status by facing him again and destroyed Harding in a fifth-round knockout victory in July 2002.
"Dawson's a young lion and he had a high work rate during our first fight," Tarver said. "I missed a few times with my power shot but that's what it is, it's a game of inches. But I always learn from my losses, and as Roy Jones, Glen Johnson and Eric Harding will tell you, I never lose twice to the same man. Dawson will learn that lesson too."
Dawson would like to eventually fight former champ Bernard Hopkins, although Hopkins, who easily beat Tarver in 2006 to win the title before losing it on a close decision to the now-retired Joe Calzaghe, has flatly said many times he has no interest in fighting Dawson.
"Every one wants to see me and Bernard Hopkins fight, but I'm not going to chase it. It will come to me," Dawson said. "Fighting Tarver is not something I wanted, but I couldn't avoid it, so I'm doing it."
Dawson also knows the only prayer he has to get Hopkins is to beat Tarver again.
"I already know I'm the best in the division because no other champion will fight me, which is why I give Tarver so much credit for stepping up again," Dawson said. "Our last fight was a good one and Tarver has always won the rematch after a loss, which has inspired me to train harder than ever. I'm not going to be another rematch victory notch on his belt like Roy Jones Jr., Glen Johnson and Eric Harding. I'm out to prove that I'm not just the king of the light heavyweight division, but also the best, pound for pound, and if it means giving Tarver a pound for pounding, then so be it. No mercy."
While Dawson, who also owns wins over cruiserweight champion Tomasz Adamek and Harding and a tight win against Johnson, is saying the right things about not being overconfident for the rematch because of how easily he beat Tarver the first time, promoter Gary Shaw has concerns.
"Chad's head, according to Chad, is in the right place. He knows he needs to win this fight for his career," Shaw said. "Gary's head, I worry about rematches. I worry about the fighter who won the first time not feeling that he has to prepare where the fighter who lost the fight, in this case Tarver, who has an unblemished record in rematches, knows he's in a life-and-death fight because it could be career-stopping. If Tarver loses, I don't know where he goes. That's what scares me about rematches. And I know Tarver is in great shape because I've seen him."
Tarver has also been very quiet heading into the rematch. Before the first fight, he trash-talked with impunity for months. This time around, he's been as quiet as a church mouse.
"Tarver is very serious," Shaw said. "He's quiet, not braggadocios at all and not talking any smack. You know he's taking this seriously."
Said Dawson of Tarver's low profile heading into Saturday's fight: "It could mean many things. Maybe he's more focused. Maybe he really wants to go out there and really beat me this time. I definitely humbled him last time. What can he say? It was a shutout. There's not much he can say."
Forrest-Martinez troubles
It looked like at long last, junior middleweight titleholder Vernon Forrest would honor his overdue mandatory defense against interim titleholder Sergio Martinez (44-1-2, 24 KOs). The bout was going to be slated for Aug. 1 on Showtime in Atlanta, not far from Forrest's hometown of Augusta, Ga.
Forrest was supposed to fight a tune-up last month on Showtime, but withdrew because of a rib injury. Now, Forrest (41-3, 29 KOs) may not go forward with the defense against Martinez either.
"The recent news about me fighting in Atlanta against Sergio Martinez was a surprise," Forrest said in a statement. "As you know, I am currently recovering from a rib injury that has not allowed me to fight. At this point, I have not been given clearance from my doctor to even start rehabbing the injury, much less training to fight. I have not fought since September of 2008 and it is my expectation that the WBC would honor my request to fight a tune-up fight once I'm ready, which will most likely be 11 months since my last fight. The WBC has taken this approach with many of their champions in the past, and I'm confident that they will with me as well."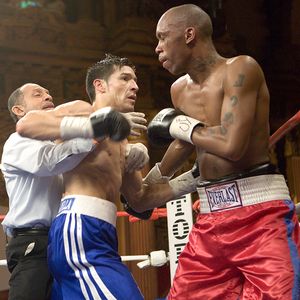 Marty Rosengarten/Ringsidephotos.com
Sergio Martinez, left, is having problems landing a fight with Vernon Forrest.
Well, maybe not. The WBC has previously said that if Forrest-Martinez didn't take place by August that Forrest would be stripped of the title and Martinez elevated to full titleholder.
Forrest promoter Gary Shaw said Forrest has not formally withdrawn from the Aug. 1 bout.
"We've not gotten medical clearance to fight Martinez on Aug. 1," he told ESPN.com. "We're awaiting that. Vernon has not pulled out. We're waiting for medical clearance."
Martinez has been mandatory since 2007, when Forrest claimed the vacant title against Carlos Baldomir. Since then, Forrest has fought three times, including a September 2008 rematch with Sergio Mora in which Forrest regained the title following Mora's victory in the first fight.
Forrest also tried to get another optional approved against Charles Whitaker, which was rejected by the WBC because it had ordered the Martinez fight.
If Forrest-Martinez is officially scrapped, which is likely, Shaw said he'll try to make a fight for Showtime involving super middleweight contender Andre Dirrell against "a big name."
Another possibility, according to Main Events, is that Showtime may resurrect the Tomasz Adamek-Glen Johnson cruiserweight championship bout for the date. The fight had previously been rejected by HBO and Showtime didn't have a date. If Showtime also passes, Adamek will stay on his July 10 date and likely face Matt Godfrey.
Dan Rafael is the boxing writer for ESPN.com.
QUICK HITS

Diaz
• Former unified lightweight titlist Juan Diaz (34-2, 17 KOs), coming off a ninth-round knockout loss to Juan Manuel Marquez in February, likely will return Aug. 22 on HBO's "Boxing After Dark." No opponent has been set but Golden Boy CEO Richard Schaefer told ESPN.com that he has the Toyota Center in Diaz's hometown of Houston on hold for the card. That's the same arena where Marquez-Diaz drew a boisterous crowd of about 14,000. Diaz has another important event scheduled besides the fight. On May 17, Diaz, who has been attending college part time while pursuing his boxing career, graduates from the University of Houston Downtown.

Guerrero
• Junior lightweight Robert Guerrero is scheduled to headline June 12 on ESPN2 against Johnnie Edwards in Guerrero's hometown of San Jose. It will be Guerrero's first bout since the ex-featherweight titleholder quit against Daud Yordan because of a head butt in a second-round no contest on HBO in March. Should Guerrero win in June, he may be added to the Aug. 22 HBO card, Schaefer told ESPN.com. He'd like to match him with titleholder Roman Martinez and said he's talking to Martinez promoter Peter Rivera about the fight. However, there are other possibilities for the HBO undercard. One bout being discussed is Vicente Escobedo against Michael Katsidis, each of whom won impressively on Golden Boy's April 4 "Lightweight Lightning" card. Escobedo first has a May 21 bout against Kevin Kelley. Another possibility is an appearance by junior lightweight titlist Jorge Linares (26-0, 17 KOs). His first title defense against Josaphat Perez (12-1, 7 KOs) has been postponed twice. It was supposed to be March 14 in Mexico but moved to May 9 because Linares suffered a cut. Then it was bumped to May 23 because of the swine flu outbreak. If Linares takes care of Perez, he could return on the HBO card. According to Golden Boy, it's talking with Linares promoter Akihiko Honda about a deal.

Judah
• Floyd Mayweather Jr.'s return to face Juan Manuel Marquez in a 144-pound bout July 18 (HBO PPV) at the MGM Grand in Las Vegas will include former undisputed welterweight champ Zab Judah (37-6, 25 KOs) on the undercard, Mayweather announced. He said he signed Judah to his Mayweather Promotions, which is co-promoting the card with Golden Boy. Mayweather and Judah appear to be good buddies once again after a bitter period before Mayweather's decision win against him in April 2006. Judah's opponent has not been determined. However, Schaefer told ESPN.com that Joan Guzman was offered the bout, which would have taken place at 142 pounds, but rejected the offer.

Toney
• A heavyweight fight between James Toney (71-6-3, 43 KOs) and former titleholder Sergei Liakhovich (23-3, 14 KOs) is in the works for July 4 in Primm, Nev., Liakhovich manager Ivaylo Gotzev told ESPN.com. If it comes off, it would headline a heavyweight pay-per-view show, he said. The card could also include former titleholder Samuel Peter, whom Gotzev also manages, and former title challenger Michael Grant in separate bouts, Gotzev said. "We're working on the card. It would be a star-studded heavyweight show," Gotzev said. "Toney and Liakhovich have agreed to the fight, but it's not signed yet." Liakhovich has been inactive since a decision loss to Nikolai Valuev in a title eliminator in February 2008. Toney claimed a split decision win against Fres Oquendo in December but has since split with promoter Dan Goossen.

Chambers
• American heavyweight contender Eddie Chambers (34-1, 18 KOs), who outpointed former titleholder Samuel Peter for a career-best victory on March 27, could be headed to Germany to face German-based Ukrainian Alexander Dimitrenko (29-0, 19 KOs) on July 4 in a title elimination bout in Hamburg. The winner would be a mandatory challenger for Wladimir Klitschko. Chambers promoter Dan Goossen told ESPN.com he was having talks with Dimitrenko promoter Universum about the fight. Chambers has boxed once in Germany, losing a decision to Alexander Povetkin in a January 2008 title eliminator, but he's won four in a row since.

Diaconu
• Light heavyweight titlist Adrian Diaconu (26-0, 15 KO) will make his first title defense against fellow Montreal resident Jean Pascal (22-1, 15 KOs) on June 19 at the Bell Centre in Montreal, one of the city's biggest fights in years. It's the first time two Montreal fighters will face each other for a world title and the first time rival Montreal-based promoters InterBox (Diaconu) and Yvon Michel (Pascal) are collaborating on a fight. Pascal, who lost a decision to Carl Froch for a vacant super middleweight in December, is moving up in weight for the opportunity.

Barrett
• Heavyweight Monte Barrett suffered a cut on his eyelid in training and withdrew Wednesday from a May 15 ESPN2 fight against rising contender Kevin Johnson (21-0-1, 8 KOs). Taking Barrett's place in the Star Boxing-promoted main event is 2004 U.S. Olympian Devin Vargas (17-0, 7 KOs) in the main event in Atlantic City, N.J.

Green
• Following Allan Green's devastating second-round knockout of Carlos De Leon on the Froch-Jermain Taylor undercard, talks began for Green to go to Canada for a summer bout with titlist Lucian Bute, either in Montreal or Quebec City. However, Green priced himself out of the bout and Bute may instead end up facing Joe Spina. Green also has his eye on Froch and said he's willing to go to England for the shot. "He just made his big splash in America and I'm more than ready to make my mark in England," Green said.

Latimore
• After dropping a split decision to Cory Spinks in a fight two weeks ago for a vacant junior middleweight belt, Deandre Latimore (19-2, 16 KOs) has reviewed the video of the fight, in which he knocked Spinks down in the first round, and is convinced he deserved the decision. "Of course I won the fight," he said. "I wanted to see the tape and judge it for myself. I think Cory won five rounds. I'll give him those, but I knocked him down in the first and won the other six rounds," Latimore said. The judges had it 115-112 and 114-113 for Spinks and 115-112 for Latimore. Latimore, 23, who needed 12 stitches to close a cut over his left eye, said the silver lining in the defeat is that he proved he can compete at the top level. "Cory's a [three-time] world champion and I know that I'm on his level, so that gives me added confidence," he said. "The Showtime folks told me they'll have me back when I'm ready and the folks in St. Louis got a chance to see a great fight."

Sturm
• Middleweight titlist Felix Sturm (32-2-1, 14 KOs), who retained his belt April 25 via seventh-round pounding of Koji Sato, returns July 11 in Germany to face Universum stablemate Khoren Gevor (30-3, 16 KOs), the reigning European champion, Universum announced. It will be Sturm's seventh defense. Gevor has won three in a row since suffering a massive 11th-round knockout loss to Germany's other middleweight titleholder, Arthur Abraham.

Mijares
• Nehomar Cermeno and Cristian Mijares will meet in a rematch this summer, promoter KO Entertainment announced (date and venue to be announced). The bout is signed, however, the promoter said. Venezuela's Cermeno (17-0, 10 KOs) claimed a vacant interim bantamweight with a split decision win against Mexico's Mijares (36-5-2, 15 KOs) in Mexico on March 14 in an upset. It was Miajres' second straight loss after he was also upset by Vic Darchinyan via ninth-round knockout in their junior bantamweight unification fight in November.
QUOTABLE

Roach
"So much for truth in advertising. We all know who the No. 1 pound-for-pound fighter is and his name is Manny Pacquiao. They can call Mayweather-Marquez 'No. 1' but it smells like No. 2. The fight stinks. Two counter-punchers waiting for the other one to make the first move. It's boring and proves nothing. If Mayweather wanted to prove he was the best all he had to do was wait one day to see who won Pacquiao-Hatton before signing to fight Marquez." -- Pacquiao trainer Freddie Roach, on Floyd Mayweather Jr.'s July 18 bout with Juan Manuel Marquez, which was announced hours before Pacquiao blew out Hatton.
QUOTABLE

Dawson
"My left hand is perfect. No excuses, no issues. If it's an issue in the fight, hopefully it will be on the punch that knocks him out." -- Light heavyweight titlist Chad Dawson, on the left hand injury that forced him to postpone a March rematch with Antonio Tarver until Saturday night.
---