Anyone with one of those pocket guides filled with swing tips and enough moxie to discredit a 14-time major champion has been calling for Tiger Woods to make some fairly drastic changes to his game following a return from knee surgery that included just one win in his first half-dozen starts.
Memorial highlights
Tiger Woods closed with a 65 on Sunday for his 67th career PGA Tour victory.
Watch highlights

Well, his fellow competitors have a little something to say to those critics.
"I wish you'd all quit [ticking] him off," said Jim Furyk, who finished runner-up to Woods at the Memorial Tournament on Sunday. "That's about all I have to say about that. Wish you'd just quit chapping him so much and make him come back and keep proving stuff."
That's exactly what Tiger was doing at Muirfield Village this week and that's where this edition of the W18 begins.
It's a question that had permeated talk radio airwaves around the nation since he came up short at the Masters, one that dominated 19th hole discourse when he failed to parlay a spot in the Players Championship's final pairing into a victory.
What's wrong with Tiger Woods?
Apparently, nothing at all.
Chances are you've already witnessed the vintage Tiger performance from Sunday's final round at the Memorial Tournament. There was the eagle chip-in on 11, the near chip-in on 14 and the back-to-back closing birdies that sealed a sparkling 65 for his second title of the year.
As Woods knows all too well, having now hoisted a total of 67 trophies during his PGA Tour career, winning is nice. But proving the doubters wrong? Even better.
Harig: Tiger back in full force
How many golfers could win a tournament the same week as shooting their worst competitive round of the year? Not many, if any, but that's exactly what Tiger Woods accomplished at the Memorial on Sunday.
Bob Harig
Following a final-round exercise in futility at TPC Sawgrass in his last competitive tournament four weeks ago, Woods no doubt heard the critics contemplating all sorts of potential fixes for his game.
Leave the driver in the bag. Hit the driver more. Stop aiming at the flagstick. Hit it closer. Rotate more on the knee. Fire through with the hips. Hold that finish. Dump instructor Hank Haney. Start working more with Hank Haney.
These "suggestions" ranged from the obvious to the obscure, the underwhelming to the undermining. The common thread, though, was that seemingly everyone had an opinion on what Woods was doing incorrectly and how it could be corrected to ensure future success.
Turns out, the best medicine was time.
"It was just a matter of being patient with it," Woods said after capturing his fourth career Memorial title. "It was a matter of time, because I was able to start practicing after rounds again. I've only been doing that for a couple of tournaments, so it's just a matter of staying with it and being patient with it. I knew it was coming around, just haven't been as consistent as I wanted to be. I could play two, three, four, five good holes and have one or two bad ones. Unfortunately, that stretch would usually cost me a tournament. Just had to clean that up."
It's hardly the first time in his career that Tiger has played the role of bash-buster. When he first turned professional in the summer of 1996, he made his intentions known that he wanted to secure full-time playing privileges by the end of the season; he won twice and finished 24th on the money list.
After he failed to win a stroke-play event while undergoing swing changes during the 2004 season, Woods leveled the criticism by taking six titles -- including two majors -- the next year. And when he returned following a nine-week layoff after his father Earl's death in 2006 only to miss the cut at the U.S. Open, there were those who believed he would carry that weight to the British Open as well; instead, he won in emotional fashion.
So, lesson learned once again, right? Don't doubt Tiger Woods. End of story.
Scott Halleran/Getty Images
Jim Furyk made a point to express to the media after Tiger Woods' victory at the Memorial that he wished they would stop calling Tiger's skills into question so the world's No. 1 player doesn't have to keep coming back to prove himself.
Not so fast. Many of the criticisms of his game called into question the long-term effects of last year's knee injury and how it could have a direct impact on his overall success going forward. Winning this week was another step in the right direction, but as we've seen from past examples, when Woods chooses to prove the critics wrong, he usually does so in grandiose style.
Don't expect this to be his final win of the season -- or, more to the point, his final win of the month. At the upcoming U.S. Open, Tiger will, in effect, defend two titles; he won the tournament last year, of course, and also prevailed the last time it was held at Bethpage Black in 2002. While victories at Arnie's and Jack's tournaments are certainly noteworthy, there's no better way to silence the critics than winning another major championship.
What's wrong with Tiger Woods? Well, I can think of one thing: He hates uninformed criticism and will do his best to negate such debate. Other than that, well, based on his performance at the Memorial, it doesn't look like there's very much wrong with him at all.
I've combined the two of these sections for this W18 because, well, each is made all the more impressive when considering the other.
In his first five stroke-play starts of the season, Tiger Woods hit the fairway with 159 of 280 drives, a percentage of 56.79 to rank 145th on the PGA Tour.
At the Memorial, he found the short stuff on 49 of 56 occasions, a percentage of 87.50 that ranked second in the field for the week.
How impressive was it? As Jack Nicklaus himself remarked, "I would venture to say that this may be his best week of driving ever."
Forget swing tips and mental gurus. I have a foolproof, fail-safe method for winning professional golf tournaments: Enter the final round with a lead, then shoot the best score of the day.
See, I told ya. It never fails.
Of course, it's also a lot easier said than done, but that was the exact case for Langer at the Triton Financial Classic on Sunday, as he entered the round with a 1-stroke lead over Gene Jones, then shot a 5-under 67 to lap the field by a half-dozen when it was over. His Sunday best included four birdies on the first eight holes and ensured the victory was a mere formality down the stretch.
Out on the Champions Tour, the German import looks less a man among boys and more a man among much older men who can't keep pace with him. In 11 starts this season, he now owns three victories and five other top-10s, already topping the $1 million mark in search of his second consecutive money title.
Guess that's what happens when you're first in total driving, birdie average, scoring average and, of course, the tour's all-around ranking.
It doesn't hurt to use my foolproof method, either.
When he failed to gain entry into last year's Masters field, it snapped a streak of 70 straight major championship appearances for Love. He did qualify for the final three of 2008, but again didn't make the trip down Magnolia Lane this April.
If he keeps up his current pace, though, DL3 will be right back at Augusta National next year.
And the winner is ...
I like Camilo Villegas to win the St. Jude Classic because he'll make a bazillion birdies (and it would be good synergy for the title sponsor). I like Paula Creamer to win the LPGA Championship because she's overdue to win a major (and she's coming off a final-round 65 at the State Farm).
And most assuredly, I like absolutely nothing about the European and Champions tours, which each have a bye week.
Love was in contention throughout the weekend at the Memorial, getting it to 10-under with two holes to play. While a bogey-triple-bogey finish was hardly desirable, it only dropped him into a share of fifth place by the end of the tourney.
Though the result was only his second top-10 of the season -- Love finished T-2 at the season-opening Mercedes-Benz Championship -- the 20-time PGA Tour winner owns solid numbers across the board as far as his stats are concerned and seems to have the right mentality toward the game, too.
"You know, you want it too bad, or you're trying too hard," he said prior to the final round. "It would be easy for me to go out and hit four bags of range balls trying to perfect my swing because that would feel like I worked hard at it. What I've got to do is get my mental game, you know, better. I think I've done a good job of that."
Love already has one major penciled into his schedule, as he qualified for the British Open last week. On Monday, he'll attempt to make the U.S. Open as well -- all of which could lead to a trip back to the Masters in 2010.
5 Memorial Tournament Skins Game
Under the "Three Wishes" section of the May 3 edition of the Weekly 18, I wrote: "I wish the PGA Tour would broadcast select non-tournament pro-ams."
At the time, this notion was in direct reference to the Wednesday festivities at Quail Hollow, which featured reigning NFL MVP Peyton Manning paired with Tiger Woods, while NASCAR drivers Jimmie Johnson and Michael Waltrip and former NBA great Julius Erving were also in the field.
This week's Memorial Tournament didn't include a pro-am, but the final pre-tournament round was broadcast and, yes, it was worth watching, too.
Due to the fact that erstwhile sponsor Morgan Stanley decided not to fill its annual pro-am field, an alternative option was developed in the form of two foursomes playing skins games. It should come as no surprise that Jack Nicklaus and Tiger Woods playing competitively together (with Kenny Perry and Stewart Cink) for the first time in nine years was an ultra-popular substitute for the usual hobnobbing of pros and CEOs.
Perhaps other tourneys will pick up on the success of this event (the other foursome included Vijay Singh, Camilo Villegas, Jim Furyk and eventual winner Padraig Harrington) and try to incorporate it into their Wednesday schedules. Granted, few others -- if any -- are getting Jack and Tiger in the mix, and it's debatable whether the more interesting format could ever raise as many funds as traditional pro-ams, but it would be worth finding out.
6 Young guns.
If misery loves company, somewhere in Columbus, Ohio, on Friday night a whole bunch of extremely talented young players could have commiserated together. Seven of 'em, in fact.
Charles Howell III (75-77), Danny Lee (79-73), Aaron Baddeley (79-74), J.B. Holmes (82-72), Ryan Moore (75-80), Justin Rose (80-75) and Adam Scott (77-81) missed the Memorial cut by a combined 43 strokes, as none of the seven was able to break par for their 14 total rounds.
What does it mean? Well, maybe only that they each had a bad week. Or it means something for each one individually. Howell, for instance, has enjoyed a pretty successful season, coming close to a title on three separate occasions. Scott, on the other hand, has looked dreadful recently, having missed the cut in six of his past seven starts.
Then again, that Friday night table also could have included a pair of three-time major champions in Padraig Harrington and Vijay Singh. So maybe that company wasn't so bad after all.
7 Elton Campbell's class action lawsuit.
There are times when something so utterly ridiculous, incomprehensible and just plain stupid comes to my attention that for as much as I'd love to ignore it because of certain absurdities, I just can't help myself, instead choosing to poke holes in the theory.
This is one of those times.
Recently a man named Elton Campbell, "on behalf of himself and all others similarly situated," filed a class action lawsuit with the Superior Court of the State of California against the LPGA, PGA of America and Conde Nast, Inc., among others, in which he claims the promotion for Women's Golf Month is a violation of various civil codes, citing "discrimination by business establishments on the basis of sex."
Ridiculous enough for you yet? From the fine print:
"This class action lawsuit arises out of Defendants' gender-based and sexist marketing promotion frequently advertised as Women's Golf Month, which, in June of 2008, charged consumers different prices based on consumers' sex for green fees, golf clinics and pro shop merchandise at the Defendant country clubs and golf facilities."
The story behind the suit? It appears that on June 21, 2008, Campbell played Lost Canyons GC in Simi Valley, Calif., and was offered neither participation in a women-only clinic nor a half-price greens fee available to women as part of the promotion.
All I can say in response to this is ... wow. I mean, what's next? A lawsuit against the Champions Tour for age discrimination? One against the European Tour for only allowing European-born players on its Ryder Cup team? Maybe an attempt to take down the First Tee for catering to minors?
As if I even need to back it up, this promotion isn't discriminatory; it's both a celebration of women's golfers and an enticement for those who would like to start playing the game. Let's hope Campbell's claim goes O.B. for its frivolity. Oh, and if you ever tee it up with this guy? Make him play from the red tees. You know, to avoid breaking any "civil codes."
8 Injured stars.
Despite competing in a noncontact sport, professional golfers have always been susceptible to injury. On the heels of Chad Campbell's torn calf muscle at Colonial recently comes news of three more legit contenders to the U.S. Open title who may not be at 100 percent come next week.
In the latest edition of GolfWorld magazine, it was reported that Boo Weekley has a torn labrum, an injury which forced his withdrawal during Round 2 of the Players Championship. While it won't require surgery, it remains to be seen how quickly Weekley can return to his elite-level form.
It's been an interesting year for Sean O'Hair. He's earned plenty of solid paychecks with 10 top-25 finishes in a dozen starts -- including a win at Quail Hollow -- but he's been forced to WD a few times, too. The latest came at the Memorial, thanks to what was termed a strained left forearm.
Conversely, it's been a pretty pitiful season for Brandt Snedeker. After making the cut in only three of his first 10 starts, he spent six weeks on the DL before trying to come back at Jack's place. Instead, Sneds was forced to bow out once again, citing a cracked rib as the cause of his recent concern.
9 I wish I could have seen the look on Orlando Magic center Dwight Howard's face when he read this quote.
Tiger Woods has lived in the Orlando, Fla., area for years. He's a huge sports fan. And so it isn't surprising that he can often be seen attending Orlando Magic games, especially come playoff time.
It's also not exactly shocking that Woods has some pretty good seats for these affairs. Nope, no nose-bleeders for the No. 1-ranked golfer. He's just fine hangin' in the front row, thanks.
Because of this, I'm guessing -- and this is only a guess on my part -- TW has become friendly with some of the Magic players over the years. Maybe not chill-at-the-club-after-the-game-together friendly, but enough that they're on pretty good speaking terms.
And so maybe it should serve as locker room bulletin board fodder for coach Stan Van Gundy's men when Woods is asked which team he's rooting for in the NBA Finals and chooses ... the other guys.
"I live in Orlando and root for the Magic, but I'm from L.A.," Woods explained. "I grew up watching Magic [Johnson], Kareem [Abdul-Jabbar] and [James] Worthy and Byron [Scott] and all those teams. Before that, [Bob] McAdoo and [Norm] Nixon, you name it. It's hard, but I'm from L.A."
Hmmm, gotta wonder whether the next time Tiger shows up in the front row at a Magic home game, things will continue to be as friendly as before.
10 I wish there was an earlier cutoff point for amateurs-turned-pros to still compete in the Walker Cup.
In the past few weeks, U.S. collegians Jamie Lovemark, Kyle Stanley and Billy Horschel, plus Irish Open champion Shane Lowry have each faced a difficult career decision: Turn professional right now and try to earn enough money to receive playing privileges for next year by eschewing Q-school (or in Lowry's case, strike while the iron is hot in terms of sponsorship deals) or wait out the summer as an amateur in hopes of playing for their country come September?
Short of changing the date of the biennial Walker Cup, this scenario is likely to be a continuing trend in coming years. In the case of each of the four aforementioned players, all decided to turn pro and skip the event, which now means some of the most decorated amateurs of the past two years won't be available for the festivities at Merion. Then again, it's tough to find fault with their decisions. Each of the Americans may receive up to seven sponsors' exemptions on the PGA Tour this season, plus more on the Nationwide circuit, in hopes of shoring up some sort of status by the end of the calendar year.
By comparison, other top collegians, like Brian Harman of the University of Georgia, for example, have announced they will retain amateur status, specifically to compete in another Walker Cup. (Harman teamed with Anthony Kim two years ago at Royal County Down.) It's an admirable choice, though one has to wonder whether these players won't fall behind the curve a little bit; even if Lovemark, Stanley and Horschel still wind up in Q-school, they'll have months of professional experience already to their credit by that time.
So how can it be more balanced in order to entice potential pros to stick around and compete in the Walker Cup?
My solution: Have it both ways.
Instead of insisting that every competitor must be an amateur at the time of the competition, the rules can be adjusted to account for a deadline. Any player who isn't a pro by, say, June 1 can be considered eligible.
The purpose of this event was never to keep players from going pay-for-play until later in the season. It is supposed to be a gathering of the world's top amateur players. Because of the way the season shapes up, however, more and more of these guys will be turning pro prior to the September festivities. This rule would allow the best ams of the past two years to all compete in the tourney, while preventing any further dilution of the talent pool. Sounds like a win-win proposition to me.
11 I wish this story wasn't tinged with so much irony.
As noted in last week's edition of the W18, LPGA commissioner Carolyn Bivens publicly stated that she wouldn't be against players using the social networking site Twitter during competitive rounds.
At a player meeting with the commish prior to this week's State Farm Classic, the collective membership disapproved of such a ruling. Then, many of them made their feelings known by -- what else? -- posting to Twitter.
A few examples ...
@The PaulaCreamer I will not be twittering in my round. It should not happen in any sport. The players have already told the tour no way.
@morganpressel Thanks for the luck and NO I will not be tweeting while I play ...
Meanwhile, serial Twitter user Christina Kim even commented on my comments.
TheChristinaKim@JasonSobel Who knows what will happen in the future!
I spoke with Natalie Gulbis via more conventional means -- the good ol' fashioned phone -- prior to the player meeting. "I'm not sure what that means," she said of in-round Tweeting, "or how you could even have a cell phone while you play."
For the time being, it means social networking will be left as a pre- and post-round activity only, because players will not be allowed -- much less encouraged -- to employ cell phones during competitive play.
If that ruling changes, though, you can expect some of the LPGA's best to make their feelings known -- via Twitter, of course.
Jason Sobel is a golf writer for ESPN.com. He can be reached at Jason.Sobel@espn3.com.
What if I told you it was possible to go inside the ropes during U.S. Open week? And no, it wouldn't require qualifying for the tourney or committing an act that would potentially leave you in a Long Island lockup facility.

Instead you'd be hanging with a major champion while raising some big-time dough for a good cause.
It may sound like an offer too good to be true, but this is the very deal on the table through an eBay auction. Russ Holden's Caddy for a Cure program will raise money for the Wounded Warrior Project by selling an opportunity to loop for former British Open champion Todd Hamilton during a Monday practice round at the Black course.
Besides walking off yardages and lugging the sticks for a guy who finished T-15 at the Masters, the package includes an Arizona vacation, Peak Vision sunglasses and a bib autographed by Hamilton. Ask nicely and maybe he'll even let you take a few swigs from his replica Claret Jug.
The "Buy It Now" price is $15,000, but the auction winner could very well look at it as a down payment on a new job assignment. Hey, pass the test with flying colors and maybe Hamilton or another player will take notice of your caddying acumen and offer further employment. If not, well, you can always say you were inside the ropes during Open week at Bethpage -- without qualifying or getting thrown in the hoosegow.
To bid on this package, click here.
John Daly will finish in the top 125 on this year's PGA Tour money list.

The smart money says this is absolute fiction. It won't even be close. Even if you think Long John is back at the top of his game, even if you think he's ready to commit himself to longer practice sessions and a full schedule, even if you think his recent lap band surgery will help him remain more physically fit on the weekends -- and that's a lot of ifs -- there's the simple matter of common sense.
Everyone else on the PGA Tour has been given a five-month head start.
Consider Daly already behind the 8-ball before he even makes his season debut at this week's St. Jude Classic. After serving an alleged suspension, he returns to a tour on which he owns status only as a five-time past champion and hasn't finished inside the top 125 since 2005.
And yet, with all of that in mind ... I'm taking my chances on the big guy.
The one thing in Daly's favor more than anything else is that he's a streaky player. This isn't a guy who's going to churn out top-20 results every week without seriously contending. He has always been an all-or-nothing player. And with the way purses are set up on tour, it only takes a couple of "alls" to offset a whole bunch of "nothings" to vault a guy way up the money list.
Just as he did on his recent European Tour stint, expect Daly to miss his share of cuts. But expect him to produce some seriously strong finishes, too, like he also did in Europe, placing T-2 at the BMW Italian Open. One result of that magnitude is enough to get a player to about two-thirds of the way to full playing privileges, depending on the event. Two of 'em would mean that Daly would once again be a full-fledged member of the PGA Tour for the 2010 season.
Is that asking too much of a player who's failed to make much of an impact the past few years? Maybe, but a guy who crushes it off the tee, owns a deft short game and doesn't seem to wilt under the pressure of final-round contention already has the upper hand over many of his peers. I say this statement is FACT.
Not surprisingly, this e-mail from Brian in Greenville, S.C., found its way into my inbox just as Luke Donald was following up a silky opening-round 64 at Memorial with a 4-over 76 on Friday:
Why is it that nearly every time a guy goes low in one round he can't match it the next day?
Why do amateurs hit the ball better on the range than the course? Why does the marshal always slow up play by stopping for five minutes to ask you to play quicker? Why do you so often miss the 4-footers for birdie but make the 20-footers for double-bogey?
These are age-old golf questions which have no easy answer.
The truth is, it's tough for even the world's best golfers to repeat an ultra-low round simply due to the sheer difficulty of the task. When a guy posts a great score, chances are nearly everything went right in his round, from a few good bounces to some lengthy holed putts. Nobody gets all the breaks for two straight days, so it's only natural that a low score will go unmatched in the next round.
Donald wasn't the only example at the Memorial. In Saturday's third round, Geoff Ogilvy posted a 9-under 63, which was 5 strokes better than the next best player in the field. One day later, his score was a dozen strokes higher.
In trying to explain the phenomenon during the CBS broadcast on Sunday, Jack Nicklaus said, "It's a tough thing to follow up. [Ogilvy] was out on the practice range for quite a while yesterday, trying to get that round out of his system and get prepared for the last round."
Interesting rationale. Normally you'd think it was the guy who posted 80 that wants to "get that round out of his system," but as someone who went low plenty of times during his career, Jack understands that the most important aspect to duplicating a really good round is forgetting about it before the next one begins.
Wanna be considered for future W18 columns? Hit me at Jason.Sobel@espn3.com or follow along on Twitter.
Seems like Natalie Gulbis has always been one of those love-her-or-hate-her type of players. You either love her for her bubbly personality and solid game or hate her for all the attention she receives despite only one career LPGA Tour win.

Whatever the case, you can't criticize her honesty.
Prior to the State Farm Classic, I spoke with Gulbis about her lack of victories, some favorable -- in her eyes -- comparisons to Anna Kournikova and getting fired from her first and only other job.
Q: What's the state of your game right now?
A: It's good. I had a good three-week stretch before the week off; I finished in the top 15 in all those events. One of the goals for this season was to make the Solheim Cup team and in order to do that, you have to be top-10 in the rankings. Before that stretch, I was 13th, but I moved up to eighth, so that's something that I'll continue to work toward these next few events.
Q: I know you've already been fitted for clothes for the team. Once you do that, there's a little extra emphasis on actually making the roster, isn't there?
A: Yes, it's a little bit of extra motivation. We did clothes fittings two weeks ago and I'm thinking, "Yep, clothes fittings. Sure would like to wear this outfit!"
Q: It looked like you were on the verge of superstardom a few years ago, ready to bust out with a whole bunch of wins, and yet your career victory total is still stuck on one. How does that make you feel?
A: It's frustrating. You know, every single week I go out to win tournaments. I was injured most of last year, so that was even more frustrating, because like you pointed to, after I won my first event, I thought I would win a lot more. After I won in 2007, I had a really good second half of the season, finished fourth, finished second, we won the Wendy's 3-Tour Challenge, we won the Lexus Cup, and I thought I would build on that in 2008, but I didn't.
Q: Did the Anna Kournikova comparisons wear on you after awhile? You know, just another pretty face who can't win a tournament?
A: I've always appreciated them. Being compared to somebody who is as attractive as she is, that's fine. The media, for the most part, was really good to me. After I did win, they still asked me the same question, just like you just did [laughs]. So it didn't change.
Q: Speaking of which, no swimsuit calendar this year?
A: No swimsuit calendar. I did a couple of swimsuit calendars and then I did an all-golf calendar and with my calendars, all the proceeds went to the Boys & Girls Clubs. When I did an all-golf calendar it didn't sell as well, so I didn't do a calendar this year. I did one in Japan, but not in the States.
Q: How come?
A: When I went to the golf one, it didn't sell. The next thing that I would like to do would be the Sports Illustrated swimsuit issue.
Q: Gotcha. So you're not necessarily done doing swimsuit shoots, just done with the calendars?
A: Yes, done with the calendars. I'll do them in Japan, but I wasn't making enough money for the Boys & Girls Clubs, so we just stopped.
Q: You're obviously one of the more visible players on the LPGA. I know Commissioner Bivens has preached that players need to become more fan friendly than ever. How do you go about doing that?
A: It's really on a daily basis. It's when you get to the course, interacting with the fans, signing autographs. When you get done, there are usually people who have followed us that want us to stay and sign autographs. On a good day or a bad day, they're just so excited to see you, they've been following you for four or five hours, so we just ... get a little bit of time with them. And the commissioner has been encouraging us to get more into social networking. We've been doing the fan-friendly initiative since 2002 and it's really helped the numbers of the tour and helped build our fan base. So we've been working on it for a long time.
Q: What's the feel on tour right now? One player recently said it's like being a part-time professional golfer.
A: It's good. We had three events and then we had a week off and now we have two events and a week off and then two or three more events, so the summer has been really good. We did have a little bit longer offseason than I think most of us would have liked.
Q: Does it hurt your momentum to have those off weeks in the middle of the season?
A: No, it's great. I get to go home and work with my coach, Butch Harmon, in Las Vegas. So I love it. I love playing three events, then having a natural week off, and now coming out to this event and having a major, then a week off after a major is nice. And then we have a week off after the U.S. Open, which will be nice as well. Then we go overseas.
Q: What does it mean for the LPGA when title sponsors like Corning are being forced to discontinue their tournaments?
A: It's tough. It's a tough market right now. Last week we had to say goodbye to a tournament that had been with us for 31 years, the Corning Classic. It's hard for us to go there and see a tournament that's been the backbone of the tour for so many years have to cancel because they're struggling as a company. We feel like we've been with that company for so long and they've supported us and the fans -- it's just sad.
Q: You're once again playing in the CVS Caremark Charity Classic in Barrington, R.I., on June 22-23. And you've got a pretty cool partner, too, don't you?
A: Yes, I do. Peter Jacobsen and I will tee it up in the CVS event.
Q: Pretty cool having a mixed-gender tournament, isn't it?
A: It is. A couple of years ago, Juli Inkster and I played and we were the first women's team. I'm even more excited now that it's a split team, so Peter and I have been coordinating outfits.
Q: I hear there's going to be some pink involved.
A: We're going to wear pink for Amy Mickelson one day and then wear red, white and blue the other day.
Q: If the PGA Tour and LPGA came together and said they wanted to co-host an event or events in which there were either mixed pairings or just the men and the women playing at the same venue, would you like that idea?
A: Yes, I think it would be great -- the way that tennis does it. There also used to be an event called the JC Penney with men's and women's teams. Currently, we have an event, the Wendy's 3-Tour Challenge, where there are three players from the LPGA, three from the PGA and three from the seniors. It would definitely be fun to have it. We love playing with the PGA Tour players. Fortunately, I get to practice with some of them by working with Butch Harmon. We would love it.
Q: So I missed "Celebrity Apprentice." Did you win?
A: I did not win. I got fired on the eighth or ninth episode.
Q: How did it feel being told by Donald Trump, "You're fired!"?
A: [Laughs] It's half serious and half funny, because it is a TV show. That was my first job and my first firing, so I'm 0-for-1.
Q: Well, at least you have the LPGA to fall back on.
A: Yes, at least I have my little career called golf. It's helped me through these difficult times!
• Tiger Woods now owns 67 career PGA Tour victories, third all time. Here are the winning percentages of the top five: Sam Snead (82 wins), 14.9 percent; Jack Nicklaus (73), 12.3; Woods (67), 27.6; Ben Hogan (64), 21.8; Arnold Palmer (62), 8.4.
And here's why those numbers are more than a bit skewed: They include the back end of the careers for Snead, Nicklaus, Hogan and Palmer, but not Woods. To get a truer representation, we'd have to examine either each player's numbers through his first 243 starts (TW's current total) or simply wait until Tiger has completed his playing career and compare 'em then. Even so, it's doubtful that he would even fall as far as to Hogan's number, leaving Woods as potentially the winningest player in history based on percentages.
• So Tiger Woods hit 49 of 56 fairways at Muirfield Village? That's no big deal to Jim Furyk. Woods' buddy found one more fairway during the course of the week ... and finished 1 shot behind the winner.
• (What does it mean when my computer tries to change "Village" to "Villegas" every time, based on how often I use each word?)
• That's the first time the top two players on the leaderboard were also ranked 1-2 in driving accuracy since, well, I don't know ... but I bet it's been awhile.
• When Furyk gets hot, he stays hot. Of his past 13 top-10 results (dating back to April 2008), all but one has been joined by another top-10 either directly before or after.
• Seriously, though, what a dramatic finish at the Memorial. I was on pins and needles waiting to see whether the final pairing of Mark Wilson and Matt Bettencourt would finish in the top five.
• When the wind stopped blowing at the State Farm Classic, there were birdies to be had out there. In-Kyung Kim went low on Sunday (7-under 65) to claim her second career LPGA win.
• The South Korean contingent was on fire in Springfield, Ill. Joining Kim at T-3 or better were Se Ri Pak, Hee-Won Han and Jee Young Lee.
• Wasn't an overall terrible performance by the top Americans, either, as Angela Stanford, Paula Creamer and Cristie Kerr were each T-6 or better.
I know she's not as accomplished as some others and doesn't make near the amount of headlines, but if I had to pick one player as the best U.S. product right now, it may very well be Stanford, who seems to contend at every single tourney. Watch out for her again at this week's LPGA Championship.
• New idea for the National Spelling Bee: Let those kids have a go at a European Tour leaderboard like the one at this week's Wales Open that included Jeppe Huldahl, Ignacio Garrido, Fabrizio Zanotti and Fredrik Andersson Hed.
I can even use one in a sentence. Despite no previous top-10s on the Euro circuit, Jeppe Huldahl produced a bogey-free final-round 67 to win by a single stroke.
Oh, and the origin of the name is Danish.
• Calling Christopher Robertson of Redmond, Ohio. You either have the good luck of being paired with Jonathan Byrd and Davis Love III, both of whom contended at the Memorial, during a U.S. Open qualifier on Monday ... or the bad luck of being paired with them. I'm not sure which, really.
• I've attended a few U.S. Open qualifiers in the past. Fun golf to watch. Sort of like Q-school without the vomit.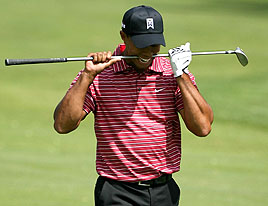 Andy Lyons/Getty Images
With his second shot on the par-5 11th hole during Sunday's final round, Tiger Woods fanned it out to the right ... and apparently decided to display his frustration by taking a bite out of the shaft on his fairway wood.
Just a few minutes later, this frustration would become elation, as TW opened up a wedge and hit a delicate little chip that scooted across the lightning-fast green and into the hole for eagle.
"You couldn't ask for a worse lie," he said about where the second shot wound up. "It was just gnarly. It was into the grain and I just caught it enough to where I didn't leave it there or make the mistake of chipping it over the green and have an easy chip back or if it stayed on the green have an easy putt uphill. It just so happened to come out good and it went in."
It was a shot that had plenty of bite -- and ultimately led to the idea of Woods chewing on another title at Muirfield Village.
---