Chris Farina/Top Rank
No hometown advantage for Clottey
NEW YORK -- Even though Joshua Clottey lives in the Bronx, mere minutes from Madison Square Garden, he's not expecting much love from the crowd there when he steps into the ring Saturday night.
Although Clottey has made his home in New York since 2003, having moved from his native Ghana to pursue his boxing career as his more famous countrymen Azumah Nelson and Ike Quartey did before him, he will be the enemy come fight time (HBO, 10:35 p.m. ET).
That is because Clottey (35-2, 21 KOs) will be challenging welterweight titlist Miguel Cotto (33-1, 27 KOs), the Puerto Rican star, on the eve of the annual National Puerto Rican Day Parade. Cotto has an enormous following in New York, where he's headlining for the sixth time at the Garden, fourth on the eve of the parade.
Cotto's countrymen have turned out in droves to support his fights, singing, dancing, waving flags and, of course, booing the opponent.
Clottey sounds as though he's expecting a hostile crowd despite his own New York connection.
"I know all the Puerto Ricans will be there," Clottey said. "It is the day before the Puerto Rican parade, and there are going to be a lot there. But I can't worry about that because when I get into the ring, it will be just Cotto. Those people can always say something and I can say something back, but they will never be hit. All their screaming and shouting, you don't even hear it. I just protect myself and come out good and open up. I am not worried about that."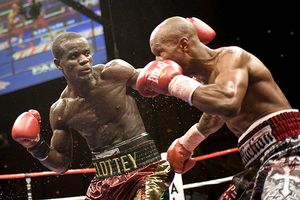 Fightwireimages.com
Joshua Clottey, left, is well accustomed to dealing with adversity.
Said Vinny Scolpino, Clottey's manager, "Josh is a determined guy. He'll hear them cheering for Cotto, and he'll smile and laugh. It's no big deal. And when the bell rings, he will do his business."
Clottey, who began boxing when he was 6 years old, grew up poor in his country's capital, Accra, as one of six children. One of his brothers, Emmanuel, is also a pro boxer.
"I was a soccer player, but they were fighting in my area," Clottey said. "There was this guy beating everybody out there. I say, 'Why is this guy beating everybody? I can fight him.' And the coach asked me, 'You never fight before. Why do you want to fight this guy?' I said, 'I just feel like fighting him.' And I fight the guy, and the guy kicked my stomach and I vomited. When I vomited, I say, 'Oh, no, no, no. I don't like this, it's too hard to beat this guy.' I start training hard because of this guy, and I beat him. I beat him, and he stopped boxing and I come in as a boxer. I stopped the soccer playing."
Clottey turned pro in 1995 and fought primarily in Ghana before signing with English promoter Panos Eliades in 1996. He fought regularly in England, where he suffered his first loss, a controversial 12th-round disqualification in 1999 against Carlos Baldomir, the future undisputed welterweight champion.
With his career stalled in Ghana and England, Clottey relocated to the Bronx in late 2003 and began boxing exclusively in the United States after signing with promoter Lou DiBella.
"It is very hard to make the move, but I have to come here to make the money," Clottey said.
In December 2006, DiBella sold Clottey's contract to Bob Arum's Top Rank, which gave him a shot at then-titleholder Antonio Margarito. Clottey started fast and was ahead after four rounds, but he came undone after injuries to both hands and lost a unanimous decision.
After four wins, including a dominant win against the late Diego Corrales in 2007 in what turned out to be Corrales' last fight before he died in a motorcycle accident, Clottey earned a mandatory shot at a vacant belt in August 2008.
He claimed a 10-round technical decision against former undisputed champ Zab Judah to finally win a world title. But Clottey hasn't fought since, as fights have fallen out for one reason or another. Ultimately, he gave up his belt to get a crack at Cotto rather than face a mandatory opponent for a fraction of what he'll earn Saturday.
"It's been a long, rocky road," Scolpino said. "It's been a rough road, but finally we are here. If Josh comes out of this with a win, how are they going to hide from us now?"
The fight with Cotto also will give Clottey the opportunity to perform at the Garden, one of the most hallowed arenas in boxing history. Clottey said he has wanted to fight there since moving to America.
"It means very, very much," Clottey said. "Of course, you know it is the mecca of boxing. To fight in Madison Square Garden, people will always say that Joshua Clottey fought in Madison Square Garden before he retires. It means a lot to me to have that on my record when I retire from boxing. It means a lot to me. And I have to win."
It also means a lot to Clottey that Cotto is giving him a shot when he didn't have to. Few have wanted to fight Clottey unless forced to.
However, because Top Rank promotes Clottey and Cotto, the fight came together somewhat easily.
Clottey attended Cotto's February fight with Michael Jennings, which Cotto won via fifth-round knockout to win a vacant belt. Before the fight, he met with Arum.
"Bob promised me that if Cotto wins the fight, he is going to match me and Cotto," Clottey said. "Cotto then accepted the fight, and that was exactly what I wanted. I respect Cotto for giving me a chance, a chance to fight him. I respect that so much. I respect him because he is a man and he gave me the chance."
Calderon back in action
Junior flyweight champ Ivan "Iron Boy" Calderon (32-0, six KOs) of Puerto Rico, who will defend his crown against the Philippines' Rodel Mayol (25-3, 19 KOs) at Madison Square Garden Saturday night on the Miguel Cotto-Joshua Clottey undercard -- but not on the HBO broadcast -- can't wait to get back in the ring after a long layoff.
Calderon hasn't fought since August, when he defended his title by winning a seven-round technical decision against ex-champ Hugo Cazares in a rematch. However, Calderon was severely cut from an accidental head clash, which is why the fight was sent to the scorecards.
Al Bello/Getty Images
After a long layoff, Ivan Calderon is ready to get back to business.
"It was one of the reasons I have been out for so long," said Calderon, Cotto's 2000 Olympic teammate. "I had surgery, and it healed good. But I was ready to fight at the beginning of the year, but we had some dates and fights that kept changing. We couldn't get the opponents or the TV. I was supposed to fight in February, and then they moved me to May and now June."
Calderon has long been one of boxing's most technically gifted fighters, but he said he plans to give the fans a more exciting fight on Saturday than he usually does, even though he's disappointed his bout won't be televised in the U.S.
"It's going to be something real good," Calderon said. "I'm going to be a little more aggressive and give the people what they want to see."
Abraham returns to Showtime
Middleweight titlist Arthur Abraham (29-0, 23 KOs), unable to come to terms to face mandatory challenger Giovanni Lorenzo on June 27, has received an exception and will instead face German countryman Mahir Oral (25-1-2, 10 KOs) in Berlin.
American fight fans will be able to see the fight, albeit on a few hours' tape delay, on Showtime, which will feature the bout on a special edition of "ShoBox" at 9 p.m. ET/PT. Announcers Nick Charles and Steve Farhood will call the fight from a studio in New York while Al Bernstein will be on site in Germany to set the scene and handle interviews, Showtime's Gordon Hall told ESPN.com.
Martin Rose/Bongarts/Getty Images
It's Showime! Arthur Abraham, right, has punched his his way onto a special edition of "ShoBox" on June 27.
Showtime has had interest in Abraham for some time and aired his rematch against Edison Miranda in June 2008, Abraham's only fight in America.
The winner of Abraham-Oral likely will face Lorenzo in the fall. Abraham and Oral are friendly and familiar with each other because they sparred together earlier in their careers.
"We know each other from our early days as sparring partners, although now we have both matured," Oral said. "Arthur has become 'King,' and I have developed a lot, too."
Said Abraham, who will make his 10th title defense, "In 2003 and 2004, we sparred a lot together in Cologne. We got on well with each other. We are both sportsmen and are training hard. We both do our own job, but of course, I would be lying if I didn't say I want to win. Afterwards, things will revert to how they were before."
Also on the card, but not part of Showtime's broadcast, middleweight contender Sebastian Sylvester faces Lajuan Simon in an eliminator. Simon lost to Abraham in March.
Dan Rafael is the boxing writer for ESPN.com.
QUICK HITS

W. Klitschko
• When HBO elected not to buy the June 27 Wladimir Klitschko-Ruslan Chagaev heavyweight title fight, made on short notice when David Haye pulled out because of an injury, Klitschko's handlers set out to find an American outlet for the bout and found one in ESPN Classic, Klitschko adviser Shelly Finkel told ESPN.com. ESPN Classic will carry live coverage at 5 p.m. ET from Germany, where the fighters will meet at Veltins Arena, a soccer stadium in Gelsenkirchen. A crowd of about 60,000 is expected. ESPN Classic also carried live U.S. coverage of brother Vitali Klitschko's March 21 defense of his version of the heavyweight crown against Juan Carlos Gomez.

V. Klitschko
• Vitali Klitschko's next move remains undetermined because of a dispute with the WBC and Oleg Maskaev over his next fight. Klitschko wants an optional defense in the fall, possibly against American Cristobal Arreola. Klitschko's last fight was a mandatory against Juan Carlos Gomez in March. The WBC insists Klitschko make another mandatory against ex-titlist Maskaev, whose team also wants the fight. Maskaev's position as a mandatory, however, is highly questionable considering he was knocked out by Samuel Peter in his March 2008 title loss, which was followed by two victories against inconsequential opponents. The sides are in binding arbitration, and a resolution is expected shortly, Klitschko adviser Shelly Finkel told ESPN.com. They had hearings Monday and Tuesday. This Monday, the sides will present closing statements. "By the end of next week, we should have an answer," Finkel said.

Angulo
• Exciting junior middleweight prospect Alfredo Angulo (15-1, 12 KOs), who suffered his first loss via decision to Kermit Cintron on HBO on May 30, could be back in the ring in short order. Promoter Gary Shaw told ESPN.com that he is talking to ESPN about Angulo's headlining on ESPN2's "Friday Night Fights" on Aug. 7, one of the few remaining dates this season not already accounted for. ESPN is interested and going over potential opponents and sites with Shaw.

Marquez
• Playing up the theme of America's best fighter against Mexico's best pugilist, organizers announced Thursday that Floyd Mayweather and Juan Manuel Marquez have invited the presidents of their respective countries to the July 18 HBO pay-per-view fight at the MGM Grand in Las Vegas. "It would be amazing to have President Obama ringside for my fight," Mayweather said. "With all of these patriotic holidays coming up, and the fact that I met him when he was campaigning to become president, I wanted to extend an invitation to the fight as my congratulations for his knockout victory." Said Marquez of Mexican president Felipe de Jesús Calderón Hinojosa: "President Calderon is a true statesman for our country, and it would be an honor for me to have him come to the fight. Mayweather is the biggest challenge of my career, and having my president there to witness my victory that night would be bigger than the victory itself."

Malignaggi
• The Aug. 22 HBO main event between former lightweight titlist Juan Diaz and ex-junior welterweight belt holder Paulie Malignaggi has been agreed to, Malignaggi promoter Lou DiBella told ESPN.com, although the contracts are not signed. The final sticking point, the weight, was agreed to Wednesday -- a maximum weight of 138½ pounds. The sides had agreed on financial terms and that Malignaggi would go to Diaz's hometown of Houston for the fight days ago, but they were dickering over weight. Malignaggi didn't want to go below 139. Diaz manager Willie Savannah was asking for a 137½-pound maximum, Golden Boy matchmaker Eric Gomez told ESPN.com.
Robert Guerrero, the former featherweight titlist now at junior lightweight, inquired about facing Diaz and would have moved up to lightweight for the fight, which HBO would have accepted. The Diaz side wasn't interested, leaving it to haggle with Malignaggi. "The deal is done," DiBella said. "Willie, myself and Eric were on the phone, and we all said, 'Done deal.' … I told Paulie to lay off his grandma's pasta and eat one less cannoli. Paulie is confident of his speed and boxing ability and is prepared to win in the lion's den of Houston."

Guerrero
• HBO and Golden Boy are planning for two other fights on the Aug. 22 tripleheader from Houston. If Guerrero beats Efren Hinojosa on Friday night on ESPN2, he'll likely appear. Golden Boy's Gomez said he has been talking to representatives for junior lightweight titlist Malcolm Klassen of South Africa about coming to America and defending against Guerrero. "They're interested, and HBO likes that fight, so we're trying to work it out," Gomez said. The opening bout could feature hot middleweight prospect Daniel Jacobs, who needs to come through winning a June 26 ESPN2 bout against George Walton. The proposed opponent is ex-title challenger and former "Contender" star Peter Manfredo. However, Gomez said he might have to find a different opponent because of a promotional issue between Manfredo and Jimmy Burchfield. A proposed bout between lightweights Vicente Escobedo and Michael Katsidis fell through because Katsidis turned it down, Gomez said.

Kotelnik
• Perhaps he's serious or maybe it's just an inventive publicity stunt, but junior welterweight titlist Andreas Kotelnik has "revealed" his "secret weapon" as he prepares to defend his belt June 27 in London against Amir Khan: spinach. According to a release sent out by promoter Frank Warren, who promotes Khan and is putting on the fight, "The Ukraine's answer to Popeye says it's not any old spinach, but prize-winning bunches of the superfood shipped in from a secret destination in his home country to his German training base. … And he insists that tucking into the iron-rich nutrient three times a day has left him in the best shape of his life."
Said Kotelnik, "I came to England for a press conference last week, and missed out on spinach for lunch, and I could feel my energy levels dropping. Fortunately, I had a double portion when I got back to Hamburg, and I felt better than ever. I've been munching on spinach since I began boxing when I was 6 years old. My first boxing trainer told me that it would turn me into the heavyweight champion of the world. Unfortunately, it didn't make me grow that big, but it will make me far too strong for Amir Khan's powder-puff punches."

Castillo
• Former junior bantamweight titleholder Martin Castillo is ending his retirement, manager Frank Espinoza told ESPN.com. Castillo, 32, retired in May 2008, three months after he was knocked out in the fourth round of a lopsided fight challenging Fernando Montiel for his belt in Las Vegas. However, Espinoza said that Castillo has resumed training.
"He wants to come back, so I'm going to see how he looks," Espinoza said. "He's very anxious to come back. He's expressed to me that he has the hunger that he lost for a while, and he wants the opportunity to show me. I said, 'Fine, I will look for a fight for you and see how you look, and we'll take it from there.'" Espinoza said he's looking for a July or August show to put on Castillo in an eighth-rounder. Castillo (33-3, 17 KOs) held a 115-pound title from 2004 to 2006.

Ross
• Cruiserweight Troy Ross (21-1, 15 KOs), a two-time Canadian Olympian who won this season's "Contender" tournament, will face American Michael Simms (20-10-1, 13 KO) in his first bout since winning the reality series finale in February. They'll meet June 19 (Versus) in Montreal's Bell Centre in the co-feature on the card headlined by light heavyweight titlist Adrian Diaconu (26-0, 15 KOs) against fellow Montrealer Jean Pascal (22-1, 15 KOs).

Oquendo
• Former two-time heavyweight title challenger Fres Oquendo (29-5, 18 KOs) will return to the ring for the first time since a controversial split decision loss to James Toney in December. Oquendo, who lost title bouts to Chris Byrd (2003) and John Ruiz (2004), will face Argentine Gonzalo Omar Basile (41-4, 19 KOs) in a 10-rounder in Chicago, Oquendo's hometown. The June 26 bout will be Oquendo's first at home in nine years.
QUOTABLE

De La Hoya
"Being hands-on with boxing, my foundation and my other businesses. This is what will keep me busy so I won't get that itch to fight again." -- Oscar De La Hoya, who retired on April 14, explaining to ESPN.com this week how he keeps from thinking about boxing
QUOTABLE

Calderon
"After I win my fight at the Garden on Saturday night, I'm going for Floyd Mayweather Jr. next, since he only wants to fight guys smaller than him." -- junior flyweight champ Ivan "Iron Boy" Calderon, mocking the former welterweight champion, who has never faced an elite 147-pounder in his prime and is coming out of retirement to face lightweight champ Juan Manuel Marquez on July 18
---