DRAFT CLASS WATCH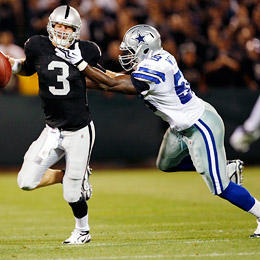 Jason Williams: Depth for a strong LB corps.
Summary: The Cowboys gave up their first-round pick to land Roy Williams last season. And then they traded out of their second-round pick and had the Nos. 69 and 74 picks. Linebacker Jason Williams (69) is pretty raw at this point and offensive tackle Robert Brewster (74) is out for the season with a back problem caused by weightlifting. This may be one of the most brittle draft classes the Cowboys have ever had.
What to expect:
The kickoff specialist, David Buehler, may be the best in show at this point. He's a remarkable athlete and could be a weapon if he racks up the touchbacks. Other than Buehler, I wouldn't expect a whole lot from this class early on.
Wild card:
Outside linebacker Victor Butler made a lot of plays in training camp. He's also raw, but I think he'll develop as the season goes on. Former Clemson safety Michael Hamlin is out six weeks with a broken wrist, but he's a player who could win a starting job in the next year or two. He does a nice job of learning concepts and has excellent hands. I could see him being a seven-interception guy at some point in his career.
-- Matt Mosley, ESPN.com
FANTASY STARS
Marion Barber, RB

We were bashed early in 2008 for our supposed lack of adequate Barber love (we rated him ninth among rushers), as Barber scored five times in Dallas' first three games. But thereafter, the cows came home to roost, or whatever it is cows of ill omen do. Injuries caused Barber to post just 885 rushing yards and 3.7 yards per carry. Our concerns were justified: Barber's vicious rushing style isn't suited for full-time use. Now that the Cowboys have Felix Jones and Tashard Choice available as options, it's possible the team will view Barber as their primary fourth-quarter and goal-line guy, as they did when Julius Jones was around. That's still a valuable role (Barber scored 16 and 12 all-purpose touchdowns, respectively, in '06 and '07), so we still view Barber as a No. 1 fantasy back. He might even be undervalued this year. But you can forget that talk of him being elite.
2009 Projection: 989 rush yds, 13 TD
---
Tony Romo, QB

Romo's overall 2008 numbers don't look great, but remember, he missed three games with a broken pinkie. He still made the NFL's top 10 in touchdown passes, yards per game, yards per attempt, attempts per game and passer rating, which made him a fantasy starter in all leagues. His real-life albatross -- that he's played puny in big games -- doesn't factor much into your fantasy league, except to the extent that when Romo is off, he's really off. The biggest strike against him for '09, though, is that the Cowboys released Terrell Owens this March. Romo still has Jason Witten and Roy Williams, and he'll still go vertical regularly. But for all his madness, T.O. was an incredible fantasy producer. Romo is still a fantasy asset, and although he's 29, he's only just finished his third season as a starter, so he may get better. But any way you slice it, his weapons are worse.
2009 Projection: 4,001 pass yds, 28 TD, 19 INT