Tom Casino/Showtime
Andre Dirrell, left, and Carl Froch nearly kicked off the Super Six Classic during the final presser.

Ed Mulholland/US Presswire
Carl Froch has managed to maintain his cool leading up to Saturday's fight with Andre Dirrell.

Tom Casino/Showtime
Andre Dirrell is adamant he's more than ready for whatever Carl Froch brings to the ring.
Froch filled with confidence
If Carl Froch could win fights based simply on confidence, he might wear his super middleweight world title for many years to come.
To listen to Froch talk, you'd think he could knock out a dinosaur or a rhino if he ever tangled with one of them -- or both! -- in a ring.
And why shouldn't Froch, nicknamed "The Cobra," have confidence?
In the past 10 months, the 32-year-old Brit has beaten Jean Pascal -- who would go on to win a light heavyweight title -- in a rough, toe-to-toe slugfest, and knocked out Jermain Taylor, the former undisputed middleweight champion, in a glorious comeback.
Froch (25-0, 20 KOs) has a perfect record, a tremendous chin, good power and the notion that he can't be beaten.
That's the mindset Froch will take into the ring when he defends his 168-pound belt for the second time at the Trent FM Arena in his hometown of Nottingham, England, against American Andre Dirrell (18-0, 13 KOs) on Saturday night (Showtime, 8 ET/PT). The fight is a first-round bout in the Super Six World Boxing Classic, the modified round-robin tournament involving six elite super middleweights.
"I'm a consummate professional," Froch said. "I've been in the trenches more than once and I've come out on top. I'm an undefeated professional with an excellent knockout ratio. Being that I'm fighting in my hometown just makes my job a whole lot easier.
"You know I'm a big puncher. My record speaks for itself. If I get anyone, and not just Andre Dirrell, in the position where they're down and they're hurt, I'm one of the best finishers in the business."
In the opening fight of the 12-bout, 18-month tournament -- and the opening bout of Showtime's telecast on same-day tape from Berlin -- former middleweight titlist Arthur Abraham (30-0, 24 KOs) moves up to super middleweight to face Taylor (28-3-1, 17 KOs).
It is the victory against Taylor that is largely responsible for Froch's belief that he can do anything in the ring, no matter how deep a hole he may be in.
In April, Froch and promoter Mick Hennessy rolled the dice and took the risk of coming to the United States for the fight with Taylor, and it paid off handsomely, even though it was nearly a disaster.
In the fight, Froch was dropped for the first time in his career (pro or amateur) in the third round, and Taylor was on his way to a split-decision victory. He led by four points on two scorecards going into the 12th round but was running out of steam. Froch, in superb condition, took advantage and scored a punishing knockout with a mere 14 seconds to go.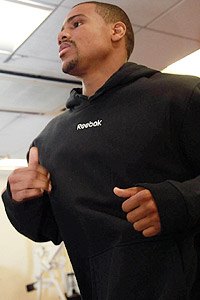 Tom Casino/Showtime
Andre Dirrell has left no stone unturned in preparing for Carl Froch.
"It was close, but I showed what I'm about in rounds 10, 11 and 12," said Froch, who injured his ankle in training and contemplated pulling out of the fight. "I stepped up the gear and started putting my heavy artillery together and started landing some big shots. I could have boxed 15 rounds. I could have boxed 20 if that was necessary. I did what I needed to do in the last round. It felt great and instilled me with more confidence, because it was the first time I've ever been down on the canvas. I was down, I got up and I kept my cool, calm composure and I did what I needed to do. I finished strong. It was such a big finish and it's been received well."
Now, Froch will be at home against Dirrell, the Flint, Mich., native who claimed a 2004 Olympic bronze medal. Dirrell is flashy, much faster than Froch, and loves to switch from right-handed to left-handed, but he isn't nearly as experienced as Taylor, or even Pascal.
"He knows he's in deep water on Saturday night," said Froch, who had to be separated from Dirrell at Wednesday's news conference when their emotions boiled over after a promotion filled with trash talk. "He knows that once I start connecting with the bombs, he's going to be in serious trouble. I've got a feeling he's going to run and run scared, but it's 12 rounds and I will catch up with him, and when I do I'm going to do some serious damage."
Robert McCracken, a former world title challenger and Froch's trainer, said too many people underrate Froch.
"He was around 70 percent for [Taylor] but he's smack on for this one," McCracken said. "He's going in at 100 percent, everything's good. It's the same for all these guys -- Pascal, Taylor and Dirrell. They watch Carl on tape and think, 'I can do this or that with him,' but once the fight starts they realize how awkward he is and how hard he hits. It's a different ballgame. Dirrell's a good kid, a good talent, but he's not fought anybody anywhere near the class of Carl. He isn't ready, it's that simple. I'm sure he'll give it his best on the night but it won't be good enough, so the Cobra will retain his title."
Although Dirrell, 27, has faced limited opposition -- his best win is probably a sixth-round knockout of Victor Oganov 11 months ago -- he believes he's ready for the challenge Froch presents.
He exudes his own confidence.
"I worked my ass off and now it's time to shine," Dirrell said. "I've been working hard my whole life, but I put in the extra 10 yards for this camp so that I could come here and do what I've been dreaming of for 16 years, and that's to bring back the WBC title. I hope he cherishes the title now because it will be coming home to the United States with me, and I will prove that I'm the superior being. I'm taking that belt home, guaranteed. I'm giving my word right now. The crowd won't get a chance to do nothing. The loudest person in there, no disrespect to Carl Froch at all, will be his mother because she'll probably be crying.
"When I get finished with Froch he'll have a look in his eyes as vacant as the title he won when Joe Calzaghe gave it up rather than waste his time with such a trivial defense."
Next for Lopez?
AP Photo/Gregory Payan
Junior featherweight titlist Juan Manuel Lopez, who struggled to a decision win against Rogers Mtagwa in a fight-of-the-year candidate last week, may move to featherweight for his next fight instead of waiting two fights, Top Rank promoter Bob Arum told ESPN.com. He said Lopez would undergo a physical exam to see if it's safe for him to continue making 122 pounds.
Lopez and featherweight titlist Yuriorkis Gamboa, on a collision course for next summer, are due back (in separate fights) on an HBO doubleheader in early 2010. However, Arum said the Jan. 23 date may be pushed to Feb. 6. He also said that instead of the card being in Lopez's native Puerto Rico, as originally planned, it will instead go to New York or Atlantic City. Arum said Top Rank and HBO want their boxing telecasts produced in high definition, but that there are no HD trucks available in Puerto Rico, "and the extra cost to do a telecast out of Puerto Rico is an extra $250,000. HBO wants us to pay it out of the rights fee and we just can't do that. So we're moving the show."
Arum said he leaned toward matching Lopez with featherweight titlist Steven Luevano, whom Arum also promotes, instead of unified junior featherweight titlist Celestino Caballero, who has been calling Lopez out and whom Arum doesn't promote.
Gamboa probably will face Bernabe Concepcion, although Arum said he'd consider matching Gamboa with Mtagwa if the promoter can find something else for Concepcion (Arum already was planning to give the Gamboa fight to Concepcion).
"If I can find something else for Bernabe," Arum said, "why not Mtagwa? He's from Philly, he made a great fight with Lopez. Why not?"
Dan Rafael is the boxing writer for ESPN.com.
QUICK HITS

Wright
• Former undisputed junior middleweight champ Winky Wright (51-5-1, 25 KOs), coming off a lopsided points loss to Paul Williams in an April middleweight fight, returns Dec. 11 in Puerto Rico, adviser Damian Ramirez told ESPN.com. A deal is being finalized for Wright, who turns 38 Nov. 26, to face Grady Brewer (26-11, 15 KOs), a former winner of "The Contender" who hasn't lost since 2005, in a middleweight main event of a pay-per-view card. Ramirez is working with Golden Boy, which will help put together the undercard, although one fighter Ramirez said will be on is former junior flyweight titlist Alex "Nene" Sanchez (31-7-1, 21 KOs) of Puerto Rico. Wright, idle for almost two years between losses to Bernard Hopkins and Williams, wants to stay busy while angling for a more significant fight. As to why two African-Americans would headline in Puerto Rico? "Winky has a huge fan base in Puerto Rico. He has the support of close friend Tito Trinidad, whom Wink promised he would one day fight in Puerto Rico," Ramirez said. Although Wright easily outpointed Trinidad in 2005, the two have become good friends.

Klitschko
• With unified heavyweight champ Wladimir Klitschko out for several months following shoulder surgery and planning to face mandatory Eddie Chambers upon his return in the first half of 2010, Alexander Povetkin (17-0, 12 KOs), Klitschko's other mandatory, will be allowed to fight for a vacant interim belt. With the IBF approving the interim title, Povetkin withdrew from a planned stay-busy fight Friday night in Baltimore, which was to have been his first bout under trainer Teddy Atlas. "Finally, the waiting is over for Povetkin," Sauerland Event general manager Chris Meyer said. "He gets what he deserves -- a world title fight in the near future. We are all tired of waiting for Klitschko." Povetkin's interim title fight likely will be against ex-titlist Samuel Peter, probably in Europe, according to Top Rank's Bob Arum, Peter's promoter. "[Top Rank's] Carl Moretti and Chris Meyer discussing the fight," Arum said. "If we make it, we'll pull Sam off the Nov. 13 and Dec. 5 cards he was supposed to be on." Povetkin-Peter could land on Jan. 23 and possibly be paired on Showtime along with a U.S.-based fight between Arthur Abraham and Andre Dirrell, one of the Super Six Group Stage 2 bouts.

Valuev
• When Nikolai Valuev of Russia defends his version of the heavyweight title against former cruiserweight champion David Haye of England on Nov. 7 in Nuremberg, Germany, it will be available via Integrated Sports pay-per-view in the United States (4 p.m. ET with a prime time replay, $24.95). The 6-foot-3, 215-pound Haye is confident of victory even though he is much smaller than the 7-foot, 320-pound Valuev. "I believe I can knock him out. I will take the title home with me," Haye said. "This will be a true David versus Goliath battle. I am much faster than him and I will win." Former heavyweight titlist John Ruiz, the mandatory challenger who made a deal to step aside to allow Valuev-Haye, will fight on the undercard, likely against Ozcan Cetinkaya (16-6-1, 10 KOs) of Turkey. Ruiz's deal calls for him to fight the main event winner next.

Soto
• Top Rank is planning its next "Latin Fury" and "Pinoy Power" pay-per-view cards. "Latin Fury 13" will take place Dec. 19 in Cancun, Mexico, and the Filipino-themed "Pinoy Power 2" will take place in January or February, promoter Bob Arum told ESPN.com. If Julio Cesar Chavez Jr. comes out OK from his fight with Troy Rowland on the Nov. 14 Miguel Cotto-Manny Pacquiao HBO PPV undercard, Arum said he'll headline "Latin Fury." Arum also said junior lightweight titlist Humberto Soto, who is moving up in weight, will be on the show and may challenge interim lightweight titlist Miguel Acosta. Also appearing, Arum said, will be middleweight John Duddy, whom he hopes to match with Chavez in 2010. "Pinoy Power" will take place in Las Vegas, perhaps at the Hilton, which used to be a major player in boxing and is considering getting back into the business, Arum said. On that card, Arum said interim junior bantamweight titlist Nonito Donaire will defend his belt in the main event. Other bouts being discussed, Arum said, are bantamweight titlist Fernando Montiel against Gerry Penalosa, Z Gorres against Eric Morel and a bout involving rising junior welterweight prospect Mark Melligen.

Malignaggi
• though the contracts haven't been signed yet for the likely Dec. 12 rematch between former lightweight titlist Juan Diaz and former junior welterweight titlist Paulie Malignaggi, Golden Boy CEO Richard Schaefer told ESPN.com the sides have agreed to the weight (139 pounds) and the ring size (20x20), both of which go in Malignaggi's favor. Malignaggi, who struggles just to make 140 pounds, fought the controversial first fight Aug. 22 at a contract weight of 138½ and in an 18x18 ring and lost a controversial decision in Diaz's hometown of Houston. They're still haggling over some of the financial terms. Because Malignaggi won't go back to Houston and Diaz won't come to the East Coast to fight in Malignaggi's hometown of New York, or even Atlantic City, N.J., Schaefer said the fight will take place in Chicago, neutral territory with a large Mexican and Italian population to draw from.

Molina
• Lightweight prospect John Molina (18-0, 14 KOs), who blew out veteran Efren Hinojosa in the first round on last month's Vitali Klitschko-Cristobal Arreola undercard, returns Nov. 28 to headline a "ShoBox" card from the Pechanga resort in Temecula, Calif., promoter Dan Goossen told ESPN.com. Goossen and Showtime are finalizing the card, but Goossen said Molina would face Martin Honorio (25-4-1, 13 KOs), a step up in opposition for Molina. Honorio is the only man to defeat featherweight titlist Steven Luevano, but he also was knocked out in one round by then-featherweight titlist Robert Guerrero in 2007. Junior featherweight prospect Rico Ramos (13-0, 8 KOs) will fight in the eight-round co-feature, Goossen said. Super middleweight Shawn Estrada (6-0, 6 KOs), a 2008 U.S. Olympian, is scheduled for the untelevised undercard.

Agbeko
• Bantamweight titlist Joseph "King Kong" Agbeko (27-1, 22 KOs) is predicting a knockout victory against mandatory challenger Yonnhy Perez (19-0, 14 KOs), whom he faces Oct. 31 (Showtime, 9 p.m. ET/PT) at Treasure Island in Las Vegas. "I'm not underestimating him. He's a good fighter, but I know this is going to be a knockout for me," Agbeko said. "Perez should keep his confidence as an undefeated fighter and bring it to the ring. I want to face him at his best. After our fight, he will feel the same way I did after I suffered my only loss, except mine was a robbery. His will be real."

Barrios
• Former junior lightweight titlist Jorge Barrios (48-4-1, 34 KOs) returns to action in his native Argentina to face Mexico's Michael Lozada (32-5-1, 25 KOs) on Nov. 21 on Golden Boy's monthly card televised throughout Latin America and South America on HBO Plus. In the co-feature, junior welterweight knockout artist Lucas Matthysse (24-0, 22 KOs) will also see action. Barrios is now campaigning at lightweight. He made his 135-pound debut in August, outpointing Moises Castro in a 12-rounder. Barrios elected to move up after Rocky Juarez stopped him in the 11th round in September 2008, a fight in which Barrios suffered a severe cut to the side of his mouth.
QUOTABLE

Hopkins
"People [are] asking me about the Roy Jones fight but I am not thinking about that right now. He will be fighting the same night across the world and we both have to take care of what is first in front of us before I start thinking about fighting him. And don't forget I am 44 years old and it wouldn't be smart of me to think ahead. I only have to think about who is right there in front of me." -- Bernard Hopkins, in announcing a Dec. 2 (Versus) fight in his hometown of Philadelphia against Enrique Ornelas, whom he must defeat to preserve a fight with Jones in early 2010
QUOTABLE

Ornelas
"This is the opportunity of a lifetime and I am going to step it up and go toe-to-toe with Bernard Hopkins." -- Enrique Ornelas, who faces long odds when he faces Hopkins
---