Hey Bucci,
First-time writer, so I want to start off by saying your column is my favourite and your music taste is awesome. I am a huge Colorado fan, from way back in the day of the Nordiques. Here is my question ... the Avs are off to one of their best starts, and I am loving it. What would you have done with Ryan O'Reilly and Matt Duchene? Send them down or keep them? What are the advantages and disadvantages you see in both situations?
A.J. Basaraba
Penticton, B.C.
(P.S. -- I have a chance to see U2 at the end of the month. What is the most I should pay for a scalped ticket?)
I usually delete compliments from e-mails, but because A.J. spelled favourite with a "U," I had to include it. Here are a couple of nuggets from my Avalanche preview:
Colorado is in great position to build another championship team if it stays patient and smart ... Greg Sherman and coach Joe Sacco might get this thing going sooner rather than later.
That being said, I did pick the Avs to finish 15th in the West. They still might end up there once the young guys hit the wall and if the team can't stay healthy. But given Colorado's good start and Craig Anderson's play in net, Minnesota and Nashville look like they might be the basement teams in the conference.
As far as Ryan O'Reilly and Matt Duchene go, I would tend to play these things conservatively whenever possible and send players back to junior unless they are high-impact players. (Players with junior eligibility can be returned to their clubs before playing in their 10th game without the first year of their entry-level contract being made valid.)
Playing a lot of ice time and in all situations is what I would favor for a teenager. The intense world junior championship is also a wonderful event that seems to accelerate development in some cases.
The benefit for teams keeping these young players in the NHL is they can "baby-sit" their assets in terms of practice, playing habits, fitness/nutrition and learning how to live and act as a professional.
Duchene appears as if he will be a high-level player; maybe another year with the Brampton Battalion would be too easy for him in some ways. He is a special talent who is probably best served playing with players better than he is. Playing in the NHL will activate parts of his brain he hasn't used and speed up his development. NHL teams want their special talents to develop quickly so they can help their teams as quickly as possible.
I'm surprised Ryan O'Reilly was not sent back down to the Erie Otters. He won't turn 19 until February. Because he was a second-round pick, he has a cap number of $880,000. I would slide that cap number into the future as long as I could. That number becomes even more valuable as O'Reilly continues to improve and enables teams like the Avs to manage the salary cap better once the team is ready to become a force.
Back in 2006, Kris Letang played seven games for the Penguins before being sent back down to his junior team, the Val-d'Or Foreurs. Now, the Penguins probably weren't thinking of this at the time, but by delaying his entry-level contract, Letang, who will turn 23 in April, is playing with a cap number of $835,000 this season. Had Letang not been sent back down when he was 18 and was coming off last season as a restricted free agent (13 playoff points in 23 games), he would have had a $2-3 million cap number, weakening the Penguins' roster. Instead, Letang will be a 40-point, puck-moving, power-play, shootout-specialist defenseman with an $835,000 cap number. Add in fourth-round pick Tyler Kennedy, a 20-goal scorer (all equal strength) with a $725,000 number, and you see the value of non-first-round draft picks in the salary-cap world.
And that's why O'Reilly is so valuable and why I would have sent him back to Erie to continue his development so the Avs can slide that cap number another year when they are closer to an elite team. The Avs probably will not make the playoffs this season. If they do, they probably won't win a playoff series. There is no need to rush things. You just can't take the best players on the team all the time, as stupid as that sounds. In the cap world, you have to manage with nuance.
As for a scalped U2 ticket, it depends on the venue and whether you've seen them yet. We all have limits, but if it's something you really want to do, do it and make sacrifices elsewhere. I buy store-brand things at the grocery store and drugstore so when things like U2 tickets come up, I don't feel bad about spending three digits to see a concert. Don't spend four bucks on a toothbrush! How long must we sing this song?
John,
How great is Canadian music these days? In recent years, our northern neighbors have given us, among others:
Arcade Fire
City and Colour
Matthew Good (especially his solo stuff)
Bedouin Soundclash
Billy Talent
Our Lady Peace
This, in addition to classics like The Tragically Hip, Lowest of the Low and Neil Young.
John
Buffalo, N.Y.
I'm probably not the first to notice, but there are times when Arcade Fire, whom I love, sound like a Joy Division cover band.
John,
I was watching an interview with Alex Ovechkin on NHL Network this weekend. He was asked about playing in Russia for the 2014 Olympics. He said that the NHL couldn't stop him from participating (I'm paraphrasing here).
Does the NHL's reluctance to allow players to participate in the 2014 Olympics make it less competitive against the KHL? I think the NHL needs to commit to the Olympics so that we don't lose any more talent to Russia.
Tim Freitag
Ramsey, Minn.
1. Alex Ovechkin will not be a part of the 2014 Olympic Games if the NHL is not. But they will be. The players want to play and, at least based on last week's Bucci poll, 85 percent of you want NHL players in the Olympics. There is too much desire from the players and fans to prevent this from happening. I don't think even NHL commissioner Gary Bettman has that much hubris to ignore that.
2. I'll take Ilya Kovalchuk, Ovechkin, Pavel Datsyuk and Evgeni Malkin, and you can take the other 22 Russians. Yeah, I really miss the heart and soul of Alexei Yashin. Athletes want to play in the best league in the world, and when it comes to hockey, it is the NHL. If one or even two players decide to head back to Russia, the NHL will be fine. There is talk Kovalchuk may sign with Russia during the summer. If that happens, so be it; the NHL will survive. This is a team game and a team league. And the chances of Kovalchuk playing in the KHL next season? I have that at ZERO.
Hey Bucci,
It seems like the Rangers' young defensemen are getting all the love to start the season so far, but how about giving the Sabres some love? Tyler Myers looks like exactly the type of game-changing defenseman (offensively and defensively, unlike Brian Campbell) the Sabres have been lacking for what seems like forever. Not to mention he's only 19 years old. I know it's early in the season and he has a ways to go, but how do you see him now and where do you think he'll be in five years? I think the sky is the limit and he could be a top-five defenseman in this league for a looong time.
Dan
Buffalo, N.Y.
A lot of players have good eight-game stretches, so let's be careful with Tyler Myers projections. That being said, when a player is 6-foot-8 and can move, he is an immensely valuable player. Myers also seems to have an offensive sense to his game on the rush and at the blue line on the power play. Where will he be in five years? He seems pretty polished right now. Not every young player improves the same amount.
Picture a 10-story Hampton Inn on the side of the interstate. Some players enter the NHL on the seventh floor like Sidney Crosby, Ovechkin and Malkin, and then improve to the penthouse in one to two seasons. Some players, like Patrick Sharp, enter the NHL on the second floor. He was drafted in the third round, played two years of college hockey at Vermont and then spent three years in the AHL. The Flyers traded Sharp to Chicago for Matt Ellison, who barely played in the NHL afterward, while Sharp has moved up to the fifth or sixth floor with the Hawks as a 30-goal scorer.
Some players, especially physically mature first-round picks, enter the NHL right away on the third or fourth floor, like Jordan Staal. And although Staal has improved, he has pretty much been the dependable, plus player from day one. He will play 20 years in the NHL, but he might see only a two-floor rise for a couple of years.
Myers may be along the lines of Staal where the player is good right away, doesn't jump up much more than that and falls short of superstar status.
Hey Bucci,
I've seen Ben Folds three times here in Buffalo, but I feel bad for him because two of those shows happen to have been on the same night as Sabres games and the turnout hasn't been great.
One was a college show during a playoff game against the Islanders in 2007 and the other was earlier this month with the Buffalo Philharmonic Orchestra during the second home game of the season. Both shows were amazing, but lots of Ben Folds fans were either at those games or watching them on TV.
So, Bucci, I just want to tell Ben that we all want you to come back -- just make sure it's in the offseason! I've seen Ben with just his piano, with his three-piece band and with a symphony orchestra. He is the best songwriter and performer I've ever seen and he is the only reason I would ever miss a Sabres playoff game!
Kevin Sampson
Buffalo, N.Y.
Think of me
Anyway you want
I can be
The problem if that's easier
In your head
Move the pieces around
Things I've said
Turn the memory upside down
-- "Time" by Ben Folds
John,
Longtime fan of your articles and lifelong fan of the Red Wings. My wife and I are expecting our first child (a baby boy due Nov. 6). We've been getting a lot of pressure from our families about what the name will be, but we're having trouble agreeing on one. Any ideas?
David Yanska
Peoria, Ill.
Nicklas (wife's maiden name) Yanska. The "K" in Nicklas and the two-syllables name work well with the "K" and two syllables in Yanska. Nicklas Yanska is a good name.
John,
As a Capitals fan since I was 5 years old in 1977, I am believing that this could be the Caps' best shot at the Stanley Cup. I am concerned about their shaky start. What do George McPhee and Bruce Boudreau need to do to improve their squad to make them odds-on favorites to win the Cup? I say defense. Thoughts? And does a player get credit for a goal on the season total if he scores in a shootout?
Brian
Virginia
Shootout goals do not count toward a player's season total.
I think you are right in that defense is the Caps' question mark. I would love to see them add a defenseman to take some of the offensive load off Mike Green. Someone like Wild blueliner Marek Zidlicky, who is in the last year of his contract, might be a good fit with the Capitals. But, overall, the Caps are right there. They have an outstanding group of forwards with lots of skill, size and grit. If they do nothing, they still could reach the Cup finals.
Hi John,
Greetings from sunny Scotland! Nice to see you pick the Flames as No. 1 in the West this year. I think we've got a good chance of getting out of the West as long as we avoid Chicago! A few teams in the East scare me, though. My question is, if the Flames don't win the Cup this year or any time soon and Jarome Iginla doesn't move on, where would he rate for you in terms of best player never to win a Cup?
Niall Glasgow
Marcel Dionne has the most career points (1,771) and goals (731) without winning a Cup. Adam Oates is next in terms of points with 1,420. Mike Gartner had 708 goals and no Cups. Dino Ciccarelli had 608 career goals and no Cups. Other great skaters with no Cups: Mats Sundin, Rod Gilbert, Pat LaFontaine and Pavel Bure. If Iginla retires without a Cup, he certainly would be in that group.
Hey John,
I know you're a busy guy, but I just wanted to say thank you, as your column has made a significant difference in my life.
I'm a Canadian living in the United Kingdom, and your column (and mailbag) has been a more-than-adequate proxy for discussing hockey with my buddies back home. Sure, the conversation is one-way, but I'm not sure my friends and I ever listened to each other much anyway! No matter my disposition, your column brings a smile or laugh, and to top it all off, you interject great musical choices into the mix.
A year ago Oct. 9, my baby daughter was born. Her mother and I were estranged and I went through a tremendously difficult period trying to adjust to not being part of the pregnancy, nor subsequently my daughter's birth.
At the end of one of your columns last season, you posted a reader's picture of their baby girl named Grace and quoted from the Ben Folds song "Gracie." As luck would have it, that was what my daughter's mother decided to name her. That song, and to a great degree other songs by Ben Folds (who I had never listened to up to that point), have proved to be a source of strength for me over the past year, and I have you to thank.
I did get to see my daughter after she was born, and have now played "Gracie" for her so many times that when she hears the opening notes, she instantly looks for me with a big smile on her face. At her birthday party last weekend, I got to dance with my Gracie-Girl. And, yes, she walks on her toes.
Darryl
You can't fool me, I saw you when you came out
You got your momma's taste but you got my mouth
And you will always have a part of me
Nobody else is ever going to see
Gracie girl
With your cards to your chest walking on your toes
What you got in the box only Gracie knows
And I would never try to make you be
Anything you didn't really want to be
Gracie girl
Life flies by in seconds
You're not a baby Gracie, you're my friend
You'll be a lady soon but until then
You gotta do what I say
-- "Gracie" by Ben Folds
John Buccigross' e-mail address -- for questions, comments or crosschecks -- is john.buccigross@espn.com.
BUCCI'S FAN PHOTO
Hey Bucci,
The 2008-09 season was a special one for me and my family. I'm a Penguins fan who grew up in Pittsburgh during "Time of Mario," and that's how I became a hockey fan. My wife Janet and I went to a hockey game on our first date, and since the "Time of Sidney," she's become a Penguins fan too, even though she didn't grow up in Pittsburgh.
During last season, my daughter Avery began to discover that she liked watching hockey on TV during the playoffs, and each morning, I had to put on some kind of hockey show because all I ever heard was "Hockey! Hockey! Hockey!" My wife gave birth to our second child this summer, and as big-time Penguins fans, we saw all the connections. Our son was born on July 31, which is also Evgeni Malkin's birthday, and to honor Penguins captain Sidney Crosby for their upset win over the Red Wings, we included his surname as our son's middle name. Now, our little boy, Brayden Crosby, has found his own love for the game, or at least, we think he has. As we laid on the floor with him during the Penguins/Flyers game in early October, his eyes were glued to the screen and his feet kicked wildly as the game played on the screen. When it went to commercial, he cried, but the crying stopped as soon as the game returned. I think we may have made another fan.
Denny, Janet, Avery and Brayden Wolfe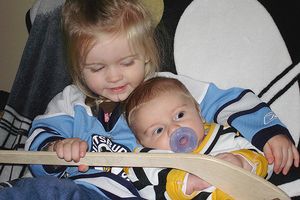 Bucci,
Cost of a C-section to get Lola out: $52,000. Cost to raise Lola into adulthood: $375,000. Listening to your Blue Jackets beat the Flames 2-1 on the exact day of her birth: PRICELESS!
Kelly, Darcy & Lola Geither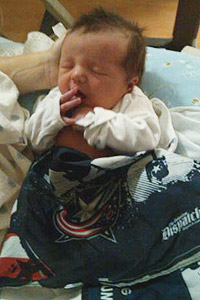 DON'T FORGET THE COLUMN ...
Think it's tough to play hockey? Just imagine watching your kid play. Bucci talks about the lessons from the local rink with an expert who knows. Plus, the latest Power 5 and fan poll. Column
VIDEO OF THE WEEK
(PRESENTED BY MOZZARELLA STICKS)
---