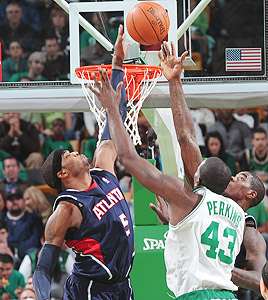 NBAE/Getty Images
1. Josh Smith, Hawks:
The youngest player in NBA history to record 900 blocked shots is currently leading the league in rejections at 2.6 per game.
2. Brendan Haywood, Wizards: He is giving Washington steady play in the middle, turning away 2.4 shots while pulling down 10.6 boards per contest. But those rebounding numbers will decrease with the return of Antawn Jamison.
3. Rajon Rondo, Celtics: Kendrick Perkins, Rasheed Wallace and Kevin Garnett patrol the frontcourt, while Rondo and his gambling ways slow down opposing guards.
4. Ron Artest, Lakers: He has taken the pressure off Kobe Bryant to slow down the opposition's top scorer.
5. Greg Oden, Blazers: His offense still needs some work, but his interior defense has been one of the keys to Portland's early success.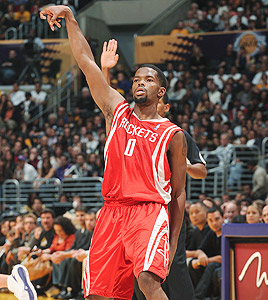 NBAE/Getty Images
1. Aaron Brooks, Rockets:
With
Yao Ming
and
Tracy McGrady
sidelined, he finds the ball in his hands a lot more than last season. And he is making the most of it. If the career-high 33 points he put up on the Lakers wasn't enough proof, his season averages of 18.3 points and 5.9 assists should be.
2. Channing Frye, Suns: Talk about a perfect fit. Who knew that the 6-11 Frye was best suited for Phoenix's run-and-gun style? As impressive as the nine-point spike in his points-per-game average is, it is hard to believe that he is shooting 47 percent from 3.
3. Joakim Noah, Bulls: Take a look at the league leaders and you might be surprised to see that Noah is the top rebounder (12.2).
4. Trevor Ariza, Rockets: Not only is he wearing McGrady's No. 1 jersey, he is also doing his best to fill his shoes, leading Houston in scoring, while averaging career highs in rebounds (5.1) and assists (4.2).
5. Chris Kaman, Clippers: Yes, he has had better rebounding seasons, but his scoring (22.3 ppg) is through the roof. Now, if only he can stay healthy for the entire season.

Points per game
Kobe Bryant, Lakers (30.1)
NBA scoring leaders
Rebounds per game
Joakim Noah, Bulls (12.2)
NBA rebounding leaders
Assists per game
Steve Nash, Suns (11.5)
NBA assists leaders
Steals per game
Rajon Rondo, Celtics (2.7)
NBA steals leaders
Blocks per game
Josh Smith, Hawks (2.6)
NBA blocks leaders
Field goal percentage
Dwight Howard, Magic (.664)
NBA field goal leaders
3-point field goal percentage
Chris Paul
, Hornets (.655)
NBA 3-point shooting leaders
Free throw percentage
Ty Lawson, Nuggets (94.1)
NBA free throw shooting leaders