Ravens must slow Manning, Colts: Good news for the Baltimore Ravens, who face their personal nemesis, Peyton Manning, on Sunday. It looks like Pro Bowl defensive tackle Haloti Ngata, who has missed the last two games with an ankle injury, will play against Indianapolis.
But the bigger news is that the Ravens' best pass-rusher,
Terrell Suggs
, has been ruled out Sunday with a badly sprained right knee after getting hit on an illegal low block from Browns quarterback
Brady Quinn
on Monday night. The league fined Quinn. But Ravens linebacker
Ray Lewis
, who blasted Quinn's "cheap shot," said "no dollar amount" is suitable reparation. Suggs will be missing Baltimore's biggest game of the year. The Ravens -- who just cut their first-year kicker, Steve Hauschka, for failing to come through in the clutch -- have scored only 23 points in their past two games. Against the Browns on Monday night, Baltimore was shut out in the first half.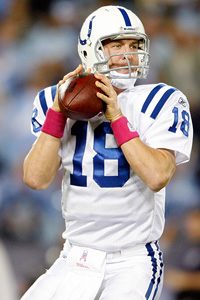 Andy Lyons/Getty Images
The Ravens will look to slow Peyton Manning and the Colts' No. 3-ranked offense.
Facing the Colts on Sunday, that's not a good trend. Believe it or not, the Colts' defense is ranked No. 1 in the league in points allowed (17.8 points a game) -- a perch normally reserved for the Ravens (19.3 points allowed per game). What's more, the Colts' offense averages four touchdowns a game. And Manning has been surgically precise, so unforgiving against the Ravens. In short, he's owned them. The Ravens have lost six straight to Manning, who during that stretch has 11 touchdown passes and just three picks. In the last three games alone, the Colts have outscored the Ravens 99-29, with the Ravens failing to score a touchdown in two of the three losses. And that was with Suggs, who leads the Ravens' D-linemen with 42 tackles. Without Suggs, this game comes down to Manning and Lewis trying to decipher each other's moves and codes. "You know he's going to be pointing and giving fake messages," said Lewis. "We'll adjust. He'll change. We'll change. It's back and forth. Sometimes we'll smile at each other like two old soldiers playing a chess match."
-- Sal Paolantonio
Giants refreshed, ready for second-half push:
Brandon Jacobs
went to a boxing match.
Justin Tuck
went hunting.
Eli Manning
went to see his alma mater play. The Giants were told to clear their heads and rest their bodies during their bye week, and now that they're back on the field, they promise that taking time out for those extracurricular activities will indeed bear positive fruit when they resume their day jobs on Sunday. "Sometimes you don't feel tired until you get away and realize that your body is tired, your mind is tired. So it was good for us for it to come at this time and get the break," Manning said. Players say they've noticed a renewed sharpness in practice this week, and greater attention to detail overall. They've also noticed a more steely resolve, born in part from simple pride. "The feeling this week is that we just have to win, period, doesn't matter if it's pretty or ugly or what, but it has to happen," defensive end
Mathias Kiwanuka
said. "This is ... a team that does not see itself missing the playoffs. We have to get back to winning, simple as that."
-- Rachel Nichols
Can Cincy handle being the favorite?:
Wins over the Ravens and Steelers the last two weeks taught us a lot about the
Cincinnati Bengals
. The next three weeks will teach us even more. The 7-2 Bengals now play three straight games against Oakland, Cleveland and Detroit. Combined record: 4-23. The Bengals will be big favorites in each, which is exactly why some in Cincinnati are concerned. This season, the Bengals have been favored three times. They lost two of those games and squeaked out an overtime win over the Browns in the other. When Cincinnati is an underdog? A perfect 6-0. On Nov. 6, just before the back-to-back games against division rivals Baltimore and Pittsburgh, wide receiver
Chad Ochocinco
said, "I see this as a two-game season." Now that those two games have passed how will the Bengals respond? Focused or flat? "The last couple of weeks will be all for naught," head coach Marvin Lewis said, "if we don't take care of our business."
-- Bob Holtzman
Each week, Football Outsiders takes a look at every game with a mix of interesting numbers and in-depth statistical analysis. Football Outsiders stats explained here. (All times Eastern.)
Falcons at Giants, 1 p.m.
Here's another example of the strange results caused by
Brandon Jacobs
' decline this season: The Giants rank 23rd in DVOA on third-and-short (1-3 yards to go), but fourth on third-and-medium (4-6 yards to go) and first in the whole league on third-and-long (7+ yards to go). Atlanta's defense is 22nd in DVOA in the NFL overall, but seventh in the red zone. •
More Falcons-Giants
:
Intel Report
Colts at Ravens, 1 p.m.
It is very difficult to run against the Ravens, who rank fifth in run defense DVOA and second in adjusted line yards against the run. However, if they do have a weak point, it is on runs up the middle. The Ravens rank 13th in ALY there, the only direction where they are not in the top seven. It just so happens that the strength of the Colts' running game is runs up the middle. They rank eighth in ALY up the middle, compared with 15th overall. To take advantage of this, Indianapolis will need to get away from its usual game plan. As we know, the Colts love the outside stretch play, not dives and isos up the middle. Only 29 percent of Colts runs are marked "guard" or "middle," last in the league. The NFL average is 51 percent. Even considering that last week's classic with the Patriots was a home game, the Colts have played much more high-scoring games on the road this year. At home, the Colts rank 11th in offensive DVOA but second in defensive DVOA. On the road, the Colts rank first in offensive DVOA but 16th in defensive DVOA. •
More Colts-Ravens:
Intel Report
Chargers at Broncos, 4:05 p.m.
Somebody needs to remind Josh McDaniels about the running game before Sunday afternoon. Last week against Washington, Denver ran only six times in the second half despite being stuck with a struggling backup quarterback. This week, running is even more important. The Broncos rank eighth in FO's adjusted line yards stat, and they are particularly strong up the middle (fifth). The Chargers are dead last in adjusted line yards and dead last stopping runs up the middle. Josh: You drafted
Knowshon Moreno
in the first round. This is why. Use him. The matchup of
Vincent Jackson
against the Denver secondary will be interesting because of the Broncos' odd record against No. 1 receivers this year. Broncos opponents have thrown fewer than six passes per game to No. 1 receivers, the lowest figure in the league. With
Champ Bailey
on the field, that probably doesn't surprise you. However, when opponents do throw to their top receivers, they are actually very successful, averaging 9.4 yards per pass attempt (third in the NFL). In the first Chargers-Broncos game, Vincent Jackson caught 4 of 7 passes for 46 yards and a touchdown, and also drew a 34-yard pass interference penalty -- when he was being covered by
Andre' Goodman
, not Bailey. •
More Chargers-Broncos:
Intel Report
More Week 11 previews from Football Outsiders