Mark Schlabach and Bruce Feldman's weekly projections for all the bowl matchups are a staple in search during the college football season, but the search numbers always kick up a notch during the final month of games. A rivalry week filled with upsets and the end-of-season SEC showdown between No. 1 Florida and No. 2 Alabama have added to the intrigue of what should be the final bowl matchups (particularly the BCS National Championship Game, as Schlabach and Feldman remain split on whether the Gators or Crimson Tide will face the Longhorns). Although the expert who projected the most correct matchups still remains to be seen, one certainty is that searches for the bowl projections reached more than 225,000 in November, outranking all other searches.
Quick Hits
Surprise Search of the Month: Michael Oher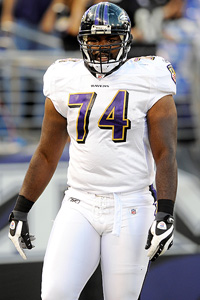 Offensive linemen aren't quite as disrespected as kickers (see Adam Sandler's hilarious "The Lonesome Kicker" for further explanation), but typically, most users aren't searching for them and there certainly aren't many highlights featuring them. However, the release of the movie "The Blind Side," based on the novel about the life of Baltimore Ravens offensive tackle Michael Oher (right), just might change all that. Users curious about the movie and Oher's rise from poverty to first-round NFL draft pick have made the offensive lineman a top search. After only 1,420 searches in October, Oher is the surprise search of the month after receiving more than 9,300 in November -- an increase of more than 550 percent.
The Complete Top 25
Check out the ESPN Search Index for the latest buzz in search, including the top daily searches, surprises and movers.
Maalek Marshall is ESPN.com's search editor.
Note: The results listed are the summation of actual search results that were manually typed in by site users of ESPN.com in said month of 2009. All prelinked searches (including columnist archive links) were excluded from this summation.