'Roids put MLB integrity at risk
Baseball could be facing an ugly backlash from fans and sponsors if the steroid scandal spins out of control.
In a sport where fans value RBI, OPS and WHIP, there's a new acronym that's all the rage -- BALCO.
The work of Bay Area Laboratories Co-Operative has been the focus of spring training with Opening Day less than a month away. While many have speculated that some of baseball's stars used performance-enhancing drugs, the news that BALCO executives reportedly sent shipments of steroids to players, including Giants slugger Barry Bonds, is hitting closer to home plate than ever before.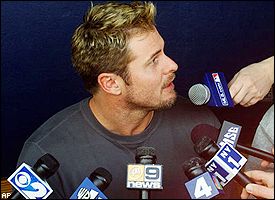 Jason Giambi needs to open up and speak freely about his alleged use of steroids.
How the rest of the story unfolds is unknown, as is the answer to these questions: How much damage will the sport of baseball sustain? How many people will actually stop watching games? How many companies investing in the sport will reroute their money elsewhere?
Baseball's testing of players in 2003 revealed that 5-7 percent of players tested positive for steroids. There's been plenty of finger-pointing, some targeting the Major League Baseball Players Association, whose officials have been criticized for pushing for the lenient version of the sport's first drug testing policy a year and a half ago.
Because more than 5 percent tested positive, players will be subject to unannounced testing for the first time this year. But baseball officials -- trying to convince the public and sponsors that they are doing all that they can -- are attempting to get the union to agree to a more substantial program before the expiration of the current CBA, calling for harsher penalties and immediate disclosure of offenders. As of now, a player who is found to be using steroids five times will only receive a year ban and a $100,000 fine.
"At least 93 percent of players tested clean last season," said Bob DuPuy, baseball's president and chief operating officer. "We want our fans to know that they are clean and the players want our fans to know that they are clean. Hopefully we can ferret out the wrongdoers and in doing so maintain a level of confidence."
"Baseball knows that the situation needs to be fixed, but the league can't impose a more meaningful policy without the union's agreement," said Bob Cramer, vice president of global sponsorships for MasterCard, which used Bonds in its "Memorable Moments" campaign. MasterCard has two years left on a deal signed in 1997 to become the official credit card of the league. "Hopefully, the union realizes that a better drug testing plan will be a lot more valuable to the league's fans and sponsors."
Marketing of Bonds
Although it hasn't been proven that Barry Bonds used steroids, the suggestion that he has could hurt his marketing potential.

The San Francisco Giants slugger decided at the end of last season that he would be the first player in marketing history not to sign the Major League Baseball Players Association's group licensing agreement, which aggregates the rights of the players' names, numbers and likenesses for use with merchandisers. The MLBPA then pays a portion of the licensing revenues to the players.

By selling his rights individually, Bonds has the potential to earn more money than he has in the past. But there's a catch: Those that are licensed by the MLBPA have been told that they cannot include Bonds in their sets with other players.

That gives Topps has an advantage in the card industry. Unlike other licensees, Topps would be able to put Bonds in its products with other players. This is because Topps signs each player it has in its sets to individual contracts, as opposed to other card companies like Donruss and Upper Deck, which sign deals with the MLBPA.

"We're very interested in signing him," said Clay Luraschi, a spokesman for Topps. "Products with his name and image are very collectible."

Donruss and Upper Deck can sign the 39-year-old Bonds -- who is two home runs from tying his godfather Willie Mays for third place on the all-time home run leader list at 660 -- but can't include him in a set with others.

"He's never really been in the top five in terms of collectibility," said Bill Dully, chief operating officer of Donruss, who cites Sammy Sosa, Albert Pujols and Ichiro as those players more collectible than Bonds in the industry. "His numbers dictate he should be, but perhaps it's his personality that turn people off."

Dully said he believes that signing Bonds to a deal to give a card company rights to his name and image, assuming it includes about 1,000 autographs, would cost about $300,000. Bonds marketing agent Jeff Bernstein did not return a call seeking comment.

For most of his career, Bonds hasn't been considered a marketing gem by Madison Avenue, in part due to the perception by sports marketers that he was too egotistical and standoffish to relate to most audiences. But after blasting 73 home runs in 2000, Bonds was given a greater chance by corporate America. He signed short-term deals with Kentucky Fried Chicken, Charles Schwab and MasterCard in 2002.
-- Darren Rovell
But making immediate changes to the league's current policy isn't going to be easy, as one of the world's strongest unions will be asked to weigh the question of player privacy over credibility.
"It's going to be black eye for a while," said Steve Phillips, former general manager of the New York Mets. "I don't see the union dramatically changing their stance anytime soon, so it could linger for several years. In baseball, things happen in baby steps and the league is going to have to figure out how to market the game with this issue being there."
League and team executives have also received blame on the drug issue. Owners have clearly sent the message that they expect more of the players, doling out more cash than ever before.
"The extreme competition and pressure to win is not only reflected in the economics and the position that some owners take, but also reflected in the players' contracts," said Phil de Picciotto, president of athletes and personalities at Octagon, a sports and entertainment marketing firm. "These contracts are heavily based on statistical performance and they expect these guys to be bionic, that progress will be made every year, that the players will get bigger, faster, stronger over time. Not many people inside the sport are asking, 'what are the limits to all of this?' "
"If a player knows that if he hits five more home runs, he'll get $1 million more, he's going to do whatever he can to make sure he reaches that benchmark," said Clark Griffith, a Minneapolis-based attorney who was a former executive vice president with the Minnesota Twins in the early 80s. "If a player comes into spring training and sees a guy he's competing with got 25 pounds larger, he's going to do what he can to keep up."
As more information about specific players becomes available -- and especially if those players are stars -- selling the game could get more challenging.
Part of the draw of the baseball to young and novice fans is home runs, but in light of the BALCO scandal it will be harder to pitch their monstrous, larger-than-life players to fringe fans, as the league did to advertise the Home Run Derby during the 2002 All-Star Game. The television advertisement referred to the players as "superhuman" and featured renderings of Barry Bonds, Sammy Sosa, Jason Giambi and others as bulked-up cartoon characters.
But the potential damage that will be realized isn't quite obvious at this point. This past season, one of Sammy Sosa's bats was found to have cork in it, but the Cubs made it to the seventh game of the National League Championship Series and a record number of fans poured into Wrigley Field throughout the year. Thanks to the postseason runs of the Cubs, Red Sox and Yankees, playoff television ratings surpassed expectations and the competition between the Yankees and Red Sox has heated up to unprecedented levels with the acquisitions of Alex Rodriguez and Curt Schilling, respectively.
If some of the sport's biggest names are revealed to have used steroids, David Hill, Fox Sports chairman and CEO said, "people are going to be saddened by it, but I don't think people are going to stop watching." Fox is in the fourth year of a six-year, $2.5 billion deal to broadcast games.
DuPuy says the sport still has a positive outlook, citing that preseason ticket orders have been filled in record numbers and the coverage of Rodriguez's move to New York as well as the explosion of the cursed Steve Bartman ball.
"The business health of the game is on pretty strong footing," said Jerry Colangelo, who recently agreed to sell his stake in the Arizona Diamondbacks despite the fact that he will remain one of the team's partners. "All you have to do is look at the new economic structure, the television ratings, the merchandise sales, the ticket sales and it's easy to see the interest level in the game is close to an all-time high. Unfortunately, a negative issue like this takes away from that growth, but baseball is strong enough to withstand a blow."
Some merchandisers, including Mitchell Modell, chief executive of Modell's Sporting Goods, said business is in good shape.
"Sales haven't been affected by all this steroids talk," said Modell, who oversees more than 100 stores throughout the northeast. "But it's definitely too early to tell."
Modell says that despite all the negative publicity surrounding the sexual assault case of Los Angeles Lakers guard Kobe Bryant, sales of Bryant paraphernalia never slowed down at his stores.
But out of any sport, some say baseball might have the toughest time with a performance-enhancing drug scandal.
"Baseball purists follow statistics more than any other sport," said Dean Bonham, chairman of The Bonham Group, a sports marketing firm. "The potential for an uprising over this in baseball is more likely than in football or basketball, sports where there aren't these maniacal fans that focus so much on records and history."
DuPuy says he -- as well as those on commissioner Bud Selig's marketing task force -- realize the relationship baseball fans have with numbers.
"I don't think people are overreacting," DuPuy said. "In baseball, we sell the integrity of our records. When McGwire and Sosa were chasing Roger Maris everyone knew that Babe Ruth had 60 and Roger Maris had 61. Fans and reporters debate records all the time. They talk about the possible dead ball era, how the ball itself might have changed, how the dimensions have changed. This is why the obsession with statistics becomes both a blessing and a curse."
The potential revealing of positive drug tests by specific star players might help fire up the debate over who was baseball's best in a certain statistical category. Though somehow it's hard to imagine that any of today's players will prevail in that matchup if they were found to be artificially enhanced.
Darren Rovell, who covers sports business for ESPN.com, can be reached at Darren.rovell@espn3.com.
ESPN.com Sports Business reporter
ESPN.com's sports business reporter since 2012; previously at ESPN from 2000-06
Appears on SportsCenter, ESPN Radio, ESPN.com and with ABC News
Formerly worked as analyst at CNBC
SPONSORED HEADLINES
ESPN TOP HEADLINES
MOST SENT STORIES ON ESPN.COM