Memorable for the wrong reason
Updated:
December 7, 2004, 10:51 PM ET
By
Darren Rovell
| ESPN.com
Todd McFarlane loves to talk.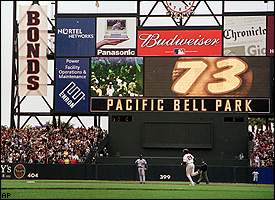 As Barry Bonds circles the bases after No. 73, the Pac Bell Park video screen shows fans scrambling for the ball.
After
Barry Bonds
surpassed Mark McGwire's single-season home run record, McFarlane -- the creator of Spawn turned sports figurine mogul turned high-profile sports memorabilia collector -- proudly lamented in media interviews that he overpaid when he bid $3 million for McGwire's record 70th home run ball in 1998. He then proceeded to pay $517,500 for Bonds' record-setting 73rd homer ball in 2003.
Marketing meeting canceled
The commissioner's office and a corporate sponsor it was courting for a Barry Bonds marketing campaign canceled a meeting on the project. Baseball said it had hoped MasterCard International would sponsor the promotion.
The program created by baseball called for a campaign in 2005 building to the game in which Bonds would break Aaron's record. A nationally televised on-field ceremony would offer significant exposure for a corporate sponsor. Teams the Giants visit would be invited
"We continue to assess the ramifications that these issues will have on our business," Bob DuPuy, baseball's chief operating officer, said Tuesday. "It's another reason why we need to restore the confidence of not only our fans, but of our partners."
Baseball already had sent the company detailed materials and artwork pitching the campaign. But the meeting was called off following last week's report that Bonds testified he took substances that federal prosecutors say are steroids.
Bongs finished the 2004 season with 703 homers, 52 shy of Hank Aaron's record, and at his recent pace he would reach the mark late next year or in 2006.
Bonds was to be approached for his inclusion in the campaign, but plans had not progressed that far.
-- Associated Press
"Now with the record broken, I bring a little joy to people's lives. They can point at me, snicker and go, 'At least I'm not as dumb as him,'" McFarlane told the Edmonton Journal before bidding on the Bonds ball. "I'm still the dope who paid the most."
But McFarlane, who boasts that the milestone memorabilia items have bought him more in publicity than the price he paid for the rawhide spheres, apparently isn't eager to say anything about his collection in the wake of the latest revelations in the BALCO steroids scandal. In the most recent news, Bonds reportedly admitted before a grand jury that he unwittingly took performance-enhancing drugs supplied to him by his personal trainer. McFarlane did not respond to multiple interview requests by ESPN.com to discuss any effect the scandal might have on his memorabilia collection.
Whether McFarlane is willing to talk about the value of his collection may be moot. The market for Bonds memorabilia appears to be on the decline just as his pursuit of Babe Ruth and Hank Aaron's homer marks loom ahead next season. Bonds ended the 2004 season with 703 career home runs, good for third place on the all-time list behind Aaron's 755 and Ruth's 714.
"The market has now dropped off for everyone who was considering buying home run balls like his 714th, 715th, 756th and beyond," said Michael Barnes, a sports marketing agent who worked with the owners of record-breaking home run balls hit by Bonds, McGwire and Sammy Sosa in recent seasons."You don't have to be a rocket scientist to figure that out."
Joe Figone, who netted Bonds' 500th career homer ball after it sailed out of Pac Bell Park and into McCovey Cove in 2001, had intended to keep the souvenir for himself, lending it only to the Newseum in Arlington, Va., for a recent display. Figone now says he wants to sell the ball within the next five years but doubts that the steroid revelations will have an effect on the price.
"Barry will still be considered one of the greatest players in the game," Figone said. "The majority of his home runs were hit in larger stadiums when there was no proof that he was on steroids."
Bonds deal unaffected
Barry Bonds' marketing agent Jeff Bernstein told ESPN.com that none of the 20-plus current sponsors and licensees that Bonds has deals with has expressed a desire to cancel its agreement with him. Some of those companies include Wilson, Fila, SAM Bats, Majestic, New Era and Getty Images.

Bonds is the only player, aside from replacement players from the 1995 season, not a part of the MLB Players Association's group licensing agreement. All licensing deals with Bonds must be negotiated through Bernstein. The only card company that will have Bonds in its sets next year will be Topps, which recently negotiated its deal.

Bonds is still scheduled to appear at the Marriott Marquis in New York where fans will get to meet and talk with the slugger and New York Yankees third baseman Alex Rodriguez and get one autographed item of each player. The cost of the event is $7,500. On Saturday night, fans can get in-person autographs of the two at the 40/40 Club in Manhattan. The cost for that event is $1,050 per person.

-- Darren Rovell
He might have a point. Amid rumors of Bonds' steroid use, an unidentified bidder paid $804,129 in an online auction for Bonds' home run ball No. 700 on Oct. 28.
But Phil Ozersky, who sold McGwire's 70th home run ball for $3 million in 1999, said he was happy he sold the ball when he did because the frenzy over the home run race was still fresh.
"McGwire said he was on Andro [Androstenedione, a steroid precursor] at the time, but I didn't sell the ball then because I thought it would ever come out that he was on steroids," he said.
McGwire, who retired after the 2001 season, was never found to have used steroids. Although Androstenedione has been banned by the NFL and the Olympics, Major League Baseball waited until June 2004 before ruling its players could not use the drug.
McFarlane said he had no problem with McGwire's use of Androstenedione when he was bidding for the ball.
"If they ban it, he wouldn't do it," McFarlane told the Calgary Herald in 1999. "If someone comes out and says Coca-Cola causes cancer, then does the media say, 'Hey, Gretzky drank Coca-Cola'?"
McFarlane also paid $175,000 for Sosa's No. 66 home run ball, the last shot hit by the Chicago Cubs slugger in the home run race of '98.
Fan perception is a non-starter for Figone, who points out that it takes only two interested parties to buoy the price of a collectible.
"If I ultimately sell it for two dollars, that's two dollars more than I had before I caught the ball," Figone said.
Darren Rovell, who covers sports business for ESPN.com, can be reached at darren.rovell@espn3.com
ESPN.com Sports Business reporter
ESPN.com's sports business reporter since 2012; previously at ESPN from 2000-06
Appears on SportsCenter, ESPN Radio, ESPN.com and with ABC News
Formerly worked as analyst at CNBC
SPONSORED HEADLINES
ESPN TOP HEADLINES
MOST SENT STORIES ON ESPN.COM