Experts call Ruth's jersey authentic
If Babe Ruth really did call his shot, this could be the jersey he was wearing at the time.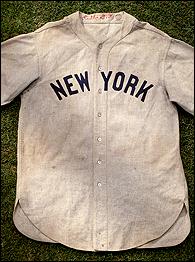 Authenticators believe this is the road jersey Babe Ruth wore during the 1932 World Series. Whether he called his shot remains debatable.
Officials with sports auction house Grey Flannel believe they have the jersey the New York Yankees slugger wore at Wrigley Field during the 1932 World Series. If so, it would be the one he wore when, as legend has it, he pointed to the center-field bleachers, then clubbed the next pitch exactly there.
Since the jersey was first sold privately in 1991 for $150,000, it has been authenticated, based on its specifications and markings, as Ruth's road jersey from the 1930s. The jersey was sold to another collector for $284,000 in 1999, and within the past six months, new research strongly indicates the jersey is specifically from the 1932 season, Ruth's last of 10 World Series appearances.
"We're excited because so many things match up," said Howard Rosenkrantz, chief executive of Grey Flannel, which will auction the jersey online beginning in mid-May.
The jersey worn by the Yankees' Lou Gehrig during his farewell speech in 1939 was sold in 1999 to a private collector for $400,000.
A single bid for Ruth's jersey, when added with commission fees for the online auction, will surpass that record. The minimum bid for the jersey starts at $400,000. The auction will conclude June 22.
Grey Flannel offers prospective bidders a slew of evidence it believes establishes the jersey's authenticity. The evidence includes a transparency of the lettering that appears to match the positioning and spacing of the "NEW YORK" sewn on the front of Ruth's jersey photographed as the Bambino crossed the plate moments after his supposed called shot.
GET YOUR FETISH ON
From jock straps to bone spurs, chewed gum to old dentures, fetish memorabilia collectors are on a quest for the bizarre. Story

• Blood, sweat and gear: Players are cautious about what they throw away.

• Buyer beware: Determining the authenticity can be an inexact science.

• The ultimate conversation piece: ESPN The Mag's Steve Wulf owns some unusual items.

This is significant because jerseys were hand sewn and the positioning of the lettering on Yankees jerseys varied each year. Furthermore, it is believed that the players had only one set each of home and road uniforms.
"It certainly seems impossible that anyone can prove that this was not the jersey worn on the historic occasion," Marc Okkonen, author of the book "Baseball Uniforms of the 20th Century," said in a statement released by the auction house.
"This goes to prove that the more you know about something, the more intriguing the story becomes," Rosenkrantz said.
It was on Oct. 1, 1932, in the fifth inning of Game 3 of the World Series against the Chicago Cubs, that the 38-year-old Ruth purportedly stepped out of the batters box and pointed to the outfield stands, as if to call his shot. Ruth, who had already hit a home run earlier in the game, then hit another in that direction.
Although it remains one of the most popular stories of baseball lore, it might not have happened.
"The consensus opinion is that it probably didn't happen," said Paul Aron, author of "Did Babe Ruth Call His Shot?: And Other Unsolved Mysteries of Baseball."
In his autobiography, Ruth said he did point to the stands before hitting the homer, but interviews with players, including Cubs catcher Gabby Hartnett and pitcher Charlie Root, suggest that he didn't point at all or that he was pointing at the dugout where Cubs players were taunting him.
Aron said only one reporter, Joe Williams, sports editor of Scripps-Howard Newspapers, wrote of the called shot the next day, and that Williams over time in two columns seemed to back away from the story.
Film taken from inside Wrigley Field during the game has recently emerged, and while it appears that Ruth does point, it's not clear where he is pointing.
"Even if George Washington didn't chop down the cherry tree, he still was a legendary figure," said Aron, alluding to Ruth's great career despite the discrepancy over the moment.
Grey Flannel isn't shying away from calling in the experts. The firm has hired SCD Authentic, a leading collectibles authentication service, to render its opinion on the jersey's story. Dave Bushing, SCD's head authenticator, said his company will render a definitive opinion on it next week, but evidence collected by Grey Flannel leads Bushing to believe that it might be an exact match.
"It's 100 percent authentic and no alterations have been made," Bushing said. "If it might be the shirt that Babe Ruth wore when he called the shot, it's worth at least $1 million. If there's a way to prove it definitely is, then it deserves to go for more than $1 million."
If the jersey, which was on loan to the Babe Ruth Museum in Baltimore, for the past five years, sells for more than $1 million, it would be only the fourth piece of sports memorabilia to reach that plateau. In 1999, Mark McGwire's 70th home run ball from the 1998 season sold for $3 million. In 2000, Honus Wagner's T-206 1909 card sold for $1.265 million, and in December, a bat that Ruth supposedly used to hit the first home run in Yankee Stadium sold to a collector for $1.26 million.
Even an official with a competing auction house, who has reviewed the documentation, is impressed.
"There's no doubt that this is a good Babe Ruth jersey and, based on the evidence that they present, there's a good chance that this is the jersey he was wearing when he supposedly called the shot," said Michael Heffner, president of Leland's, a sports auction house that has sold three Babe Ruth jerseys, including one to card company Donruss for $300,000. Donruss cut up the jersey and placed pieces of it on cards that were inserted into packs.
Other items being sold in the auction include a pair of Ruth's pants, a Ruth bat, a jersey worn by Nolan Ryan when he pitched his seventh and final no-hitter, and McGwire's 1984 USA Olympic jersey.
Darren Rovell covers sports business for ESPN.com He can be reached at darren.rovell@espn3.com.
ESPN.com Sports Business reporter
ESPN.com's sports business reporter since 2012; previously at ESPN from 2000-06
Appears on SportsCenter, ESPN Radio, ESPN.com and with ABC News
Formerly worked as analyst at CNBC
MOST SENT STORIES ON ESPN.COM