Commentary
What I'm listening to
I acquired my first CD in 1986 after the purchase of my first CD player -- a Fisher CD player that was as big as a suitcase. With the purchase of the CD player I was entitled to a free CD. I chose The Outfield's "Play Deep." A day later I bought Peter Gabriel's "So." This was when a CD cost about $75 at your local mall. Thus, I had two CDs for the next six months.
[+] Enlarge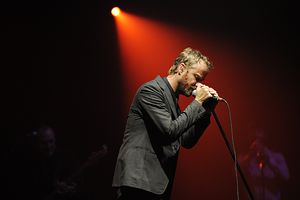 AP Photo/Chris PizzelloIt's never too late to catch up on The National.
Today I have more than two CDs. In fact, my iPod classic is up to about 27,000 songs. Music is my hobby. Remember those old CD clubs where you got four free CDs, had to buy one, and then got three more free? I joined those clubs 458 times in the '80s and '90s. The key was to quit when you bought your one required CD. If you stuck around you ended up paying about 50 bucks for a damn selection of the month CD that was harder to return than a pound of German bologna to a grocery store after leaving it in your car for a week.
So, from this vast collection I've been asked what is getting the most rotation right now and to get it down to five songs. I listen to my iPod in the car, in the gym, and when I hit golf balls. In fact, one of my favorite things to do is play a twilight round of golf by myself with my ear buds pulled up and under my golf shirt.
I get addicted to songs like I get addicted to Boston cream pie doughnuts. These five are getting lots of rotation right now.
1. "Ada" by The National -- I've often said you can't listen to everything. I'm just getting into The National now. I listened to "Ada" five times a day. NFL footballs are made in Ada, Ohio. That is not referenced in this song.
2. "Fake Empire" by The National -- This is track 1 on the "Boxer" CD released in 2005. "Ada" is track 11. These two songs dominate my life right now. It's not about what song is current, it's about what songs are good.
3. "Concerning the UFO Sighting Near Highland, Illinois" or "Chicago" by Sufjan Stevens -- I was in Chicago covering the Stanley Cup finals and had to listen to one of my favorite CDs, "Illinois," which was released July 4, 2005. Geography sometimes plays a part in my playlists. These two songs came in a tie. I listened to them walking around Chicago, the greatest warm-weather city in America.
4. "Breakeven" by The Script -- This a song that I normally would not gravitate to but I also don't harbor any music prejudices. It's very accessible and clean, almost too much so for my liking, but the lyrics are just so good. Anyone who has had his or her heart broken will use this song to communicate what is going on in their stomach.
5. "Muzzle of Bees" by Wilco -- As I said, it's golf season. Warm air, golden light and green grass. Wilco is the best summer companion in that environment. Enjoy the summer. Enjoy the Wilco.
John Buccigross is an anchorman on ESPN's "SportsCenter."
SportsCenter anchor
John Buccigross joined ESPN as an anchor in October 1996. He currently can be seen as an anchor on "SportsCenter." Buccigross frequently contributes to ESPN.com during the season.
MOST SENT STORIES ON ESPN.COM