Commentary
What I'm listening to
I don't have an iPod, but I own about a thousand CDs. Here are five I treasure like a Willy Wonka golden ticket:
[+] Enlarge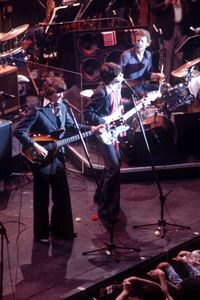 AP Photo/John StoreyThe Band perform in "The Last Waltz," their farewell concert Nov. 25, 1976, at the Winterland Auditorium in San Francisco.
Ted Nugent, "Ted Nugent"
Nugent's first studio album (post Amboy Dukes). One listen, and I was a Tedhead for life.
Molly Hatchet, "Double Trouble Live"
First concert I ever saw was Hatchet … or was it the second? Those were impressionable times. I idolized lead singer Danny Joe Brown.
Lynyrd Skynyrd, "Street Survivors"
This was released around the time the band's plane crashed. I had tickets for that tour … was 17 years old. The original cover, eerie.
Pearl Jam, Bootleg
Don't have the date and disc in front of me, but it was from the most recent tour and a show they did in Los Angeles near Universal Studios … went with Kenny Mayne. … Got some!
The Band, "The Last Waltz"
A sentimental pick. My oldest brother took me to the rocumentary when I was a teen. Neil Young and Neil Diamond on the same show! Plus, Muddy Waters, M-A-N!
Neil Everett is an anchorman on ESPN's "SportsCenter LA."
ESPNEWS and SportsCenter anchor
Neil Everett joined ESPN as an ESPNEWS anchor in July 2000, and is now serving as an anchor on 11pm and 1am SportsCenter. Everett came to ESPN after working for 15 years at television stations in Honolulu, where he progressed from roles behind the scenes to being in front of the camera. He also served as an assistant athletic director and sports information director at Hawaii Pacific University. A native of Spokane, Wash., Everett is a 1984 graduate of the University of Oregon where he earned a bachelor of science degree in journalism.