Commentary
It's crowded at the top
Updated:
October 23, 2010, 2:48 PM ET
By
Jim Wilkie
| ESPN.com
It's a wide open race with five teams tied for the best record in the Alice in Chains & Friends Fantasy Football Charity League.
[+] Enlarge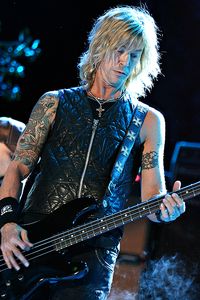 Jordan Strauss/WireImage for DiscoveryDuff McKagan's Team Loaded is the league's hottest team with three wins in a row.
Meat Loaf's Hell In A Handbasket 99-82 victory over Kenny Wayne Shepherd's Team Re-Domination brought their records to 4-2, tying them with Jerry Cantrell's JC Aroma Of Tacoma, Duff McKagan's Team Loaded and Scott Ian's Fear And Loathing. Aroma Of Tacoma and Loaded square off in the only matchup featuring the top teams.
And right behind at 3-3 are Mike Inez's M.I. Evil? and Zakk Wylde's Team Doom Crew Inc.
Shepherd is still hanging on to first by virtue of scoring the most points (595), but he's feeling the heat and sent the following note out on the league's message board:
Skin of my Teeth
Posted: Oct 22, 12:40 p.m.
Kenny Wayne Shepherd
Team Re-Domination
Well, we've just about reached the halfway point in the season, and half of the entire league is 4-2. This looks as if it's going to be a dog fight. I'm currently maintaining first place, but only because of my points, and not by much either. So far it's been fun, but last week was bull----. My QBs are all over the map. Matt Schaub sucks for the previous two weeks, so I sub Donovan McNabb and what happens to him? He sucks ass and Schaub had a good week! This season definitely hasn't shaped up to be what I think most people were expecting in the NFL.
Willig, this is the first time our teams have met since the Championship game last year where you stomped my ass because I thought the Colts would go for a perfect season, and instead all my key guys got pulled out of the game in the second quarter … Cantrell called it a rookie mistake. I agree.
This week I'm bringing my "B" game again brother, because several of my key guys are on a bye, but I still think I got what it takes to dominate … do you??
And league founder Cantrell sent the following note out after beating his Alice in Chains bandmate Inez 109-81:
Sorry, Mike … Not Really
Posted: Oct 17, 8:59 p.m.
Jerry Cantrell
JC Aroma Of Tacoma
Well, the tour is over, limped into the finish line with a case of pneumonia. Besides that it was a nice first day off. Not only did I kick the crap out of my buddy Inez, the Steelers and Seahawks both won and the Raiders go beat by the winless Niners. Awesome for me, ----burger for Mike. Thanks are looking up.
Participants in the Alice in Chains & Friends Fantasy Football Charity League will each put one valuable item up for auction by the end of the season. The league champion will get to designate which charity receives the proceeds of the auction. More details on the auction will be announced in the coming weeks.
Weekly updates on the Alice in Chains & Friends Fantasy Football Charity League, trash talk and interviews with the owners will be published on ESPN.com's The Life and Music sections throughout the season. Members of the league also will drop by for occasional chats on SportsNation.
Here is a recap of Week 6 and a look ahead to Week 7's matchups:
Alice in Chains & Friends Fantasy Football Charity League overall standings
Rk
Player
Team
W
L
T
PF
PA
GB
1.
Kenny Wayne Shepherd
Team Re-Domination
4
2
0
595
485
--

Last week: Lost 99-82 to Hell In A Handbasket Next up: Halfway Clueless (1-5)
Shepherd was right. If only he had played Schaub (20 points) instead of McNabb (nine points) and the Saints defense (10 points) instead of the Packers defense (one point), Re-Domination would be above the logjam in the standings. Shepherd added Saints WR Robert Meachem and Seahawks RB Justin Forsett and dropped Ravens RB Willis McGahee and Seahawks RB Leon Washington this week.

2.
Jerry Cantrell
JC Aroma of Tacoma
4
2
0
586
524
--

Last week: Defeated M.I. Evil? 109-81 Next up: Team Loaded (4-2)
Tough week for Cantrell with Texans WR Andre Johnson, Jets WR Braylon Edwards and Jets QB Mark Sanchez on bye weeks. Aroma picked up Dolphins WR Davone Bess and dropped Cowboys RB Marion Barber.

3.
Meat Loaf
Hell In A Handbasket
4
2
0
585
509
--

Last week: Defeated Team Re-Domination 99-82 Next up: Team Doom Crew Inc. (3-3)
Meat Loaf will have to do without the No. 1 running back, Houston's Arian Foster, and sixth-ranked RB, New York Jets' LaDainian Tomlinson, who are both on bye weeks. He still has the No. 2-ranked RB, but Tennessee's Chris Johnson is nursing a thigh injury. Handbasket added Browns TE Benjamin Watson and the 49ers defense while dropping Saints TE Jeremy Shockey and Vikings TE Visanthe Shiancoe.

4.
Duff McKagan
Team Loaded
4
2
0
560
545
--

Last week: Defeated Halfway Clueless 67-64 Next up: JC Aroma of Tacoma (4-2)
Team Loaded has just one player on a bye week (Colts WR Anthony Gonzalez), but five players with injury alerts, including Gonzalez, Chargers TE Antonio Gates (questionable), Broncos WR Eddie Royal and Chargers WR Vincent Jackson (suspended).

5.
Scott Ian
Fear And Loathing
4
2
0
517
515
--

Last week: Defeated Team Harris 87-80 Next up: M.I. Evil? (3-3)
Fear And Loathing has four players on bye weeks, including Lions WR Calvin Johnson and Lions RB Jahvid Best, Ian added Colts RB Donald Brown and Steelers K Jeff Reed and dropped Eagles QB Kevin Kolb, Eagles K David Akers and the Giants defense.

6.
Zakk Wylde
Team Doom Crew Inc.
3
3
0
502
466
1

Last week: Defeated The Brickwall Brickwall 92-48 Next up: Hell In A Handbasket (4-2)
Doom Crew Inc. has to deal with the season-ending injury to Colts TE Dallas Clark, but so far has only added the Patriots defense, mainly because Wylde had to find a stopgap while the Jets defense has a bye this week.

7.
Mike Inez
M.I. Evil?
3
3
0
462
459
1

Last week: Lost 109-81 to JC Aroma Of Tacoma Next up: Fear And Loathing (4-2)
The computer favors each side at four positions and a push for the other, as M.I. Evil? is favored by nine points in the tightest point spread among the five matchups this week.

8.
Vinnie Paul
The Brickwall Brickwall
2
4
0
367
477
2

Last week: Lost 92-48 to Team Doom Crew Inc. Next up: Team Harris (1-4)
The Brickwall has no players on bye weeks, but three players are questionable this week (Titans QB Vince Young, Giants WR Hakeem Nicks and Redskins TE Chris Cooley). Probably why lowly Team Harris is a 12-point favorite.

9.
Matt Willig
Halfway Clueless
1
5
0
442
547
3

Last week: Lost 67-64 to Team Loaded Next up: Team Re-Domination (4-2)
Halfway Clueless is just a 10-point underdog with only Colts QB Peyton Manning having a bye week, while Re-Domination has six players on bye weeks, including top-ranked Colts WR Austin Collie and Jets K Nick Folk and No. 2-ranked TE Dustin Keller of the Jets.

10.
Jay Harris
Team Harris
1
5
0
436
525
3

Last week: Lost 87-80 to Fear And Loathing Next up: The Brickwall Brickwall (2-4)
Although Harris lost by just seven points last week, he didn't leave too many points on the bench. This week, Harris picked up Ravens TE Todd Heap and dropped Bears TE Greg Olsen.
SPONSORED HEADLINES
ESPN TOP HEADLINES
MOST SENT STORIES ON ESPN.COM
Alice in Chains & Friends Fantasy Football

Check out more about the Alice in Chains & Friends Fantasy Football Charity League's second season on ESPN.com.


THE LIFE
FANTASY FOOTBALL 2009
SPORTSNATION
MUSIC IN THE LIFE