Commentary
M's fans navigate minus soothing voice
Baseball won't sound the same without the narration of broadcaster Dave Niehaus
Updated:
March 30, 2011, 3:33 AM ET
By
Duff McKagan
| Special to ESPN.com
Seattle is a town that has, as everyone surely knows, plenty of annual precipitation. We stay inside our homes or in our cars a lot.
[+] Enlarge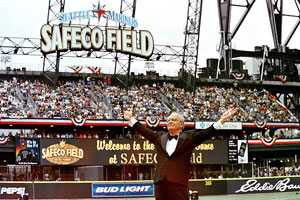 Dan Levine/AFP/Getty ImagesMariners fans share their love with longtime broadcaster Dave Niehaus at the inauguration of Safeco field in 1999. Niehaus, 75, died Nov. 10, 2010.
Seattle is also a town where books seem to reign supreme over television. Year in and year out, Seattle is recognized by a Central Connecticut State University study as one of the most well-read cities in the United States.
As a side result of these combined factoids, there seems to be a somewhat more intellectual base of sports fan. There may be a bit more expectations when it comes to sports radio and our teams' radio announcers. Yeah, I'm actually not kidding.
I've been a guy who has split time between Seattle and Los Angeles over the past 25 years (Seattle is home. L.A. is work). I have also traveled extensively around the United States since touring with punk bands in the early 1980s and have bent an adept ear toward local sports radio stations since then. Maybe it is that I am an incurable homer, but it just seems that once you get outside of the Northwest, sports radio in general is often a bunch of screaming and one-sided mono-views.
Our sports-radio guys have always been a bit deeper, and have had a wider view of sports as a whole. Kevin Calabro, Mike Gastineau, John Clayton and Dave Mahler are all guys who make radio better and raise the bar nationally for what a sports-radio guy is supposed to be about and sound like. Less provincial. Less bluster. Fewer catchphrases. Little to no B.S.
And Seattle has been blessed, too, since the inaugural 1977 season of the Seattle Mariners to have one special man as our baseball radio and TV announcer: Dave Niehaus. We lost him last year to heart failure. My thoughts, of course, go out to his family. I am sure that they know, though, that Mr. Niehaus created a sense of family on a grander scale with all of us Mariners fans. He was our fearless leader in times of triumph, and a sort of care-giver when the chips were down. A father figure writ large, on the AM dial.
With the Major League Baseball regular season starting this week, we Seattleites are facing a sort of yawning gap that goes along unspoken: How can Dave Niehaus be replaced?
McKagan's Playlist

The Life asked columnist Duff McKagan to give us a glimpse into what music he has been listening to lately. Here's what he had to say:
I finally saw the movie "Where The Wild Things Are" last weekend with my family here at home. We all watched in a pile and some fell asleep that way. My youngest daughter Mae was so sad at the end that she cried for a long while. She wanted all the characters in the movie to be happy and stay together at the end. My sweet girl.
Gosling -- "Stealing Stars" from "Here Is …" (iTunes | Amazon): This post-Loudermilk band was actually Loudermilk … just a different name (long story). I love Davey Ingersoll's voice, and this song is the epitome of sweet and gentle.
Karen O and the Kids -- "Igloo" from the "WTWTA" soundtrack (iTunes | Amazon): A song from the WTWTA soundtrack. Karen O did such a great job throughout. Hard to pick one track, so I will do two!
Karen O and the Kids -- "All Is Love": See above.
Los Angeles Lakers fans faced this same sort of thing when the great Chick Hearn passed away in 2002. When the St. Louis Cardinals lost the great Jack Buck that same year, was the loss made any easier by his son Joe Buck filling the void? Maybe a little, but it still is a damn hard thing to find a trusted voice that is both the most loyal of friends and a comfort when other things in life may get hectic or chaotic or dark or sad.
I don't mean to come off as morose or otherwise fatalistic. As fans of sports, our lives are doubly enriched when we have a major league team and a benchmark-setting radio announcer. (Niehaus was inducted into the National Baseball Hall of Fame in 2008. Not that this fact alone proves he was great at his job, but it does add a bit more than a modicum of merit.) All of the memories that I have of the good things that have happened to the Mariners over the years are narrated by Niehaus. Yes, I can still hear his voice clearly in my mind.
When I came back home to Seattle in 1993 after the brutal 2½-year "Use Your Illusion" tour, I remember hearing a Mariners game on the cab ride home from the airport. Even though I was then living in an abnormal fishbowl of excess and popularity for Guns N' Roses, Dave Niehaus' voice instantly brought me back to Earth.
When my wife, Susan, and I had our second child in July of 2000, I was on a pink cloud of fatherdom but my nerves were on edge from no sleep. I remember putting on the game in the car ride home. Niehaus guided me safely home.
When 9/11 happened, and baseball did finally resume, it was again Dave Niehaus who steeled me for the uncertain future while also somehow calmly easing our collective suffering. I'm not sure how guys like this do it. I guess it is just in their DNA. It is a calling, I suppose.
I'm sure maybe some of you reading now could perhaps care less about who was, or is, the Seattle Mariners radio announcer. But if you are a fan of the poetry and flow and pause and weight of a great baseball announcer like I am, then you may, too, know about what I write.
You will be missed Dave Niehaus. Now, let's play ball!
Musician Duff McKagan, who writes for Seattle Weekly, has written for Playboy.com and is finishing his autobiography, writes a weekly sports column for ESPN.com.
Playbook
Michael "Duff" McKagan, a founding member of Guns N' Roses, writes a weekly column for Playbook Sounds and is a passionate sports fan. McKagan is currently playing in Loaded and Velvet Revolver, is a prolific writer, including an autobiography, "It's So Easy: And Other Lies."
More From ESPN Music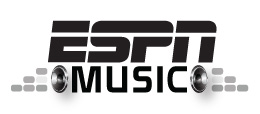 Follow ESPN Music on Twitter
HEAVY ROTATION
FEATURES
AS HEARD ON …
PHOTO GALLERIES …
CHATS
'47 Brand Men's Seattle Mariners Cuddyhook Mesh Flex Hat Shop »