Commentary
Funnel your sports passion to help vets
Updated:
May 25, 2011, 6:09 PM ET
By
Duff McKagan
| Special to ESPN.com
Most teams in major league baseball this week, will in one way or another, be publicly showing their appreciation for our U.S. armed forces. With Memorial Day coming up this weekend, it is an important time for us to pause to remember those who have served and died in the call for this country.
[+] Enlarge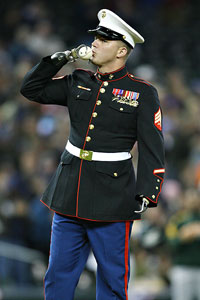 Otto Greule Jr/Getty ImagesWhile celebrating this holiday, show veterans some appreciation because small things go a long way.
From the Civil War to The Great War (World War I), World War II to Korea to Vietnam, and now Iraq and Afghanistan, tens of thousands of men and women have paid the ultimate price.
I stay away from local, national and world politics in my writing, but this column is more about "personal" politics.
While yes, Memorial Day is a poignant event in which we focus on remembering, it also can be a time for us to reach out to those living men and women who have served -- or are still serving.
I got a chance last fall to play at a Seattle Seahawks halftime show at Qwest Field that took place on "Veteran's Appreciation Day." As a result of this gig, my band, Loaded, was invited to our local Veterans Affairs hospital for a visit. It was an eye-opening experience for a few different reasons.
I was struck by a general feeling there was a lot more that we citizens could do to show our appreciation in general. Football and baseball games are a fine way to show gratitude on a larger scale, but on a personal level there is a feeling at VA clinics that those kids just plain feel forgotten.
I also discovered, thanks to new technology in body armour and such, there is a much higher survival rate among injured soldiers in combat. But this "survival rate" doesn't come without some new challenges. Men and women who may have (frankly) died in Vietnam because of fragment bombs, gunshots, etc., are now surviving through these same events of warfare. But often the after-care of these survival stories can take months, years or the rest of that particular survivor's lifetime.
McKagan's Playlist

The Life asked our columnist Duff McKagan to give us some music recommendations. Here's what he had to say:
"Fight On" single by Loaded (iTunes): Written for the veterans. Proceeds from this download go to The Puget Sound VA Health Care System.
"The Boys Are Back In Town" from "Jailbreak" by Thin Lizzy (iTunes | Amazon): Apropos for this column.
"Suspect Device" from "Inflammable Material" by Stiff Little Fingers (iTunes | Amazon): The old name for IEDs.
These survivors are often in acute physical pain. As a result, the drug-rehabilitation wards at the VA are filled to bursting. I get that. Been there. Done that. That ward, in particular, spoke to me.
But you don't have to be able to directly sympathize with chronic drug use or the loss of a limb to be of service back to these men and women. From what I could glean from just a few visits to a few different VA facilities now around the country, all these kids want is to feel normal again. A part of the community … vibrant and wanted.
Next time you drive by a VA, maybe stop in and see if there is a way to volunteer. All of you teachers out there, perhaps have your younger students draw pictures and bring them up. Find out the names of some of those soldiers in those hospitals if you can, and write a letter. Small things go a long way, from what I discovered.
You sports fans have a lot of love and passion for your favorite teams, I have noticed. Maybe turn that energy -- if just for a day or two -- to those men and women who feel a bit left behind.
Musician Duff McKagan, who writes for Seattle Weekly, has written for Playboy.com and has his autobiography due out later this year, writes a weekly sports column for ESPN.com.
Playbook
Michael "Duff" McKagan, a founding member of Guns N' Roses, writes a weekly column for Playbook Sounds and is a passionate sports fan. McKagan is currently playing in Loaded and Velvet Revolver, is a prolific writer, including an autobiography, "It's So Easy: And Other Lies."
More From ESPN Music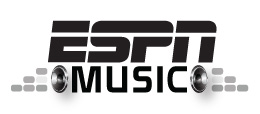 Follow ESPN Music on Twitter
HEAVY ROTATION
FEATURES
AS HEARD ON …
PHOTO GALLERIES …
CHATS