Commentary
Danke, Dirk, from Germany
Updated:
June 15, 2011, 1:42 AM ET
By
Duff McKagan
| Special to ESPN.com
As I previously explained in my column last week, I am in Europe for this whole month of June, doing an onslaught of the rock festivals from "tip-to-stern." From Albania to Sweden, and Donnington to Milan, Loaded is covering a ton of ground.
[+] Enlarge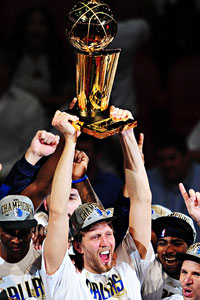 Mark Ralston/AFP/Getty ImagesDirk Nowitkzi had plenty of fans, including Duff McKagan, cheering for him in Germany.
My quandary as an American sports fan continues, though; with spotty, at-best, WiFi, it has been pretty difficult to keep up with the NBA and Stanley Cup finals.
As a side note: It is pretty apparent which U.S. teams "travel well" merchandise-wise. Boston (Red Sox, Celtics and Bruins) and the New York Yankees.
But it can be deceiving for a guy like me, who is constantly searching for sports news. I may see a guy with a Boston Bruins hockey jersey on, and approach this dude with hopes of getting news on the finals. No luck. I no sprechen sie Deutsch … and I do believe he may have been offended by my body odor. (Listen, when you are on tour -- and you have a bunch of dudes on a bus traveling together -- I'm ashamed to say that we all just kind of get used to the smell. … Oh, too much information for ESPN, perhaps. I digress.)
So, again -- because of my MLB text alerts on my BlackBerry -- I've been able to follow my Seattle Mariners, and they are playing great baseball from what I can tell. I do not know, however, how the other teams in the American League West are doing.
It is kind of cool this way, though, to be honest. It's like a weird sports version of Zen Buddhism, just keeping "your" side of the street clean. "Be the river flowing down its path, and not the rock trying to hold the river back from its path." Did I forget to inform you all, that a rock tour involves sundry sleep deprivation?
We have a two-day drive right now, from Vienna, Austria, to Eindhoven, Netherlands. Our drivers need to sleep, and so we chose Nuremburg, Germany, as our stopover place. The drivers sleep in the day, and we just sort of mill around the town.
McKagan's Playlist

The Life asked our columnist Duff McKagan to give us some music recommendations. Here's what he had to say:
I will continue my music section, by again talking about some of the bands that we have been rocking with over here in Europe.
Ghost: a Swedish band that wears masks, and that no one knows the real identity of. Yeah, buddy, I love that stuff! Apparently, Ghost only do two interviews for each record they have put out. And for those they blindfold the interviewer and take him to an undisclosed location. Now that is entertainment.
Down: Pantera's Phil Anselmo put this great band together some 12 years ago, With material from an upcoming record they seem to really be building momentum and steam. Kick butt live band too.
Thin Lizzy: Even with the great Phil Lynott long gone, Thin Lizzy have toured and morphed a few times over. The current band is so damn good.
Our driver, Herman, is a German fella from Hamburg. He has now been with us for two weeks, so he knows that I am constantly looking for the latest Amercian sports news of any kind. The good thing for me about the Dallas Mavericks being in the NBA Finals is that Dirk Nowitzki is German, and hence, is getting some coverage over here in Germany as a "proud son" type of thing.
As we were driving into Nuremburg this past Monday morning, Herman called me up to the front to listen to the radio news show that he was dialed into. And there it was, in English and everything. "The Mavs win! MAVS WIN!"
Of course, this is no new or big news to you people reading right now. But for me, a guy who had no idea what the heck was going on with the NBA Finals, this was sweet indeed (the last thing I had heard was something about a hand injury Nowitzki was inflicted with during Game 2).
Later Monday morning, I got myself to a TV that had the European business broadcast of CNBC. The broadcasters seemed pretty damn disinterested, but had to otherwise pay a few minutes of lip service to the NBA Finals. The comment that stood out to me was the fact that the U.S. viewership was huge, because a large portion of viewers were hoping for Miami Heat forward LeBron James to fail.
I don't know much about that, but it was just nice to hear about a different team (Dallas) putting the pieces together the old-fashioned way and winning it all.
It's good to hear that the Mavs took this thing. I am a big fan of the underdog. Clearly, the Dallas Mavericks were just that.
Nowitzki is from a town about 70 miles from Nuremburg, and Herman informed me that a big party was being planned. I'm sure there will be lots of steins of beer and shots of schnapps going around. And perhaps even a few of those big foam hands, with the index finger pointing skyward. Number ein uber alles, Dirk. Good job.
Musician Duff McKagan, who writes for Seattle Weekly, has written for Playboy.com and has his autobiography due out later this year, writes a weekly sports column for ESPN.com.
Playbook
Michael "Duff" McKagan, a founding member of Guns N' Roses, writes a weekly column for Playbook Sounds and is a passionate sports fan. McKagan is currently playing in Loaded and Velvet Revolver, is a prolific writer, including an autobiography, "It's So Easy: And Other Lies."
More From ESPN Music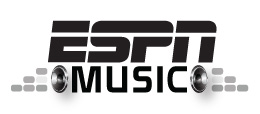 Follow ESPN Music on Twitter
HEAVY ROTATION
FEATURES
AS HEARD ON …
PHOTO GALLERIES …
CHATS
Adidas Men's Dallas Mavericks Dirk Nowitzki #41 Navy T-shirt Shop »
MOST SENT STORIES ON ESPN.COM