Commentary
Who's your daddy?
Updated:
September 17, 2011, 2:18 AM ET
By
Jim Wilkie
| ESPN.com
Week 1 provided many memorable outcomes; Tom Brady's 517 yards passing and four touchdowns in the Patriots' victory over th Dolphins, the Jets' comeback victory over the Cowboys, and Your Dad Al Davis beating Aroma Of Tacoma in a wild 124-103 game in the Alice in Chains & Friends Fantasy Football Charity League.
That last one was significant because it was Alice in Chains bassist Mike Inez's team defeating AIC guitarist Jerry Cantrell's squad in their season opener, thanks in great part to Brady's 34 fantasy points. And it led to this reaction by league founder Cantrell on the message board along with a much bigger version of the photo below:
(Expletive) Sandwich
Sept. 13, 7:18 a.m.
Jerry Cantrell
Aroma Of Tacoma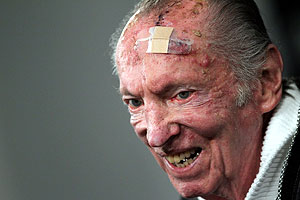 Justin Sullivan/Getty ImagesAl Davis inspires Mike Inez to victory in Week 1.
Uhhhh, that was an ugly week. Could be a long season for the Hawks with Tavaris Jackson at the helm. Maybe we'll be in the running for Andrew Luck. Prove me wrong, boys … please. They played a lot better than the Steelers, though. Looked like a pee wee team playing their dads.
Always sucks to lose Week 1. Al Davis' Evil Empire got the better of me … I think I ran out of my lessons with Yoda in the swamp a tad too soon. Division match next with Jay [Ferguson]. Here's to hoping for a win for the Seahawks, Steelers and of course the Aroma next week.
-- JC
In fact, Cantrell was the only member of his band to lose last week as fantasy football rookies William DuVall and Sean Kinney posted victories over Ann Wilson and Jay Ferguson, respectively. Cantrell's 103 points matched Team DuVall's as the third-best output, but sometimes timing is everything in the world of head-to-head fantasy football.
Each participant will put one valuable item up for auction by the end of the season. The league champion will get to designate which charity receives the net proceeds of the auction. More details on the auction will be announced in the coming weeks.
Weekly updates on the Alice in Chains & Friends Fantasy Football Charity League, trash talk and interviews with the owners will be published in ESPN.com's The Life and Music sections throughout the season. Members of the league also will drop by for occasional chats on SportsNation.
The other winners last week were Chris DeGarmo, who defeated Randy Wolf, and Vinnie Paul, who defeated Duff McKagan, leading to this confident message board post and the ensuing thread:
Brickwall!!!
Posted: Sept. 14, 1:04 a.m.
Vinnie Paul
The Brickwall Paul
The Brickwall is out to steamroll you all.
Off to a hell of a start; gonna tear you apart
The shear power floods like thundershowers.
So kick the ball and play the brickwall!!!
Hellyeah!!! Bring it!!
-- VP
Re: Brickwall!!!
Sep 14, 5:59 a.m.
Jerry Cantrell
Aroma of Tacoma
Vinnie Paul in the house.
Re: Brickwall!!!
Sept. 14, 2:39 p.m.
Ann Wilson
Annie's Dogs
I think I'll save the smack for when I win a game.
Re: Brickwall!!!
Sept. 15, 12:30 a.m.
Duff McKagan
Team McKagan
Ah, crap … I got nothin', VP. My "team" was awful last week. Just damn awful.
Re: Brickwall!!!
Sept. 15, 3:54 p.m.
Michael Inez
Your Real Dad Al Davis
I'm high scorer so all you can (deleted)
And on that note, here is a look at Week 2's matchups and last week's results:
Alice in Chains & Friends Fantasy Football Charity League
Rk
Player
Team
W
L
T
PF
PA
GB
1.
Mike Inez
Your Real Dad Al Davis
1
0
0
124
103
--

Last week: Defeated Aroma Of Tacoma 124-103 Next up: Team McKagan (0-1)
Although Inez is playing Duff McKagan's last-place Team McKagan, Your Real Dad Al Davis is just a six-point favorite.

2.
Chris DeGarmo
Mach Six's
1
0
0
111
60
--

Last week: Defeated Team Valley Trash 111-60 Next up: Annie's Dogs (0-1)
The Mach Six's-Annie's Dogs matchup is the closest, according to the computers, with Ann Wilson's team favored by five points. DeGarmo added Giants RB Brandon Jacobs and the Lions' D and dropped Panthers TE Greg Olsen and 49ers RB Anthony Dixon.

3.
William DuVall
Team DuVall
1
0
0
103
77
--

Last week: Defeated Annie's Dogs 103-77 Next up: Team Valley Trash (0-1)
Although DuVall has injured Rams RB Steven Jackson on his bench, Team DuVall is still a 29-point favorite. Duvall picked up Saints WR Devery Henderson and dropped 49ers RB Kendall Hunter.

4.
Sean Kinney
Team Nosering
1
0
0
102
74
--

Last week: Defeated Dallas' Best 102-74 Next up: The Brickwall Paul (1-0)
Team Nosering is the biggest underdog of the week at plus-31 points and favored in just one of nine positions (three are a push), according to ESPN's fantasy computers. So far, Kinney is starting two injured stars listed as questionable, Texans RB Arian Foster and Jets WR Santonio Holmes.

5.
Vinnie Paul
The Brickwall Paul
1
0
0
96
52
--

Last week: Defeated Team McKagan 96-52 Next up: Team Nosering (1-0)
Titans WR Kenny Britt racked up 25 points last week, but Paul currently has him benched against the Ravens with Packers WR Greg Jennings, Eagles WR DeSean Jackson starting along with Packers RB James Starks at the RB/WR slot. The Brickwall Paul also has Houston's Matt Schaub (eight points last week) starting at QB over Arizona's Kevin Kolb (18 points last week). Paul added the Texans' D and dropped Bills RB C.J. Spiller.

6.
Jerry Cantrell
Aroma of Tacoma
0
1
0
103
124
1

Last week: Lost 124-103 to Your Real Dad Al Davis Next up: Dallas' Best (0-1)
Aroma Of Tacoma picked up Bengals TE Jermaine Gresham and Saints WR Lance Moore and dumped Broncos QB Kyle Orton and Rams RB Mike Sims-Walker.

7.
Ann Wilson
Annie's Dogs
0
1
0
77
103
1

Last week: Lost to Team DuVall 103-77 Next up: Mach Six's (1-0)
Annie's Dogs has the No. 1-ranked kicker (David Akers of the Niners) and the top-ranked defense (49ers), which they added this week along with Saints TE Rob Gronkowski and Redskins QB Rex Grossman. She dropped Chargers K Nate Kaeding, Redskins QB John Beck, Seahawks TE Zach Miller and Chiefs RB Thomas Jones.

8.
Jay Ferguson
Dallas' Best
0
1
0
74
102
1

Last week: Lost 102-74 to Team Nosering Next up: Aroma Of Tacoma (0-1)
Dallas' Best is a 10-point underdog, but favored in four of nine categories against the Aroma Of Tacoma. Ferguson won the Cam Newton sweepstakes, picking up the Panthers QB along with Saints RB Darren Sproles, Cardinals WR Early Doucet and Saints K John Kasay while dumping Rams WR Danny Amendola, Giants RB Brandon Jacobs, Ravens WR Lee Evans and Colts K Adam Vinatieri.

9.
Randy Wolf
Team Valley Trash
0
1
0
60
111
1

Last week: Lost 111-60 to Mach Six's Next up: Team DuVall (0-1)
Wolf is hoping Bills QB Ryan Fitzpatrick can duplicate the 24-point week he had last week, four times the amount his starter (Chiefs QB Matt Cassel) registered.

10.
Duff McKagan
Team McKagan
0
1
0
52
96
1

Last week: Lost to The Brickwall Paul 96-52 Next up: Your Real Dad Al Davis (1-0)
Nowhere to go but up, Duff. Team McKagan was busy working waivers and free agency, adding Rams RB Cadillac Williams, Eagles K Alex Henery and the Cowboys' D while dumping Titans K Rob Bironas, Redskins RB Ryan Torain and the Falcons' D.
SPONSORED HEADLINES
ESPN TOP HEADLINES
MOST SENT STORIES ON ESPN.COM
More From ESPN Music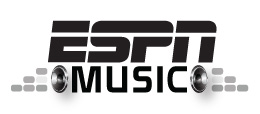 Follow ESPN Music on Twitter
HEAVY ROTATION
FEATURES
AS HEARD ON …
PHOTO GALLERIES …
CHATS