Commentary
Bush league? No, just fantasy scoring
Updated:
September 23, 2011, 10:27 PM ET
By
Jim Wilkie
| ESPN.com
After two weeks in the Alice in Chains & Friends Fantasy Football Charity League, just three teams remain undefeated.
[+] Enlarge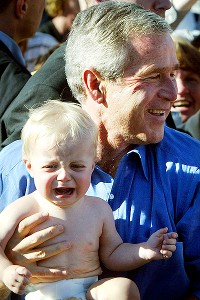 Mario Tama/Getty ImagesThis little guy in former President George Bush's hands shows how Jay Ferguson felt after last week's games.
Chris DeGarmo's Mach Six's, Mike Inez's Your Real Dad Al Davis and Vinnie Paul's The Brickwall Paul put their 2-0 records on the line in Week 3 of the charity league. Paul's ascension prompted this comment on the message board from his next opponent, league founder Jerry Cantrell of Alice in Chains:
Hole In The Wall Gang
Sept. 23, 2:20 a.m.
Jerry Cantrell
Aroma Of Tacoma
I think I may have spotted a way through the Brickwall … just sayin'
Fantasy scores can be unpredictable and change when you don't expect them. Like anyone gambling on a USC-Utah college football game, sometimes you have to wait a day until the results are official. Cantrell's Aroma Of Tacoma was on the positive side of this while actor Jay Ferguson's Dallas' Best wasn't so lucky.
Feeling like a W
Sept. 19, 8:39 p.m.
Jerry Cantrell
Aroma Of Tacoma
I feel like George Bush stealing an election. Last night the scoreboard read 103-102 with the Aroma losing to Jay Ferguson's squad. But when I wok up today to check the results, things looked a little different … the Point Fairy giveth and the Point Fairy taketh away. Jay must be crying like a baby. I'll take a win any way I can get it … just like Old W.
Re: Feeling like a W
Posted: Sept. 21, 2:30 p.m.
Jay Ferguson
Dallas' Best
Funny, I had a similar experience … (expletive) Chris Johnson, (expletive) Deion Point Fairy, (expletive) George Bush … unbelievable.
Cheer up, Ferguson. At least you're not in last place overall.
Oh-Fer!
Sept. 20, 3:03 p.m.
Duff McKagan
Team McKagan
Not only have I not won a game yet, but my "team" has gotten spanked fairly handily. It seems that I shall have to put my overall and general good attitude toward life into overdrive.
My fantasy team sucks. Seahawks? Haven't won a game either. Mariners? Aw, c'mon! Huskies? Teetering. Sonics? Oh yeah, they are in Oklahoma … Let's go, Storm?
-- Duff
Re: Oh-Fer!
Sept. 20, 11:54 p.m.
Jerry Cantrell
Aroma Of Tacoma
I was almost with ya, buddy. Jeb Bush bailed me out and changed the score … a day later.
Re: Oh-Fer!
Sept. 21, 11:14 p.m.
Duff McKagan
Team McKagan
I saw that. By the hair of your chinny-chin-chin! But hey, pal … a win is a win.
Re: Oh-Fer!
Sept. 22, 12:16 p.m.
Sean Kinney
Team Nosering
Your streak may be coming to an end, as I see that the nerds who study this stuff are giving you more red check marks than me. I may not know what I'm doing in this fantasy world, and I may still be dusting myself off from the Brickwall that fell on me last weekend, but I'm putting all of my faith in newly acquired Dexter McCluster, who may just fool everyone and carry me to victory. Either that or I'll lose and go back to playing video games …
Each participant will put one valuable item up for auction by the end of the season. The league champion will get to designate which charity receives the net proceeds of the auction. More details on the auction will be announced in the coming weeks.
Weekly updates on the Alice in Chains & Friends Fantasy Football Charity League, trash talk and interviews with the owners will be published in ESPN.com's The Life and Music sections throughout the season. Members of the league also will drop by for occasional chats on SportsNation.
Here is a look at Week 3's matchups and last week's results:
Alice in Chains & Friends Fantasy Football Charity League overall standings
Rk
Player
Team
W
L
T
PF
PA
GB
1.
Chris DeGarmo
Mach Six's
2
0
0
272
167
--

Last week: Defeated Annie's Dogs 161-107 Next up: Team DuVall (1-1)
Chris DeGarmo climbs to first overall in the standings because he's leading the league in points scored. His Mach 6's still added Raiders WR Denarius Moore and dumped Seahawks RB Marshawn Lynch, though.

2.
Mike Inez
Your Real Dad Al Davis
2
0
0
248
177
--

Last week: Defeated Team McKagan 124-74 Next up: Dallas' Best (0-2)
Dallas' Best hold the edge in five of the nine positions, according to the fantasy computers and are three-point favorites over Inez's Your Real Dad Al Davis in the closest line of the week.

3.
Vinnie Paul
The Brickwall Paul
2
0
0
206
124
--

Last week: Defeated Team Nosering 110-72 Next up: Aroma Of Tacoma (1-1)
Vinnie Paul's team has the fewest points scored against through two weeks, so is The Brickwall Paul really good or just reaping the benefits of fortunate scheduling. Brickwall added Jets TE Dustin Keller and dropped Chiefs RB Jamaal Charles.

4.
William DuVall
Team DuVall
1
1
0
209
202
1

Last week: Lost 125-106 to Valley Trash Next up: Mach Six's (2-0)
Team DuVall are the biggest favorites (minus-14) even though the computers give Duvall and high-scoring Mach Six's the edge in four categories each with one push. DuVall claimed Lions WR Nate Burleson and dropped Raiders WR Jacoby Ford.

5.
Jerry Cantrell
Aroma of Tacoma
1
1
0
205
225
1

Last week: Defeated Dallas' Best 102-101 Next up: The Brickwall Paul (2-0)
Aroma Of Tacoma are nine-point favorites over Team Brickwall Paul with the edge in five categories. Cantrell picked up Redskins TE Fred Davis, Broncos QB Kyle Orton and Jets K Nick Folk while they dropped Bengals TE Jermaine Gresham, Packers WR James Jones and Jaguars TE Marcedes Lewis.

6.
Randy Wolf
Team Valley Trash
1
1
0
185
217
1

Last week: Defeated Team DuVall 125-106 Next up: Annie's Dogs (0-2)
Team Valley Trash are seven-point underdogs against the hard-luck Annie's Dogs.

7.
Sean Kinney
Team Nosering
1
1
0
174
184
1

Last week: Lost 110-72 to Brickwall Paul Next up: Team McKagan (0-2)
Team Nosering added the aforementioned saviour, Chiefs WR Dexter McCluster, and dropped Packers RB Ryan Grant. And, yes, Team McKagan has five "red check marks" to Nosering's three with one push. Though, strangely, Nosering are seven-point favorites.

8.
Ann Wilson
Annie's Dogs
0
2
0
184
264
2

Last week: Lost 161-107 to Mach Six's Next up: Team Valley Trash (1-1)
The opposite of Vinnie Paul's good scheduling, Anne Wilson's team hasn't been as lucky with a league-high 264 points scored against.

9.
Jay Ferguson
Dallas' Best
0
2
0
175
204
2

Last week: Lost 102-101 to Aroma Of Tacoma Next up: Your Real Dad Al Davis (2-0)
Dallas' Best lost a little faith in a Cowboy, dropping RB Felix Jones and picking up Chiefs RB Thomas Jones.

10.
Duff McKagan
Team McKagan
0
2
0
126
220
2

Last week: Lost 124-74 to Your Real Dad Al Davis Next up: Team Nosering (1-1)
Team McKagan was busy reworking his roster in an attempt to climb out of the basement, adding Bills WR David Nelson and Broncos WR Eric Decker while dropping Bears WR Roy Williams and the Cowboys D.
SPONSORED HEADLINES
ESPN TOP HEADLINES
MOST SENT STORIES ON ESPN.COM
More From ESPN Music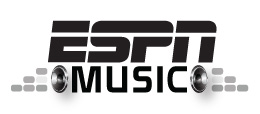 Follow ESPN Music on Twitter
HEAVY ROTATION
FEATURES
AS HEARD ON …
PHOTO GALLERIES …
CHATS