Commentary
AIC charity league rookies take charge
Updated:
October 7, 2011, 6:18 PM ET
By
Jim Wilkie
| ESPN.com
Fantasy football rookies Sean Kinney and William DuVall are schooling their veteran opponents in the Alice in Chains & Friends Charity League by storming to the top of the standings with identical 3-1 records.
[+] Enlarge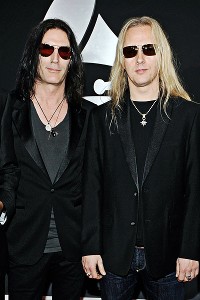 Matt Simmons/WireImageSean Kinney, left, aims to beat another Alice in Chains bandmate, Jerry Cantrell, for the second week in a row.
The Alice in Chains drummer (Kinney) and singer (DuVall) have earned significant bragging rights over fantasy football veterans and bandmates Jerry Cantrell and Mike Inez, whose teams are 2-2.
Kinney's Team Nosering clobbered Inez's Your Real Dad Al Davis 148-94 last week, which led to this message board post that Kinney directed toward the bassist (click on the link to view the image that was included):
Student becomes teacher
Oct 4, 3:22 p.m.
Sean Kinney
Team Nosering
Four games into my inaugural fantasy season is a bit early to brag, but Mike had it coming, and calling Team Nosering a maggot in a text message is just asking for it.
Jerry & Mike have been bugging me for years to participate in fantasy football. Be careful what you wish for …
Re: Student becomes teacher
Oct 5, 3:55 p.m.
Jerry Cantrell
Aroma Of Tacoma
Sweet Meat Inez.
And who should Team Nosering face this week but league organizer and Alice in Chains guitarist Cantrell's Aroma of Tacoma, prompting this confident post:
Brace yourself
Oct 4, 3:02 p.m.
Sean Kinney
Team Nosering
Can the Team Nosering steamroller clench the stench and roll over The Aroma Of Tacoma this week?
As the photo shows, Jerry's already dressed for his own funeral, so I'm just going to saddle up Arian Foster again and see where he takes me …
Cantrell didn't lack any confidence after beating Duff McKagan's Team McKagan 109-98 in Week 4 and he warned his drummer about what to expect this week:
Yes He Can
Oct 4, 12:54 a.m.
Jerry Cantrell
Aroma Of Tacoma
If Chuck Sheen can do it, so can I. I was sweating that one having Beanie Wells sitting on my bench with 31 points. 2-2, baby, back to .500. I once accidentally yanked an earring out of Sean's gourd while shooting "The Nona Tapes." I almost broke my neck on the same maneuver just after I pulled him into the car. This week's challenge is to grab ahold of the ring in his nose and take him to the ground all the while avoiding the horns.
Blondie vs. The Nose … sounds like a new wave gangster flick.
Tied with Team Nosering and Team DuVall at 3-1 are three-year AIC&FFFCL veteran Vinnie Paul's The Brickwall Paul, who lost 106-82 to actor Jay Ferguson's Dallas' Best last week.
Tuff break!!!
Oct 4, 11:06 p.m.
Vinnie Paul
The Brickwall Paul
No one goes undefeated and my team just didn't perform this week, including my bench!!! Tuff break, but The Brickwall will bounce back this week unlike my Cowboys who blew it last week and have a bye week to think about it and then the Patriots in New England!! Now that's a tough road to hoe!!!!!
Each participant will put one valuable item up for auction by the end of the season. The league champion will get to designate which charity receives the net proceeds of the auction. More details on the auction will be announced in the coming weeks.
Weekly updates on the Alice in Chains & Friends Fantasy Football Charity League, trash talk and interviews with the owners will be published in ESPN.com's The Life and Music sections throughout the season. Members of the league also will drop by for occasional chats on SportsNation.
Here is a look at Week 5's matchups and last week's results:
Alice in Chains & Friends Fantasy Football Charity League overall standings
Rk
Player
Team
W
L
T
PF
PA
GB
1.
William DuVall
Team DuVall
3
1
0
426
393
--

Last week: Defeated Mach Six's 104-102 Next up: Annie's Dogs (1-3)
Team DuVall are five-point underdogs and favored in just four categories with one a push against Annie's Dogs. Leaving Buccaneers QB Josh Freeman's 23 points on the bench in favor of Lions QB Matt Stafford's 15 points was nearly a costly mistake last week. DuVall was busy making moves, adding Steelers WR Antonio Brown and Buccaneers WR Preston Parker and dumping Lions WR Nate Burleson and Texans RB Ben Tate.

2.
Sean Kinney
Team Nosering
3
1
0
420
363
--

Last week: Defeated Your Real Dad Al Davis 148-94 Next up: Aroma Of Tacoma (2-2)
ESPN.com's fantasy computers call this matchup even, although Team Nosering are favored in just three of nine categories. Kinney picked up Bengals TE Jermaine Gresham and the Titans D, while he cut Steelers RB Mewelde Moore and Seahawks WR Mike Williams.

3.
Vinnie Paul
The Brickwall Paul
3
1
0
378
297
--

Last week: Lost 106-82 to Dallas' Best Next up: Your Real Dad Al Davis (2-2)
The Brickwall Paul don't have any notable injuries, but they are nine-point underdogs against Your Real Dad Al Davis. Paul picked up Giants WR Victor Cruz and dropped Titans WR Kenny Britt.

4.
Chris DeGarmo
Mach Six's
2
2
0
463
384
1

Last week: Lost 104-102 to Team DuVall Next up: Team Valley Trash (2-2)
The Mach Six's still lead the league in scoring despite two consecutive losses. DeGarmo has QBs Tony Romo and Joe Flacco and WRs Miles Austin and Santana Moss unavailable because of a bye week, so he picked up Titans QB Matt Hasselbeck to start this week. Mach Six's would have won last week if DeGarmo had played the Lions' defense instead of the Bears' D, which was dropped in the Hasselbeck move this week. DeGarmo also picked up the sixth-ranked kicker, Rian Lindell of the Bills.

5.
Jay Ferguson
Dallas' Best
2
2
0
389
370
2

Last week: Defeated The Brickwall Paul 106-82 Next up: Team McKagan (0-4)
Dallas' Best are the biggest favorites of the week at minus-28 against last-place Team McKagan and favored in seven of nine categories. Cowboys fan Ferguson dumped the Cowboys' defense to pick up the Bengals' D and dropped Chiefs RB Thomas Jones in favor of Redskins RB Ryan Torain.

6.
Mike Inez
Your Real Dad Al Davis
2
2
0
426
433
1

Last week: Lost 148-94 to Team Nosering Next up: The Brickwall Paul (3-1)
Your Real Dad Al Davis will be without injured Texans WR Andre Johnson, but they are still favored in five of nine categories.

7.
Jerry Cantrell
Aroma of Tacoma
2
2
0
381
413
1

Last week: Defeated Team McKagan 109-98 Next up: Team Nosering (3-1)
Besides leaving Cardinals RB Beanie Wells' 31 points on the bench, Cantrell neglected Raiders RB Michael Bush's 13 points in favor of Colts RB Joseph Addai's four points. Aroma Of Tacoma dumped Broncos QB Kyle Orton and Packers RB Ryan Grant and picked up Panthers TE Greg Olsen and the 49ers D.

8.
Randy Wolf
Team Valley Trash
2
2
0
363
397
1

Last week: Defeated Annie's Dogs 99-92 Next up: Mach Six's (2-2)
Team Valley Trash have scored the second-fewest points in the league, yet they are 21-point favorites over the high-scoring Mach Six's this week.

9.
Ann Wilson
Annie's Dogs
1
3
0
364
442
3

Last week: Lost 99-92 to Team Valley Trash Next up: Team DuVall (3-1)
Annie's Dogs are nursing some injuries to Chargers WR Vincent Jackson, Chargers TE Antonio Gates and Jets WR Plaxico Burress, plus Browns RB Peyton Hillis and Redskins RB Tim Hightower are out on bye weeks.

10.
Duff McKagan
Team McKagan
0
4
0
309
427
3

Last week: Lost 109-98 to Aroma Of Tacoma Next up: Dallas' Best (2-2)
Team McKagan, who have scored the fewest points in the league, could have tied Aroma Of Tacoma by opting for Broncos WR Eric Decker over Buccaneers WR Mike Williams last week. McKagan claimed Patriots RB Stevan Ridley and Texans WR Kevin Walter and dropped Patriots RB Danny Woodhead and the Titans' D.
More From ESPN Music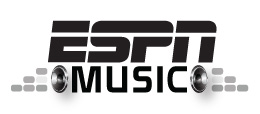 Follow ESPN Music on Twitter
HEAVY ROTATION
FEATURES
AS HEARD ON …
PHOTO GALLERIES …
CHATS
MOST SENT STORIES ON ESPN.COM