Commentary
Playoff time in Alice in Chains league
Updated:
December 8, 2011, 9:37 PM ET
By
Jim Wilkie
| ESPN.com
Appropriately enough, members of Alice in Chains dominate the field of teams that compose the final four in the third annual Alice in Chains & Friends Fantasy Football Charity League.
[+] Enlarge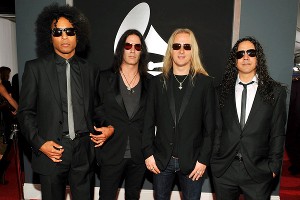 Lester Cohen/Getty ImagesOne of these Alice in Chains members (from left, William Duvall, Sean Kinney, Jerry Cantrell and Mike Inez) is not like the others in fantasy football.
Sean Kinney overtook guitarist Jerry Cantrell last week to earn the top seed, lining the drummer up against singer William DuVall in the semifinal game that takes place over the next two weeks of the NFL season.
Kinney's Team Nosering (8-5) tied Cantrell's for first overall but won the tiebreaker because it scored more points (1,226 compared with Cantrell's 1,194).
"It feels great to slap the blond one. It was the only demand I put on my elite team of nerds," Kinney said via email about winning the regular-season title.
Cantrell, the second seed, faces former Queensryche guitarist Chris DeGarmo in the other semifinal.
"Losing the No. 1 spot was a killer. My team severely underperformed against William's team two weeks ago, allowing him to get a shot to make it to the playoffs and began a two-game slide for me," Cantrell said via email. "Anything can happen in fantasy football, but I don't like my chances against Chris' team."
Cantrell's Aroma Of Tacoma (8-5) finished a half-game ahead, but Mach Six's (7-5-1) have led the league in scoring since Week 1.
"I like my chances. The Aroma will be tough to beat, but I'm hoping to upset Jerry's Super Bowl plans," DeGarmo said via email.
DeGarmo has the No. 1- and No. 4-ranked running backs (Philadelphia's LeSean McCoy and Jacksonville's Maurice Jones-Drew, respectively) but also the unpredictable seventh-rated quarterback, Tony Romo of the Cowboys.
"I'll be lucky to make it to the next round," said Cantrell, who boasts the second-best fantasy QB (Carolina's Cam Newton) and the fifth-ranked wide receiver (Pittsburgh's Mike Wallace).
Cantrell's team will suffer because Redskins tight end Fred Davis is suspended for violating the NFL's substance abuse policy, leaving him with few options for a replacement.
"What a drag. [Detroit's Brandon] Pettigrew, [Houston's Owen] Daniels, [New York Giants' Jake] Ballard … take your pick. Not excited about any of them," Cantrell said.
Tight end issues aren't the only concerns for the fantasy football nut in search of his first title in the AIC league that he created to combine fun and raising money for a worthy charity. Cantrell missed the playoffs in the first season and lost to Meat Loaf in the final last season.
"There are three rookies in the playoffs; just goes to show anybody can play fantasy football," Cantrell said. "They've all done really well obviously. [Having] never played before I suggested the guys get some help running their teams. Mark Wakefield from our office is helping William. Baldy [Todd Shuss], another rookie, has been helping Sean. Chris has Heather Ankeny guiding his team. She really knows her stuff and is my ex girlfriend … if I lose I'll never hear the end of it."
One guy who will catch some flak is bassist Mike Inez, a fantasy football veteran but the only member of Alice in Chains not to reach the playoffs. Inez's Your Real Dad Al Davis (5-8) finished ninth out of 10 teams.
"Oh … poor little furry fella. It must hurt, with him being such a super sport guy," Kinney said. "In Mike's case I would say 'you can't polish a turd, but you can roll it in glitter.'"
DuVall, however, wouldn't knock Inez when he's down.
"You know, I have nothing but good things to say about my brother Mike Inez. His enthusiasm for the game is the stuff of which sportsmanship is made," DuVall said via email. "I feel badly that he didn't make it this time. A showdown between the four members of Alice In Chains would surely have been epic and memorable. But I congratulate Chris DeGarmo and my two Alice comrades and look forward to a great series."
Team DuVall is riding a three-game winning streak and won the tiebreaker over Heart singer Ann Wilson's Annie's Dogs because of more points scored (1,312 versus 1,221). DuVall gave full credit to Wakefield for getting to this point, although the singer joked, "I've given a few inspirational pep talks and stoked the fire at key points throughout the season."
He's got a strong squad with top-five players at four positions -- Lions QB Matthew Stafford (fifth), Ravens RB Ray Rice (second), Lions WR Calvin Johnson (first) and Packers TE Jermichael Finley (fifth) -- as well as the second-ranked defense (49ers), but DuVall still has some tough roster decisions to make.
"After discussing it at length with Mark, I think our biggest dilemma is who to start between Brandon Marshall, Steven Jackson, or C.J. Spiller," DuVall said. "Marshall and the Dolphins are hot right now but he's playing Philly, which makes us nervous. Their secondary hasn't lived up to the hype but still raises a red flag nonetheless. Steven Jackson has been a horse for me until recently. I feel like he's due for a breakout game. I'm just not sure it's going to be against that Seattle D line. Lastly, Spiller had a good week last week but much of his production came from a big run in the first quarter. Otherwise, he was quiet, which is typical for Spiller. He gets a lot of touches but his inconsistency worries my head coach, which, in turn, worries me. I'm sure each of these guys will rotate in and out of my lineup throughout the week until a final decision is made just before game time on Sunday."
Each participant will put one valuable item up for auction by the end of the season. The league champion will get to designate which charity receives the net proceeds of the auction. More details on the auction will be announced soon.
Weekly updates on the Alice in Chains & Friends Fantasy Football Charity League, trash talk and interviews with the owners will be published in ESPN.com's The Life and Music sections throughout the season. Members of the league also will drop by for occasional chats on SportsNation, as Cantrell and Paul did last week.
Here is a look at the postseason matchups and last week's results:
Alice in Chains & Friends Fantasy Football Charity League final regular-season standings
Rk
Player
Team
W
L
T
PF
PA
GB
1.
Sean Kinney
Team Nosering
8
5
0
1,226
1,163
--

Last week: Defeated Team Valley Trash 129-50 Next up: Team DuVall (7-6)
"I'm only the owner of the team. The credit goes to Todd and the 32 other people I have working on this. I like to think of myself as a Donald Trump type … but with better hair," Kinney said.

2.
Jerry Cantrell
Aroma of Tacoma
8
5
0
1,194
1,172
--

Last week: Lost 133-107 to Annie's Dogs Next up: Mach Six's (7-5-1)
Aroma Of Tacoma are 14-point underdogs. Cantrell opted to go with Ballard as his pickup at tight end, while dropping the suspended Davis. He also claimed Chargers WR Malcom Floyd and dumped Lions WR Nate Burleson.

3.
Chris DeGarmo
Mach Six's
7
5
1
1,349
1,164
.5

Last week: Defeated Dallas' Best 115-81 Next up: Aroma Of Tacoma (8-5)
"I need some strong performances from Romo and the entire roster if I'm going to make it to the next level. I might pick up another QB. We'll see," DeGarmo said. Mach Six's added Redskins WR Santana Moss, Packers RB Brandon Saine and the Seahawks' D while they dropped Buccaneers TE Kellen Winslow, Chargers WR Vincent Brown and the Lions' D.

4.
William DuVall
Team DuVall
7
6
0
1,312
1,196
1

Last week: Defeated Team McKagan 142-63 Next up: Team Nosering (8-5)
"If I have any special acumen or 'secret' as an owner, it's in knowing who to hire to run my team and letting them do their job. The choice of Mark Wakefield as my head coach has proven inspired," DuVall said. Team DuVall are 30-point favorites.

5.
Ann Wilson
Annie's Dogs
7
6
0
1,221
1,213
1

Last week: Defeated Aroma Of Tacoma 133-107 Next up: Dallas' Best (6-7)
Annie's Dogs have been the league's hottest team but they fell just short of a playoff spot because their 1,221 points weren't enough to win the tiebreaker against Team DuVall.

6.
Jay Ferguson
Dallas' Best
6
7
0
1,133
1.193
2

Last week: Lost 115-81 to Mach Six's Next up: Annie's Dogs (7-6)
Dallas' Best are eight-point underdogs against Annie's Dogs in the consolation round.

7.
Vinnie Paul
The Brickwall Paul
6
7
0
1,133
1,138
2

Last week: Lost 83-77 to Your Real Dad Al Davis Next up: Team McKagan (5-7-1)
The Brickwall Paul are favored in six of nine categories but are two-point underdogs against Team McKagan, the closest spread of the week.

8.
Duff McKagan
Team McKagan
5
7
1
1,073
1,229
2.5

Last week: Lost 142-63 to Team DuVall Next up: The Brickwall Paul (6-7)
McKagan claimed Bears RB Marion Barber and dumped Bills WR David Nelson. Team McKagan has the distinction of being the unfortunate team with the most points scored against it.

9.
Mike Inez
Your Real Dad Al Davis
5
8
0
1,189
1,213
3

Last week: Defeated The Brickwall Paul 83-77 Next up: Team Valley Trash (5-8)
At least Inez pulled out a win last week to climb out of the basement, setting up his consolation bracket matchup with No. 10 Team Valley Trash.

10.
Randy Wolf
Team Valley Trash
5
8
0
1,029
1,178
3

Last week: Lost 129-50 to Team Nosering Next up: Your Real Dad Al Davis (5-8)
Team Valley Trash collapsed down the stretch with a five-game losing streak, and they are 47-point underdogs this week in the losers bracket.
More From ESPN Music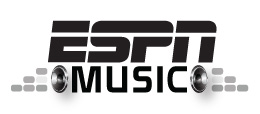 Follow ESPN Music on Twitter
HEAVY ROTATION
FEATURES
AS HEARD ON …
PHOTO GALLERIES …
CHATS
MOST SENT STORIES ON ESPN.COM