Commentary
Seattle shouldn't steal the Kings
Originally Published:
February 8, 2012
By
Duff McKagan
| Special to ESPN.com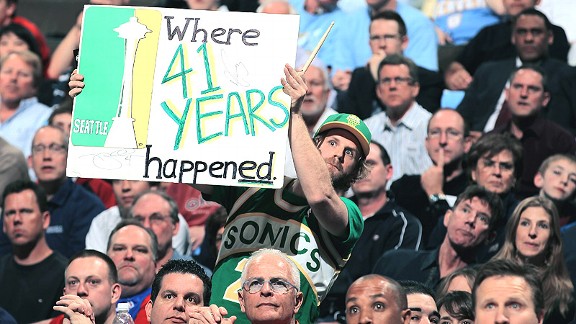 Doug Pensinger/Getty ImagesMany Sonics fans want a team back in Seattle, but not at the expense of another NBA city.
If you live up here in the Northwest and are a sports fan, there is no doubt then that you probably became very aware of the news that The Seattle Times broke on Saturday -- that secret talks have been under way since last spring for a new downtown NBA/NHL arena.
'It's So Easy: And Other Lies' out now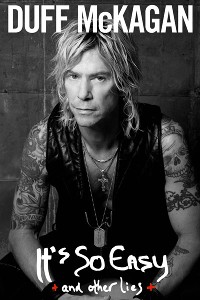 ESPN.com The Life columnist Duff McKagan's new book, "It's So Easy: And Other Lies," will be available on paperback on Mar. 20. You can preorder it here. The hardcover, which came out in October is available at Amazon.com.
"It's So Easy: And Other Lies" reached No. 17 on The New York Times nonfiction best seller list in its first week.
Yes, Seattle, it looks like we might be closer to getting our Sonics back than we had previously thought. At least, this is what the talk and Monday sports-radio chatter suggested -- that we are suddenly ecstatic at the thought of having the NBA back to its rightful place … up here.
But later in The Times piece, there seems to be a hint that the Sacramento Kings are being watched closely -- the organization might not survive financially -- and thus be a natural contender for a move.
Oh. Now that changes things a bit.
Look, Seattle was treated extremely poorly in that brutal Clay Bennett takeover and eventual straight-up hijack of our beloved NBA franchise. The Sonics are Seattle. The team is now dressed up as something called the "Thunder." There is no hiding that Seattle got completely blindsided.
I could never in good conscience or with a modicum of smarts blame the average OKC resident and fan of basketball. They have showed they are good fans of the game -- and I bet some even have a little regret about how they came about their NBA franchise.
Last spring -- when Anaheim was making a sort of play to get the Kings -- I wrote about how I thought this was a raw deal for fans up there in the Central California Valley, and that Sacramento supporters should fight hard to somehow keep their team. I also believe that fans should be given a say in what happens to their teams. We do, after all, finance the whole dang deal -- don't we?!
McKagan's Playlist

The Life asked columnist Duff McKagan to give us some music recommendations. Here's what he had to say:
L.A. punk rock heroes Adolescents were one of the very best of what they did some 30 years ago. A few of their song titles from their debut album, "Adolescents," may be apropos for this topic:
"Losing Battle": This is not meant as a slag to Sac-Town. No, it is just how we fans sometimes feel as a whole when we want our voices heard.
"Welcome To Reality": More of the same.
"No Friends": How I may end up after writing a column like this!
Ah, but now, we here in Seattle have a real chance at getting a team to come play here as soon as the beginning of next season. It seems that all thoughts of justice toward other cities, and their cherished fandom, could now be thrown to the curb. Yes, in the interest of me getting what I want, I could very easily just have a short and limited memory of that column from last spring.
But I can't.
I don't want Seattle to "Bennett" Sacramento. I don't want it. I could venture to guess that the average NBA fan up here -- while still smarting from our recent burn -- doesn't want another NBA city to feel the despair we just went through. It sucks. And we are the thoughtful sort up here, after all.
But we are excited about this new arena. We get excited with any sort of talk about our beloved Sonics. It is a way of life up here -- and whatever team we eventually get up here will be honored in the best of ways.
Hell, Los Angeles has two teams. We would gladly take the Clippers up here. (Plus, Blake Griffin loves the rock music -- a known fact, BTW!)
Now that is an idea.
Musician Duff McKagan -- who writes for Seattle Weekly, has written for Playboy.com and now has his autobiography out -- writes a weekly sports column for ESPN.com. To send him a note, click here and fill out the form.
Playbook
Michael "Duff" McKagan, a founding member of Guns N' Roses, writes a weekly column for Playbook Sounds and is a passionate sports fan. McKagan is currently playing in Loaded and Velvet Revolver, is a prolific writer, including an autobiography, "It's So Easy: And Other Lies."
More From ESPN Music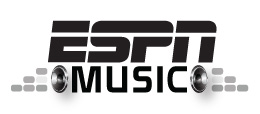 Follow ESPN Music on Twitter
HEAVY ROTATION
FEATURES
AS HEARD ON …
PHOTO GALLERIES …
CHATS