Commentary
Guns N' Roses: Appetite for induction
Originally Published:
April 11, 2012
By
Duff McKagan
| Special to ESPN Music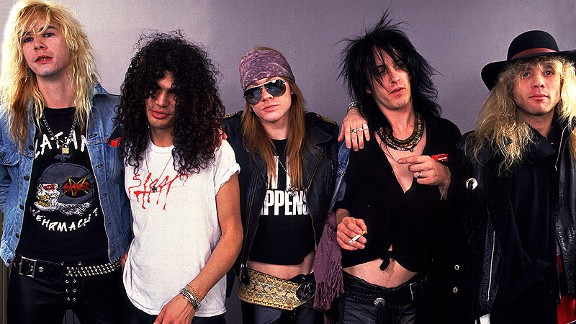 Paul Natkin/WireImageGuns N' Roses in 1987: A lot of attitude, even more hair, and a Hall of Fame future.
Editor's note: This column was published prior to Guns N' Roses singer Axl Rose's statement that he will not be attending the Rock and Roll Hall of Fame ceremony, and is declining induction.
Some of you may know that my band Guns N' Roses will be inducted into the Rock and Roll Hall of Fame this weekend in Cleveland. My editor has been hoping that somehow I could write about what this whole thing is like from the "inside."
Truthfully, it has been hard for me to find a good place from which to start and write such an article, head-space wise.
We are not a band anymore, and haven't been for some time. We are all still alive and well, but there has been some muddy water that has gone underneath the bridge. But water, muddy or otherwise, does indeed flow past and forever away, and I have nothing but the best of memories and highest level of love and admiration and feelings of brotherhood with all of those dudes. Seriously.
BOOK READING IN CLEVELAND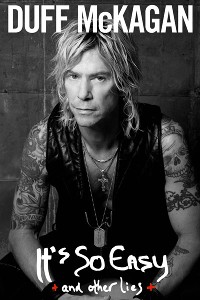 On Friday night, Duff McKagan will celebrate the paperback release of his critically acclaimed memoir "It's So Easy: And Other Lies" with a book reading/punk revue at the House of Blues in Cleveland.
"It's a 3-D version of the book," says McKagan. "It incorporates pictures and video and I'll have a bassist (Jeff Rouse), pedal steel (Paul Huxtler) and mandolin player (Mike Squire) behind me while I read, all of which helps to set a mood and bring the book to life."
"I'm a book nerd," McKagan told the Cleveland Plain Dealer. "I've been to readings. Henry Rollins, for example, is a great reader, but I'm not that intense. When I read Upton Sinclair's 'King Coal,' it's a 3-D story. You're on that mountain. And you're in that coal mine. And you smell the mules. I thought, 'How do I do this?' So I got this band behind me. These guys are amazing and they play unique versions -- song snippets -- from my whole career."
"It's So Easy: And Other Lies" chronicles the unlikely story of the formation and rise of Guns N' Roses to the pinnacle of fame, fortune, and excess. Duff details his twelve years as the bass player for GN'R as well as his nearly fatal struggle with alcoholism and drug addiction, his unusual path to sobriety, and his success as a savvy business investor and husband and father.
You can order the paperback version here. The hardcover, which came out in October, is available at Amazon.com.
ESPN LOS ANGELES
Duff joins the Kamenetzky Brothers Lakers Podcast to talk about GN'R's explosive history, the book, and a plan to bring the Sonics back to Seattle. Listen

I was sent a sort of open letter addressed to us guys in GNR from a fella named Chris Gehert on behalf of "Worldwide Guns N' Roses Fans," and it sort of stopped me short. I will run it now in its entirety:
"Dear Guns N' Roses,
On Saturday April 14th 2012 you will be inducted into the Rock and Roll Hall of Fame. This gave a great hope to every GNR fan on the planet for a one time reunion show. Our one and only chance to see the original lineup on stage together again, if only for five minutes. Something we've been told for years would never happen. Rumors swirled, the band denied, and the fans prayed. It will always be okay because you never promised us anything.
With less than 2 weeks before the induction, the fans are watching as our reunion hopes start to disappear like Marty McFly's family in a polaroid picture. Each day it seems like there is some new story about how there has been no communication, nobody knows what is required of them, nobody's talking, and nobody really seems to care.
We care.
It would be easy for you to just show up, accept the induction, spend a few awkward minutes together at a podium and not talk again until somebody's funeral. But this time we need more.
We are not trying to be selfish, God knows you have given us plenty of legendary songs, spectacular shows, and classic rock moments. You are sincerely the best rock band in the history of the world. All of your solo efforts and reincarnations of the group are awesome too.
Your music has inspired billions of people. Each one of you is still a fan inside. You loved Elton John, Aerosmith, Queen, Kiss, The Misfits, ELO and more. Please remember how great it feels to see your favorite band play.
We beg you to pick up the phone, grab your instruments, drag Izzy to Cleveland and play together.
You can make music history. Please do it. Give us one more memory. We deserve it.
We will continue to support you no matter what, but at the end of each concert Axl tells the crowd to "Not take ... from anyone." And that means ANYONE!
Sincerely,
Worldwide Guns N' Roses Fans."
And to this point: The one reason that I am going to Cleveland this weekend is not to savor in some polite accolade or because an award show is that important to me. I am going because I have realized how important this is all to those many, many fans that supported us and believed in us, and showed up for us in droves.
Music is not like sports, and hence, a Hall of Fame in music is almost a false pedestal to sit upon. There are no statistics in music and art. No band or artist is "better" than another. Music comes from a primal place. Thin air. Dreams. And a lot of really hard damn work.
No one worked harder than us back then, and we were very fortunate to have met each other in those dirty back alleys of Hollywood sometime in 1984. We meshed and wrote, created thunder and beauty, and parlayed our real-life experience into an album that somehow related to a whole angsty world that felt just like us right then and there. It was a brilliant time.
I, too, now hope that we can just play a couple of songs there, and just sort of throw the microphone down on the stage and walk off. The rock-and-roll world would be set ablaze once again ... and we could make a bunch of fans happy and sated to some degree.
But alas, I am only responsible for me, and can only speak for me. I have forgiven and forgotten. I have grown up and manned up. Part of me growing has been to realize I am powerless over others.
This whole deal, I hope, goes off without a hitch. I do hope we can achieve some grace in our acceptance. And I hope this grace, is enough, in the end, for the best rock and roll fans in the world. The Guns N' (f---ing) Roses fans.
-- Duff
Playbook
Michael "Duff" McKagan, a founding member of Guns N' Roses, writes a weekly column for Playbook Sounds and is a passionate sports fan. McKagan is currently playing in Loaded and Velvet Revolver, is a prolific writer, including an autobiography, "It's So Easy: And Other Lies."
More From ESPN Music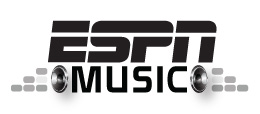 Follow ESPN Music on Twitter
HEAVY ROTATION
FEATURES
AS HEARD ON …
PHOTO GALLERIES …
CHATS