Commentary
Listen to this: A sort-of Top 20 since '05
Updated:
August 25, 2009, 11:10 AM ET
By
Paul Shirley
| Special to ESPN.com
According to a new study published inside the cerebrum-shaped box in my head, laptop computers have a life span of four years.
[+] Enlarge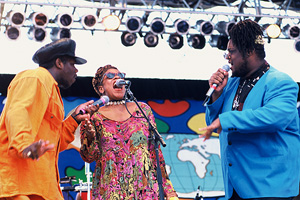 Tim Mosenfelder/Getty ImagesLong before Tool and Kings of Leon made an impact on Paul Shirley's senses, PM Dawn was in heavy rotation.
The conclusion of the narrowly read study stems from the fact I've purchased three laptops in my life: One in the fall of 2001, one in the fall of 2005, and one in the late summer of 2009. I'll grant that three incidences are hardly enough to warrant statistical significance; that's why the study was kept confined to my brain.
My inability to adhere to the scientific method is largely irrelevant. What is important is that I've bought a new laptop and so am faced with the task of retrieving data from the old one. As I've shuttled writing projects, music and pictures of ex-girlfriends between old laptop and new, I've had to shake an accompanying malaise. In this day and age, everyone is tied to his computer, but my umbilical connection is stronger than most. For a long time, my laptop has been one of the few things I could use to mark a new home, whether that home was in Phoenix, Los Angeles, Barcelona or Athens. It became my phone, typewriter, radio, cable box and Cupid. And perhaps most importantly, it became my jukebox.
In the switch to a shiny new MacBook Pro (I know, traitorous), I realized that I would soon lose one of the chief indicators of my low-level obsessive-compulsive disorder. Ever since I fired up the last new laptop, I've been scarily diligent in the maintenance of my iTunes play count. I don't know why I worried so about the legitimacy of the count; I can't remember a time when I was asked what the most-played song on my laptop is. But worry I did. I wouldn't allow one album to bleed into the next in alphabetical order, if only because doing so would throw off the magical count. To make sure they were counted, I let songs play all the way to the end, even when I was ready for something else. I even worried -- a little -- about whether I was giving something too much play. What would it say about me, I thought, if Slaughter's "Up All Night" climbed to the top of my personal Billboard Hot 100? (It would say that I'm awesome. And that I have a sweet Camaro.)
Now that the demise of my last most-played list is near, I thought I'd share what was on it. The list is an imperfect one, of course. Much of the music listening I've done over the past few years has been done with the aid of my iPod. (Surprisingly, this column is not sponsored by Apple.) Thus, those listens are uncounted. And, obviously, because the count happened between 2005 and now, music that was released during that period weighs heavily on the list. If this were a lifelong tally, the CDs I spun into dust in high school would peer at their competitors with disgust from unreachable heights. Those albums being "Ten", "Zooropa" and "The Bliss Album...?" Yes, as in PM Dawn. Someday, it gets its own column.
As for the veracity of my list, I suppose you'll have to take me at my word. The only edit I made was to include only the first song on the count from each artist. Once someone made the list, he/she/they were no longer eligible. It would have been rather boring to give the No. 1 through No. 12 spots to tracks from the same album. Remember, I am an album person.
Enjoy, then, as I list what are, according to iTunes, my most-played songs from 2005 to now. I've included links to some tracks, but you should feel obligated to listen only if you like good music. If you click on a link, it will redirect to the artist's page at lala.com, where you should be able to click on the title I've provided.
In descending order, because that will be more fun:
20. Derek & The Dominos, "Keys To The Highway," from "Layla & Other Assorted Love Songs."
Once, on a college basketball trip to a fundraiser in central Iowa, our trainer told me that this album was one of the most important ever recorded. I scoffed at the time, mostly because I was a 20-year-old know-it-all. It would be another seven years before the record found its way into my collection, and that happened only because I was fortunate enough to have a girlfriend with good taste. But even then, I didn't really connect with the album. That magical event occurred on a Saturday afternoon when I finally paid attention to the guitar work that is splattered all over the 10 minutes of blues bliss that is "Keys To The Highway." It's been racking up play counts ever since.
19. Deftones, "Beware," from "Saturday Night Wrist."
If I were a praying mantis, the near-screams in the chorus of this song would send chills down my exoskeleton. Because I'm not, I have to settle for spine-tingling.
18. Broken Social Scene, "Our Faces Split The Coast In Half", from "Broken Social Scene."
[+] Enlarge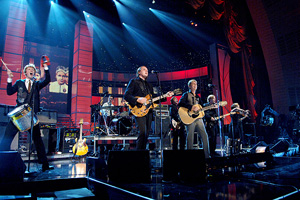 Kevin Mazur/Getty ImagesNot so surprisingly, Arcade Fire still impresses
This song makes the list not because it's better than anything else Broken Social Scene does, but because the albums Broken Social Scene makes are that much better than those made by most other bands, and this is the first song on one of those. It's a fantastic song from fantastic album-makers. When I move to Toronto (17 percent chance), I hope I'll have time to see BSS frequently.
17. Band Of Horses, "The First Song," from "Everything All The Time."
Ditto. Except that the chances of a move to Portland are only 4 percent.
16. Arcade Fire, "Neighborhood #3," from "Funeral."
I was impressed to find that this song was so oft-played. I know I like it a lot, but I had no idea I had such consistently good taste.
15. Ambulance LTD, "Heavy Lifting," from "Ambulance LTD."
Most of the bands/singers on this list are Paul Shirley regulars; Ambulance LTD has never gotten much attention from me, probably because the band is so consistently good that it slips under my recommendation radar, like Phil Hartman-era "NewsRadio." "Heavy Lifting" sounds like it was written on a gravelly New England beach on a drizzly day and in response to a serious letter from a far-flung girlfriend. It's light in tone, but heavy in substance, and I'm glad I've listened to it so often.
14. Smashing Pumpkins, "Mayonnaise," from "Siamese Dream."
Sometime in the mid-'00s, this song started to find retro radio play. Like it would any selfish bastard, this made me sad -- I thought I was the only one who knew this is the best song the Pumpkins ever did.
13. Sigur Ros, "Saeglopur," from "Takk."
Another happy/sad epic from the asexual boys from Iceland. Listening to "Saeglopur" is like listening to a koala hum while bathing in a kitten's tears of joy. The song is 7½ minutes long, so feel free to come back and take a listen later. If you have enough patience to make it through the first 1:50, you'll be rewarded by one of the greatest melodic swells created in the past 10 years.
12. The Dandy Warhols, "Last High," from "Welcome To The Monkey House."
World-traveling, heartbreak and exasperation from a band I've always loved loving.
[+] Enlarge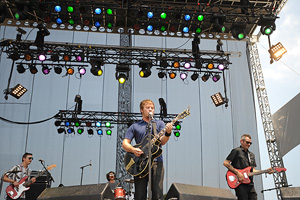 Jeff Gentner/Getty ImagesRogue Wave makes good music sound easy.
11. Rogue Wave, "Every Moment," from "Out Of The Shadow."
I was pleased to find Rogue Wave so high on the list. Once again, there appears to be hope for me. These fine gentlemen from Oakland play the sort of music that seems easy to make, until one realizes how rarely it's made so well.
10. My Morning Jacket, "It Beats For You," from "Z."
A great song from a great -- if a little strange -- album, the cover of which adorns the stairwell that takes me to my basement. Every time I see it, I lament that I can neither draw something as interesting as the cover nor create something as beautiful as the music it advertises.
9. Bright Eyes, "Arc Of Time (Time Code)," from "Digital Ash In A Digital Urn."
A song that works, oddly, for the extremes of euphoria and despair.
8. Explosions In The Sky, "The Birth & Death Of A Day," from "All Of A Sudden I Miss Everyone."
A song that works, even more oddly, for everything in between the extremes of euphoria and despair.
7. Idiot Pilot, "Losing Color," from "Strange We Should Meet Here."
Idiot Pilot captured my imagination for a six-month period in 2005. I thought they would save music. I've also thought, at various times in my life, that I would die in a Soviet missile attack, that I would die in a house fire, and that construction workers designed the projects they work on, so I've been wrong on other occasions. My infatuation with Idiot Pilot has cooled slightly, but I continue to maintain that they've been largely overlooked. This song is an indicator of their melodic capabilities; it lacks the screaming of some of their other work.
6. Brand New, "Jesus Christ," from "The Devil And God Are Raging Inside Me."
Girls, loneliness and purpose-questioning: What more could one want from a song? Brand New is often lumped in with bands like Fall Out Boy and Taking Back Sunday. Fine by me, if that helps people discover them. I think, though, that lead singer Jesse Lacey rates more lofty comparisons. Springsteen and Lennon pop into my head.
I'll give you a second to chew on that. Now go back and listen to the song with an open mind and then come up with a reasoned argument as to why "Jesus Christ" isn't just as good as "The River."
5. TV On The Radio, "Wolf Like Me," from "Return To Cookie Mountain."
The one song that TV On The Radio has ever recorded that captures the exultant jubilation that is their live show. When I lived on the island of Menorca for a year, this song -- burned to a mix CD that I used in my car -- often kept me on the road to practice, and not on the road that ended in a 60-foot cliff over the ocean.
4. Cat Power, "The Greatest," from "The Greatest."
My love for Cat Power has been tempered by a festival atmosphere I watched her ruin, but I continue to maintain that this album and this song are extraordinary.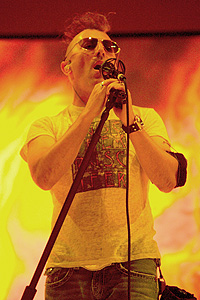 Gary Miller/Getty ImagesYou knew Tool had to be on this list, but it's this high partly for some wrong reasons.
3. Tool, "Ticks & Leeches," from "Lateralus."
There are songs I listen to when I'm sad (Our Lady Peace's "Are You Sad?"). There are songs I listen to when I'm happy (Aerosmith's "Sweet Emotion"). And then there are songs I listen to when I've reached the end of my patience with the world, when I can't imagine that anything good will come of anything I'll ever do, and when I imagine that I'll never trust another human as long as I draw breath. This is the song at the top of that list.
Evidently, I've had a few letdowns in the past four years.
2. Kings Of Leon, "On Call," from "Because Of The Times."
I was first exposed to this ditty while watching its video on Spanish MTV. I was immediately transfixed. I'd loved the Kings' first album, but their second record and I had always called each other, but had kept missing because of work, softball and girlfriends we both had, so I'd eventually given up. "On Call," which comes from the band's third album, was a chance meeting at a grocery store, when we remembered how much fun we'd had drinking together. We've been close ever since.
1. The National, "Green Gloves," from "Boxer."
I told you I like The National.
Paul Shirley has played for 13 pro basketball teams, including three NBA teams: the Chicago Bulls, Atlanta Hawks and Phoenix Suns. His book "Can I Keep My Jersey?" -- which is available in paperback -- can be found here. He can be found at Twitter (Twitter.com/paulthenshirley) and you can e-mail him here.
MOST SENT STORIES ON ESPN.COM