KWS Domination lives up to its name
Updated:
September 24, 2009, 6:22 PM ET
By
Jim Wilkie
| ESPN.com
ESPN fantasy football expert Matthew Berry's Team Berry was crushed 127-65 by guitarist Kenny Wayne Shepherd's KWS Domination to highlight Week 1 of the Alice In Chains & Friends Charity Fantasy Football League.
[+] Enlarge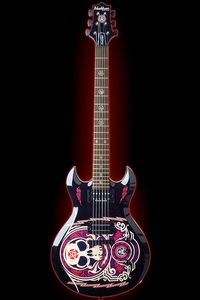 Washburn GuitarsScott Ian will be putting up a Scott Ian Signature Guitar like this up for auction.
Shepherd cruised thanks to the production of Minnesota Vikings running back Adrian Peterson (37 points), Indianapolis Colts wide receiver Reggie Wayne (22 points) and New York Jets running back Thomas Jones (22 points), while Berry's only double-digit performers were New England Patriots quarterback Tom Brady (21) and Cincinnati Bengals running back Cedric Benson (16).
Shepherd's league-high points total earned him first place above the other four Week 1 winners: Jerry Cantrell, Scott Ian, Vinnie Paul and Zakk Wylde.
League founder Cantrell's JC Aroma Of Tacoma is second after he won bragging rights within Alice In Chains by beating bandmate Mike Inez's M.I. Evil? Yes I Am 108-69 thanks to balanced production from Pittsburgh Steelers receiver Santonio Holmes (19 points), Philadelphia Eagles quarterback Donovan McNabb (17 points), Jacksonville Jaguars running back Maurice Jones-Drew (17 points), Patriots receiver Randy Moss (14 points), Washington Redskins tight end Chris Cooley (12 points) and Arizona Cardinals kicker Neil Rackers (12 points).
Coincidentally, SportsNation voters ranked Cantrell's and Shepherd's teams first and second in our preseason poll that asked readers to rank all teams from one to 10. Berry, the voters' choice for third, comes in at 10th, however, because of his lowest points total, although he's tied with Inez, Duff McKagan, Kenny Aronoff and Matt Willig at 0-1.
Participants in the Alice In Chains & Friends Charity Fantasy Football League will each be putting up one valuable item for auction by the end of the season. The league champion will get to designate which charity gets the proceeds of the auction. More details on the auction will be announced in the coming weeks.
Weekly updates on the Alice In Chains & Friends Fantasy Football League, trash talk and interviews with the owners will be published on ESPN.com's The Life section throughout the season. Members of the league will also drop by for occasional chats on SportsNation.
Here are the standings after Week 1 with a look ahead to this weekend's matchups (mouse over the photos for bios of the participants):
Alice in Chains & Friends Charity Fantasy Football League Standings
Rk
Player
Team
W
L
T
PF
PA
GB
1.
Kenny Wayne Shepherd
The KWS Domination
1
0
0
127
65
--

Last week: Defeated Team Berry, 127-65. Next up: Team McKagan D (0-1)
Can the Domination continue? With Adrian Peterson's Vikings visiting the Lions, it looks pretty good.

2.
Jerry Cantrell
JC Aroma of Tacoma
1
0
0
108
69
--

Last week: Defeated M.I. Evil? Yes I Am, 108-69 Next up: Team The Brickwall (1-0)
Two 1-0 teams square off. … With McNabb hurting, Cantrell picked up Ravens QB Joe Flacco, but he might be leaning toward starting Vikings QB Brett Favre. The injury bug also bit at receiver, as the Aroma dropped Anthony Gonzalez of the Colts and added Redskins receiver Antwaan Randle El.

3.
Scott Ian
Scott Ian Mean Machine
1
0
0
105
92
--

Last week: Defeated Team 9, 105-92 Next up: Zakk Wylde Doom Crew Inc. (1-0)
Another battle of unbeatens, but Ian is risking some bad karma. His favorite team is the Giants, but he has Dallas QB Tony Romo, whose Cowboys face New York this week, penciled in as his starter.

4.
Vinnie Paul
Team The Brickwall
1
0
0
103
71
--

Last week: Defeated Team McKagan D, 103-71. Next up: JC Aroma Of Tacoma (1-0)
Texas native Paul appears to be putting this week in the trust of his Cowboys by playing RB Marion Barber, WR Patrick Crayton and TE Jason Witten. … The Brickwall probably won't get another 35 points out of the Eagles defense this week.

5.
Zakk Wylde
Zakk Wylde Doom Crew Inc.
1
0
0
83
72
--

Last week: Defeated Calabasas Clueless, 83-72 Next up: Scott Ian Mean Machine (1-0)
Wylde's Doom Crew added receiver depth behind Cincinnati's Chad Ochocinco with pickups Steve Smith of the Giants and Devery Henderson of the Saints.

6.
Kenny Aronoff
Team 9
0
1
0
92
105
1

Last week: Lost 105-92 to Scott Ian Mean Machine. Next up: M.I. Evil? Yes I Am (0-1)
Team 9 has the No. 1-ranked fantasy quarterback with Drew Brees of the Saints, but Aronoff will need another 36 or more fantasy points from Brees if his other players don't produce.

7.
Matt Willig
Calabasas Clueless
0
1
0
72
83
1

Last week: Lost 83-72 to Zakk Wylde Doom Crew Inc. Next up: Team Berry (0-1)
The two non-musicians of the league square off in search of their first victory.

8.
Duff McKagan
Team McKagan D
0
1
0
71
103
1

Last week: Lost 103-71 to Team The Brickwall. Next up: The KWS Domination (1-0)
Looking for some help at running back, McKagan added Oakland's Michael Bush, whose 11 fantasy points last week were five more than McKagan's current starter Chris Johnson of the Texans.

9.
Mike Inez
M.I. Evil? Yes I Am
0
1
0
69
108
1

Last week: Lost 108-69 to JC Aroma Of Tacoma. Next up: Team 9 (0-1)
M.I. Evil picked up Raiders WR Louis Murphy, whose 14 fantasy points in Week 1 tied the team highs of Cowboys WR Roy Williams and Steelers QB Ben Roethlisberger (who was on the bench). Inez also dumped Packers kicker Mason Crosby in favor of Broncos kicker Matt Prater.

10.
Matthew Berry
Team Berry
0
1
0
65
127
1

Last week: Lost 127-65 to The KWS Domination. Next up: Calabasas Clueless (0-1)
Berry was busy combing the waiver wire, plucking Seahawks RB Julius Jones and the Falcons defense.
SPONSORED HEADLINES
ESPN TOP HEADLINES
MOST SENT STORIES ON ESPN.COM
Alice In Chains & Friends Fantasy Football

Check out more about the Alice In Chains & Friends Fantasy Football Charity League on ESPN.com.


THE LIFE
FANTASY FOOTBALL 2009
SPORTSNATION