Commentary
Familiarity, Fox and friends in L.A.
Updated:
September 22, 2009, 7:15 PM ET
By
Paul Shirley
| Special to ESPN.com
Whenever I return to Los Angeles -- the city I called home for six months while helping to produce a failed television pilot for the Fox Network -- it feels a little like a second encounter with an acquaintance that hasn't yet become a friend. Our relationship could go either way: Our future might hold bar-prowling, problem-solving and furniture-moving. Or we might never see one another again.
[+] Enlarge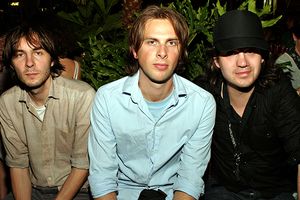 Teresa Lee/Getty ImagesSeeing Phoenix play in Los Angeles was like looking at your reflection in an elevator in Kazan, Russia.
Los Angeles rarely allows me to feel completely stable. When I'm in the city, a sense of breathlessness takes over my life. Too many people to see, too many things to do, too much nice weather in which to do it all.
The casual observer might contend, then, that I probably ought to stay out of L.A. No one really likes feeling off balance, that person might say. But for me, a sense that I'm not completely at peace is usually a good thing. Unsettled equals humbled equals a less obnoxious version of Paul.
While I support the validity of the theory that my mind responds to the stressors of L.A. like a pectoral muscle responds to a pushup, I -- like everyone -- need something familiar to combat the madness. Huddled over my computer after a long day of navigating the city's idiosyncrasies, I remembered that my something is music.
My passion for music could seem arbitrary: There is no reason for me to respond so strongly to an art form that I can't perform. Until one examines my life, that is. I've been extraordinarily lucky; I've already had the opportunity to pursue multiple dreams. I've chased down a professional basketball career, the publication of a book, and the aforementioned television show. Fantastic experiences, all. But the journeys have been lonely ones.
One evening in Kazan, Russia, I arrived at the two-star hotel I was calling home after an unsettling, disorienting excursion through the city's mazelike streets. After wishing the woman behind the rudimentary front desk a good night in broken Russian, I boarded a rickety elevator for the ride to my floor. Once inside, I saw my reflection in the mirror. I smiled. Not because of a pleasant memory from the night or because I looked particularly good. In fact, I spent most of my time in Russia looking wan and unhealthy thanks to multiple bouts of the flu and a dearth of sunlight hours. No, I was just happy to see a friendly face.
That sounds absurd, I know. Or if not absurd, extraordinarily simplistic. "You were happy to see your own face? How is that interesting?"
Well, pocket inquisitor device, it's interesting for this reason: If you bounce around by yourself for long enough -- traveling from team to team or from city to city -- it will begin to be true that the only person who seems welcoming is you.
I've had the same realization many other times in my life. I've found myself alone in hotels, restaurants -- even girls' bathrooms -- staring at myself and mouthing to my own reflection, "What are you doing here?" Because maybe that bathroom was in Spain or Greece or New York City and I couldn't imagine how I -- a freckle-faced country boy -- ended up there.
It's possible that I'm describing the symptoms of schizophrenia, but I maintain that my insanity has, thankfully, been kept in check. There are steadying influences in my life -- family and friends who I've counted on to keep me stable. But I couldn't always take them with me.
That was a long way to go to get back around to music, but here we are:
For me, the music I love is like my reflection in the mirror in the hotel in Kazan. It's comforting, like an old friend. As I fiddled on my laptop after a long day in L.A., listening to songs both familiar and new, I was reminded of the sensation. I'd spent the three days prior scampering around the town, investigating graduate schools, talking to old contacts, and hadn't had time to listen to any music. When I dialed up a RATATAT song for an electronica-loving friend, it felt like it must feel when a heroin addict plunges a needle into his basilic vein.
[+] Enlarge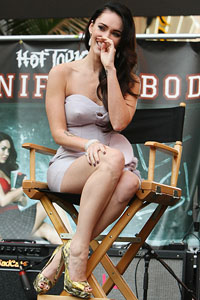 Eric Charbonneau/Getty ImagesMegan Fox wasn't necessary to cap an enjoyable Hollywood night, but it would have been nice.
I felt a similar sensation at the Greek Theater in Griffith Park last Wednesday. I was escorted to the Greek for a show (that paired newly familiar Metric with old favorite Phoenix) by the woman responsible for the video link that helps make up today's multimedia musical experience. When the lights dimmed and the stars became visible, I was at peace. Metric wasn't particularly good; I think they're best-suited for small venues of the sort in which I saw them earlier this summer. And Phoenix, while delightful, didn't change my life, a fact that I blame partially on the open-air arrangement -- their sound might be too nuanced for an outdoor theater. But the quality of the bands' performances wasn't all that important. What was important was that I was with old friends, even if those friends weren't aware of their friendship with me.
And then, a slave to my own desire to see everything, I had to move on. A few days earlier, after I'd enthusiastically accepted the invite to the Phoenix show, another friend had called after I'd told him that I'd be in town. Through a connection with the director of "Jennifer's Body," he offered placement at the Hollywood premiere of that movie. The only problem: The premiere was the same night as the Phoenix concert. Crestfallen, I told him about my prior engagement. We settled, though, that I still had a chance to make the after party. So, before the encore that contained one of the best five songs of this year, Phoenix's "1901," I tore myself from my seat, motivated by the same stimulus that has probably changed many a man's plans: a desire to see Megan Fox up close.
Sadly, Fox had either left before I got there or had never made an appearance. But her absence failed to dissuade my brother and I from enjoying the opportunity to act as if our nights routinely end in scenetastic hotel bars in Hollywood. We entertained ourselves with people watching and light stargazing, and I returned to a familiar state of internally wide-eyed confusion about where I was and what I was doing. And loved it.
It was a typically atypical night that ended with a big smile into the mirror that was reflecting my tooth-brushing self. I'd again managed to survive a bizarre situation without anyone pointing at me and saying, "Wait a minute, get that guy out of here. He doesn't belong."
My Hollywood night was entertaining, of course, but it wasn't necessarily any better than a night I'd had in Kansas only two days before.
Like the process of making human friends, the process of making friends with music takes a little investment on my part. I engaged my inner music I-banker when I drove to Lawrence, Kan., to watch Bad Veins play for 14 people in a bar on Massachusetts Street. It was a markedly different atmosphere than the one in which I'd find myself a few days later in L.A., but the difference wasn't a negative one. I was floored by Bad Veins.
[+] Enlarge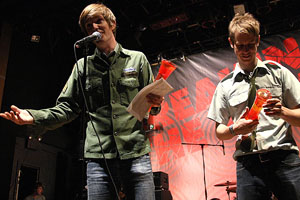 Stephen Lovekin/Getty ImagesTo their credit, Bad Veins didn't let a small crowd affect their mood.
I'd listened to the band's eponymous debut twice before going, but my brain hadn't completely processed the music. I hadn't found anything to hold onto in the album. And I was wary of the show -- I was leaving in the morning and the band wouldn't go on until midnight. But in the interest of my own selfish need for the steadying hand of the music I might love, I made the drive.
I was lucky enough to be able to speak to both members of Bad Veins before the show. I was impressed by their approach to their work. They had played a well-received set at Denver's Monolith Festival just prior to driving to Kansas and it seemed to me that it would have been difficult to get excited about playing a tiny bar on a Monday night. In fact, while talking to lead singer Ben Davis, I wondered aloud if I would have been tempted to cancel when 11:30 rolled around and it was obvious that an audience of two dozen was going to be an auspicious, if not impossible, goal.
Davis admitted the turnout wasn't ideal but explained that he and bandmate Sebastian Schultz understand all too well that every night has the potential to be important, if the right person happens to be in the crowd.
Unfortunately, I'm not yet the "right person"; my advocacy of Bad Veins isn't going to catapult the band to Coldplaydom. But I'm glad to help start that process, not because they were really nice -- which they were -- but because I think they're really good musicians and I think you'll like what you hear (on their Lala page, find the song "Crosseyed" here). I think they sound like my favorite parts of The Strokes combined with my favorite parts of the Cold War Kids, but I'm open to other interpretations.
Mostly, I'm glad I've found another friend I can count on. A musical friend, that is. Davis and Schultz were great, and maybe we'll see each other again someday, but I'm more excited about calling their music my new pal. I have a feeling I haven't yet reached the end of the path of oddness that has been my life, and I think I'm going to need some friends along the way. If those friends ever let me down, I suppose I'll always have elevator mirrors in strange foreign cities. But for now, I prefer listening to Bad Veins to staring at myself in a piece of glass.
Now, onto the multimedia section of this piece. After I wrote a lustful article about the greatness of Amoeba Records back in February, the fine people at that store asked me to come back, steal some music from them, and talk about it on video. (Steal being a loose interpretation. They gave me $75 of store credit and put me to "work." It was a top-10 hour of my life.)
So check out "What's In My Bag?" and enjoy watching me yammer about Phoenix, Metric, Muddy Waters, and college sex.
(Keep in mind that this was done three months ago. If I talk about something I've since written about, forgive the overlap. Also, forgive my lack of knowledge about Diplo. We did this all in one take and my brain was working overtime.)
One more thing: Next time you're in Los Angeles, visit Amoeba Music. If you've never been, it will change your outlook on the music-purchasing experience. If you have been, it will be like returning to a childhood bedroom, where your parents kept your Little League trophies in their places and the same quilt is on your bed.
Paul Shirley has played for 13 pro basketball teams, including three NBA teams: the Chicago Bulls, Atlanta Hawks and Phoenix Suns. His book "Can I Keep My Jersey?" -- which is available in paperback -- can be found here. He can be found at Twitter (Twitter.com/paulthenshirley) and you can e-mail him here.