Inez relishes first victory
Updated:
November 6, 2009, 3:51 PM ET
By
Jim Wilkie
| ESPN.com
Kenny Wayne Shepherd took down Zakk Wylde last week to take over sole possession of first place in the Alice in Chains & Friends Fantasy Football Charity League, but big news was happening at the other end of the standings.
[+] Enlarge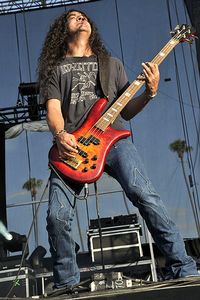 Kevin Winter/Getty ImagesAlice in Chains bassist Mike Inez pulls out of last and into ninth (by way of a tiebreaker).
Mike Inez finally got his first victory as M.I. Evil? Yes I Am upset Duff McKagan's Team McKagan D 103-95 for bragging rights among the rock bassists.
Alice in Chains are in London getting ready to tour Europe, and Inez said by phone Thursday that he hadn't had a chance to taunt his buddy McKagan yet.
"I made Duff my b---- for a week," Inez said, laughing."What a great time, though. I have yet to give him s--- about it. I think he was in Europe when we were over there [this summer] and I think he just went back now to take his kids trick-or-treating. He's a good guy, too. We love that guy. He's like honorary Alice in Chains."
Now Inez needs only one more win to match the season total of his beloved Raiders, whose performance he is constantly reminded of by league organizer and Alice in Chains guitarist Jerry Cantrell and others.
"Me and Jerry did the Jim Rome [radio] show last week. Jim Rome was giving me a bunch of [flak] about being Raider Nation, you know. I told him we're one injury away from being a .500 team. He said, 'What's that?' And I said Al Davis has to stroke out," Inez said with a laugh.
Cantrell's JC Aroma of Tacoma is one of five teams at 4-4 despite being snakebit by injuries.
"The first week, I lost Donovan McNabb in the first quarter. The second week, I lost Matt Hasselbeck in the first quarter. The third week, I had to pick up [Byron] Leftwich and start him and he got benched in the first quarter. I think the fifth week, I had Greg Jennings get knocked out in the first quarter, and last week I had Chris Cooley go out," Cantrell said by phone from London. "So I've lost a lot of guys, man. I don't think anybody's more injury-riddled than me and I'm still 4-4, so gotta see if I can flip it around and try to run my way into the playoffs."
He said he persevered through similar hard luck to win a championship last season and he knows Shepherd's and Wylde's teams will be vulnerable in the fantasy postseason.
"That's the whole thing. Kenny's team, the guys he's relying on, those guys are gonna be resting those last couple of weeks, you know what I mean?" Cantrell said. "So it's gonna be really interesting.
And I think if I can get myself into the playoffs, that's why I feel like I've got a shot because I think the guys, especially Kenny, he's got Adrian Peterson, Peyton Manning and those guys are not gonna be playing [much] late in the season after they clinch up their divisions and s---. So it's gonna be a lot more interesting."
Each participant in the Alice in Chains & Friends Charity Fantasy Football League will put up one valuable item for auction by the end of the season. Cantrell is donating a Rampage Tribute JC guitar signed by Alice In Chains and Inez is putting up a Warwick bass signed by Alice in Chains. They both said they will probably add more items to be auctioned off. The league champion will designate which charity receives the auction's proceeds.
Cantrell is playing for an autism charity. But it's not looking good for Inez's charity, City of Hope cancer center in Duarte, Calif., to reap any windfall from his fantasy football success. Once he gets a break from touring and returns home, however, Inez plans to make it up to the hospital in other ways.
"I'm going to go actually do some other charity work when I get back to L.A.," Inez said. "I guess they're making some great strides in cancer now, so I was going to go down and hang out with the kids and kind of lift their spirits."
He said when he was a kid growing up around Monrovia, Calif., and the Pasadena area, he used to play soccer on the City of Hope grass. Now things have come full circle, and this fantasy football league has led him to make the contacts to get involved with the biomedical research, treatment and educational institution.
"You gotta give back after a certain point, you know, it just feels right. We're so self-absorbed, ego-headed … what we do for a living is just a perfect place for egos and dumb s---- to flourish all the time," Inez said, laughing. "But especially the guys in this league are really good with paying back, and we just want to do whatever we can."
Here is a selection of some chatter from the league's message board, going back to before last week's games:
Scott Ian
Ryan Fitzpatrick … Matthew Berry's 'secret weapon'
Posted: Oct 31, 12:35 PM
I have officially soiled my pants over the fear of Matthew's newest "deep sleeper". Ryan Fitzpatrick (the legitimate backup for Trent Edwards … YIPES) is Berry's bye week replacement for Tom Brady!! Yes, they have a lot in common … same division, play in the Northeast, and both have a first and last name. After that, your guess is as good as mine. Fitzpatrick showed up for practice today and T.O. handed him a Snickers bar because he thought Fitzpatrick was a trick or treater masquerading as a football player in authentic Bills garb.
Yeah, I talked a big game last week to Duff … I could have never imagined the Steelers scoring two TDs in the last 2-3 minutes nor Bradshaw's and Celek's conspiracy pact … But if Ryan Fitzpatrick can score anything within earshot of Tony Romo, I will shave my head … err … uh … OK, OK … I will just change my team name to Meek Machine … Berry, your two-game win streak is about as safe as a Chiefs fan with an air horn sitting in the end zone of the Black Hole (Oakland).
Jerry Cantrell
5 Weeks to go
Posted: Nov 3, 7:13 PM
Well, well, well! Mike Inez, welcome to the league. My buddy gets a win. I love it. Kenny Wayne rolls on, Zakk and Vinnie get a little more human. I get myself healthy via Aronoff's squad, now it gets interesting. It's been a great season so far, gents. I thank you all for your time and hope you are having as much fun with this as I have. We have a glut of 4-4 teams between Matt, Duff, Mr. Berry, Scott and myself. Mike and Kenny are going to be playing the dangerous role of spoiler, but the rest of us still have a shot to make the final four. Crank it up, fellas.
Matt Willig
Congrats!!!!
Posted: Nov 2, 2:17 PM
Ladies, let's give it up to Mike Inez for … getting his first W.
Way to go Evil man!!!
Mike Inez
Re: Congrats!!!!
Posted: Nov 2, 5:40 PM
At least I ain't eatin' a goose egg now!
Mike Inez
Re: Congrats!!!!
Posted: Nov 4, 6:38 PM
And I ain't in last either!
Weekly updates on the Alice in Chains & Friends Charity Fantasy Football League, trash talk and interviews with the owners will be published on ESPN.com's The Life section throughout the season. Members of the league also will drop by SportsNation for occasional chats.
Here are the standings after Week 8, with a look ahead to this weekend's matchups (mouse over the photos for bios of the participants):
Alice in Chains & Friends Charity Fantasy Football League Standings
Rk
Player
Team
W
L
T
PF
PA
GB
1.
Kenny Wayne Shepherd
The KWS Domination
7
1
0
861
575
--

Last week: Defeated Zakk Wylde Doom Crew Inc., 102-67 Next up: Team The Brickwall (5-3)
This week will test Shepherd's Domination as it has five players on a bye week, including Vikings running back Adrian Peterson (ranked No. 1 at his position), Jets running back Thomas Jones (ranked No. 4) and Vikings wide receiver Sidney Rice (ranked No. 14).

2.
Zakk Wylde
Zakk Wylde Doom Crew Inc.
6
2
0
712
583
1

Last week: Lost to KWS Domination, 102-67 Next up: M.I. Evil? Yes I Am (1-7)
Wylde's Doom Crew has fourth-ranked tight end Antonio Gates, but the Charger is questionable against the Giants. Steelers tight end Heath Miller (ranked sixth) might be a better option up against the Broncos anyway.

3.
Vinnie Paul
Team The Brickwall
5
3
0
659
678
2

Last week: Lost to Calabasas Clueless, 89-54 Next up: The KWS Domination (7-1)
Team The Brickwall are early 28-point favorites, but the Domination had not yet benched three players on bye weeks, partly explaining why Paul's team was favored in five of nine categories.

4.
Matthew Berry
Team Berry
4
4
0
760
779
3

Last week: Defeated Scott Ian Mean Machine, 103-76 Next up: Team McKagan D (4-4)
Next to first-place KWS Domination, Team Berry is the hottest team in the league with three victories in a row. And the Talented Mr. Roto will have Patriots quarterback Tom Brady back, so he won't have to go with Buffalo's Ryan Fitzpatrick (zero points last week).

5.
Jerry Cantrell
JC Aroma of Tacoma
4
4
0
710
620
3

Last week: Defeated Team 9, 84-52 Next up: Scott Ian Mean Machine (4-4)
Cantrell's Aroma has three key players starting after a bye week: Patriots wide receiver Randy Moss, Steelers receiver Santonio Holmes and Redskins running back Clinton Portis. The ESPN Fantasy Games computers have the Aroma of Tacoma as nine-point underdogs.

6.
Scott Ian
Scott Ian Mean Machine
4
4
0
709
766
3

Last week: Lost to Team Berry, 103-76 Next up: JC Aroma of Tacoma (4-4)
Ian is turning to the Cantrell's beloved Seahawks to cause some anxiety for the Alice in Chains guitarist. Ian dropped Seahawks quarterback Matt Hasselbeck on Sunday and picked him up on Thursday, penciling him in as the starter. The Mean Machine also picked up Seattle's defense, which goes up against the Lions.

7.
Matt Willig
Calabasas Clueless
4
4
0
701
772
3

Last week: Defeated Team The Brickwall, 89-54 Next up: Team 9 (1-7)
Willig hopes 49ers rookie wide receiver Michael Crabtree is ready to break out against the Titans this week. Clueless picked up Crabtree and the Falcons defense this week.

8.
Duff McKagan
Team McKagan D
4
4
0
662
693
3

Last week: Lost to M.I. Evil? Yes I Am, 103-95 Next up: Team Berry (4-4)
Leaving Vikings wide receiver Percy Harvin on the bench cost McKagan the game last week. Injuries to Lions running back Kevin Smith, Lions receiver Calvin Johnson and Bears receiver Devin Hester (all questionable) and Bears tight end Greg Olsen will make the roster picks tough. McKagan also has to find a substitute kicker off waivers with Minnesota's Ryan Longwell on a bye week.

9.
Mike Inez
M.I. Evil? Yes I Am
1
7
0
640
800
6

Last week: Defeated Team McKagan D, 103-95 Next up: Zakk Wylde Doom Crew Inc. (6-2)
Inez could sure use a big game out of Seahawks wide receiver T.J. Houshmandzadeh against the Lions. Picking up the Patriots defense (ranked No. 7) against the Dolphins looks like a good move with the Vikings (No. 3) on a bye.

10.
Kenny Aronoff
Team 9
1
7
0
582
730
6

Last week: Lost to JC Aroma of Tacoma, 84-52 Next up: Calabasas Clueless (4-4)
As if six losses in a row and a drop into a last-place tie wasn't enough, Aronoff's Team 9 has four players on bye weeks: Rams running back Steven Jackson, Raiders tight end Zach Miller, Bills wide receiver Lee Evans and the Jets defense. Aronoff still has some roster juggling to do, but as of Thursday he was a 75-point underdog.
SPONSORED HEADLINES
ESPN TOP HEADLINES
MOST SENT STORIES ON ESPN.COM
Alice In Chains & Friends Fantasy Football

Check out more about the Alice In Chains & Friends Fantasy Football Charity League on ESPN.com.


THE LIFE
FANTASY FOOTBALL 2009
SPORTSNATION