Nothing but blues for KWS' opponents
Updated:
November 20, 2009, 11:05 AM ET
By
Jim Wilkie
| ESPN.com
Loading a fantasy football roster with players from your favorite teams can be a recipe for disaster if an owner's heart overtakes his or her head during the draft and trolling the waiver wire.
[+] Enlarge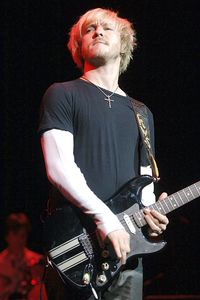 Tim Mosenfelder/Getty ImagesKenny Wayne Shepherd has been on a rookie roll with his loaded fantasy football roster.
But that method has been a big reason for Kenny Wayne Shepherd's success in the Alice in Chains & Friends Fantasy Football Charity League this season as his KWS Domination is the highest-scoring team and leads all rivals with an 8-2 record. It doesn't hurt that the unbeaten Indianapolis Colts (9-0) are his favorite team and the 9-0 New Orleans Saints are also close to his heart.
"I made some acquisitions earlier in the season and got the Saints' defense and kicker and that has worked out well for me," Shepherd said via e-mail early Thursday before he was scheduled to perform in a concert in Baltimore.
Shepherd grew up in Louisiana, but it was closer to Dallas than New Orleans. So he said he rooted for the Cowboys and the Saints as a kid.
"Over those years it proved to be a bit more rewarding if you were a Cowboys fan. Those were the days of [coach] Tom Landry, Roger Staubach, Danny White, Tony Dorsett, Herschel Walker, etc.," Shepherd, 32, said. "They really had some star players back then.
"Though the Cowboys proved to be the better team over the course of those years, it was Archie Manning quarterbacking for the Saints that began my love for the Manning family of quarterbacks."
That played out on draft day for Shepherd as he picked up Colts quarterback Peyton Manning (third round) and Giants QB Eli Manning (10th round). Besides that, things fell into place nicely on draft day as Shepherd wound up with the first overall pick and took Vikings running back Adrian Peterson, followed by Colts wide receiver Reggie Wayne with the last pick of the second round. Both are the top ranked players at their positions while Peyton Manning is No. 2.
"I have never done fantasy football, so I was a little nervous about this because it's on ESPN.com for the world to see. And all us musicians are very competitive by nature, so naturally I want to win," Shepherd said. "The greatest part about it is that somehow I was able to get all the guys on my team that I really wanted the most like Peyton Manning, Reggie Wayne, Adrian Peterson, etc., in the draft, and over the season I have picked up some good players like Sidney Rice as well. It has been a learning process, and I believe I'm hooked."
Except for a little preseason draft help and fantasy football tutorial from his uncle Joe, Shepherd said he has been running his team completely on his own.
The current leg of Shepherd's tour ends Saturday in Toledo, Ohio, before he hits the road again in February. He said he's also mixing a live record to be released early next year, and he and his band will be working on their next studio album in the next few months with an eye toward a 2010 release.
"So look for two new Kenny Wayne Shepherd records in 2010," he said.
If current trends continue, recordings might not be the only double play Shepherd has to be excited about next year.
"I'm proud that both my teams are the only two undefeated teams in the league," Shepherd said. "I have to tell you, I would be in heaven if the Super Bowl ended up being Colts versus Saints this year."
Each participant in the Alice in Chains & Friends Charity Fantasy Football League will contribute one item, and the modern blues guitarist is putting an autographed Kenny Wayne Shepherd Signature Series Fender Stratocaster as his contribution. The league champion will then designate which charity receives the auction's proceeds.
Shepherd is playing for Mending Kids International, which organizes, finances and provides life-changing medical care to children around the world.
"My family has been one of many contributors to Mending Kids International over the past many years," Shepherd said. "As a result I have met many of the kids that have come here to receive the medical treatment they need. I have witnessed the process firsthand: meeting the children when they come here and then seeing them come out on the other side of their surgeries and living an enriched life as a result of the care provided by the people involved at MKI."
Weekly updates on the Alice in Chains & Friends Charity Fantasy Football League, trash talk and interviews with the owners will be published on ESPN.com's The Life section throughout the season. Members of the league also will drop by SportsNation for occasional chats.
Here are the standings after Week 10, with a look ahead to this weekend's matchups (mouse over the photos for bios of the participants):
Alice in Chains & Friends Charity Fantasy Football League Standings
Rk
Player
Team
W
L
T
PF
PA
GB
1.
Kenny Wayne Shepherd
The KWS Domination
8
2
0
1.064
764
--

Last week: Defeated Team Berry, 118-96 Next up: Team McKagan D (6-4)
KWS Domination's first loss of the season was to Team McKagan D back in Week 2 and Shepherd is looking for revenge. "I go up against [Duff McKagan] this week, so I'm hoping to redeem myself against his team and maintain the lead," Shepherd said. Dolphins running back Ricky Williams gave KWS Domination a nice start with 30 points Thursday night.

2.
Zakk Wylde
Zakk Wylde Doom Crew Inc.
7
3
0
892
767
1

Last week: Lost to Calabasas Clueless, 108-75 Next up: Scott Ian Mean Machine (5-5)
The Zakk Wylde Doom Crew Inc. is already out to a 14-point lead thanks to Panthers running back DeAngelo Williams' effort Thursday.

3.
Matt Willig
Calabasas Clueless
6
4
0
927
935
2

Last week: Defeated Zakk Wylde Doom Crew Inc., 108-75 Next up: Team Berry (4-6)
Calabasas Clueless are the hottest team in the charity league with three victories in a row. Willig's team is a 13-point favorite against Team Berry.

4.
Duff McKagan
Team McKagan D
6
4
0
840
825
2

Last week: Defeated Team The Brickwall, 76-48 Next up: KWS Domination (8-2)
Team McKagan D and Scott Ian Mean Machine pulled off the league's first trade of the season as McKagan sent Steelers running back Rashard Mendenhall and Lions wide receiver Calvin Johnson to Ian for Falcons running back Michael Turner and Chiefs receiver Dwayne Bowe.

5.
Vinnie Paul
Team The Brickwall
6
4
0
800
839
2

Last week: Lost to Team McKagan D, 76-48 Next up: JC Aroma of Tacoma (4-6)
Team The Brickwall are 19-point underdogs to JC Aroma of Tacoma. Paul will be glad to get Texans quarterback Matt Schaub (ranked No. 5) back from his bye week.

6.
Scott Ian
Scott Ian Mean Machine
5
5
0
875
938
3

Last week: Lost to Team 9, 102-68 Next up: Zakk Wylde Doom Crew Inc. (7-3)
Besides the trade with McKagan D, Scott Ian Mean Machine added Texans running back Ryan Moats, Giants kicker Lawrence Tynes, Seahawks running back Justin Forsett and the Chargers' defense and dropped Titans running back LenDale White, Packers kicker Mason Crosby, Patriots running back Sammy Morris and the Packers' defense this week.

7.
Matthew Berry
Team Berry
4
6
0
940
999
4

Last week: Lost to KWS Domination, 118-96 Next up: Calabasas Clueless (6-4)
Team Berry has been busy this week, picking up Dolphins kicker Dan Carpenter, Chiefs running back Jamaal Charles and Browns running back Jamal Lewis while dropping Raiders running back Darren McFadden, Seahawks running back Julius Jones and Texans kicker Kris Brown.

8.
Jerry Cantrell
JC Aroma of Tacoma
4
6
0
863
824
4

Last week: Lost to M.I. Evil? Yes I Am, 106-83 Next up: Team The Brickwall (6-4)
League organizer Jerry Cantrell's playoff hopes took a big hit in the loss to his Alice In Chains bandmate Mike Inez. JC Aroma of Tacoma picked up Chiefs wide receiver Chris Chambers and Falcons running back Jason Snelling and dropped Redskins running back Clinton Portis and Broncos running back Correll Buckhalter this week.

9.
Mike Inez
M.I. Evil? Yes I Am
2
8
0
822
988
6

Last week: Defeated JC Aroma of Tacoma, 106-83 Next up: Team 9 (2-8)
It's a battle to break the last-place tie between M.I. Evil? Yes I Am and Team 9. Inez has won two of the past three weeks.

10.
Kenny Aronoff
Team 9
2
8
0
772
916
6

Last week: Defeated Scott Ian Mean Machine, 102-68 Next up: M.I. Evil? Yes I Am (2-8)
Team 9 is a 12-point underdog to M.I. Evil? Yes I Am, which was the only team it had beaten until last week. Aronoff's squad topped 100 points for the first time against Mean Machine in Week 10.
SPONSORED HEADLINES
ESPN TOP HEADLINES
MOST SENT STORIES ON ESPN.COM
Alice In Chains & Friends Fantasy Football

Check out more about the Alice In Chains & Friends Fantasy Football Charity League on ESPN.com.


THE LIFE
FANTASY FOOTBALL 2009
SPORTSNATION