Fines warn players to control accounts
Originally Published:
December 2, 2009
By
Ryan Corazza
| Special to ESPN.com
Sunday, the NBA announced $7,500 fines for Tyson Chandler and Amare Stoudemire. Their crime? Tweeting during game time.
[+] Enlarge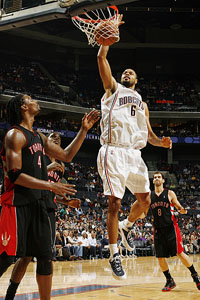 Brock Williams-Smith/NBAE/Getty ImagesAutomation from an RSS feed cost Tyson Chandler a $7,500 fine from the NBA.
Except it was technically a crime they didn't commit.
First, a brief refresher: Before the season started, the NBA sent out a memo to all 30 teams spelling out a policy for "electronic communication devices and social media sites and services during games."
It was reasonable: Players, coaches and team personnel were instructed to stay off their cell phones, Twitter, Facebook and the like during game time -- meaning 45 minutes before the start of the game, during the game, including halftime -- and then only after they have fulfilled their postgame media obligations are they able to tweet to their heart's content again. Simple and fair enough.
OK, so back to Chandler and Stoudemire. Stoudemire's offending tweet came during Phoenix's Nov. 25 game against the Memphis Grizzlies. But here's where it gets interesting: FanHouse's Brett Pollakoff attended that game, and had a Twitter client open as Stoudemire's update came through. Except he knew it wasn't from Stoudemire because he was watching the Suns forward on the court in front of him.
Later that evening in a series of tweets, Stoudemire said this: "Hey tweeps! U might have received a tweet earlier this evening. I'm a talented guy, but not that skilled to play & tweet at the same time. I had my good friend Super Fan Jay, u might remember him from last years all star campaign, help out with my twitter contest this time. From now on he'll sign off when he tweets so no one gets confused between me and Super Fan Jay! Good 2 know my tweeps are paying close attn!"
This is hardly a unique phenomenon, as athletes sometimes have a PR or marketing person tweet for them, or have friends hop on from time to time. But if the league's memo is read literally, Stoudemire appears to have done nothing wrong here. There is no wording about a surrogate also not being allowed to update a player's account.
NBA's Social Media Policy

Here is the NBA's official social media policy:
I. Use of Communication Devices and Social Media, Beginning with the 2009-10 season, the NBA has issued the following rule relating to the use of electronic communication devices and social media sites and services during games: During games, the use of cell phones, PDAs, other electronic communication devices, and social media or networking sites (including Twitter, Facebook and other sites and services) by coaches, players and other team basketball operations personnel is prohibited. For purposes of this rule, "during games" means the period of time beginning forty-five (45) minutes before the start of the game and ending after the postgame locker room is open to the media and coaches and players have first fulfilled their obligation to be available to the media attending the game. "During games" also includes halftime. Notice to players of this rule is included in Section I.5 of the Player Conduct Memo, and notice to coaches and other basketball operations personnel of this rule is included in the Use of Communication Devices and Social Media Memo. While this NBA rule will apply on a League-wide basis, teams are free to adopt their own rules relating to the use of electronic communication devices and social media sites and services during practices, meetings, and other team events.
Same goes for Chandler. His offending tweet appears to have come between the 45-minute pregame window the same night as Stoudemire's, when his Charlotte Bobcats were taking on the Toronto Raptors.
But it wasn't even a human being physically typing out a 140-character or fewer tweet; an automated service, twitterfeed, automatically updated Chandler's Twitter account with a link to Chandler's personal Web site. Twitterfeed hooks into a Web site's RSS feed, so whenever Chandler's site is updated, twitterfeed sends out a link to his Twitter account. In this case, it was a news item about Chandler returning to the lineup.
So what gives? From the memo the league sent to the teams, Stoudemire and Chandler don't seem to be in violation of the policy. They weren't tweeting from their cell phones on the bench, or sneaking in anything at halftime. They were doing what they were supposed to be doing: focusing on the game at hand.
Is this just another case of a league struggling to correctly police social media, as we saw with the SEC earlier this year? Not at all.
I checked in with Tim Frank, NBA VP of basketball communications on Tuesday, and he said, "We consider the player responsible for his Twitter account. So any posts during the prohibited periods are subject to discipline."
So even though there's nothing in fine print about this, that's how the rule is being interpreted. And though it may seem silly Chandler has to pay the league $7,500 for an automated tweet he had little, if anything, to do with, the league's interpretation is wise because it allows for no gray area. There are no loopholes. It's black and white. If anything goes up, no matter the source, the player is subject to a fine because it's ultimately his name on the account, and thus his responsibility to make sure nothing goes up when the league says it can't.
If players weren't aware of this before, Stoudemire's and Chandler's situations should certainly make them aware of it now.
Ryan Corazza is a freelance writer and Web designer based in Chicago.
SPONSORED HEADLINES
ESPN TOP HEADLINES
MOST SENT STORIES ON ESPN.COM