Commentary
A Barenaked 'Good Time' at the Games
Updated:
February 28, 2010, 2:35 PM ET
By
Jim Wilkie
| ESPN.com
VANCOUVER, British Columbia -- Like tuques, scarves and long lineups, rock group Barenaked Ladies and the Winter Olympics just go nicely together.
[+] Enlarge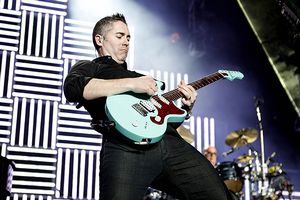 John David Mercer/US PresswireEd Robertson and the Barenaked Ladies have gotten to know many Olympians well.
Fresh off performing five times during the first week of the Vancouver Games, including medal ceremonies at B.C. Place Stadium and at Whistler, band members have been closely following the Olympics on television.
Lead singer and guitarist Ed Robertson spoke by phone Wednesday morning while driving from Columbus, Ohio, to Louisville, Ky., to promote the group's upcoming album "All In Good Time," which will be released March 23 in Canada and March 30 in the United States.
On Wednesday, Robertson was anticipating Canadian Joannie Rochette's upcoming final skate in figure skating just days after her mother died of a heart attack.
"She's a sweetheart," Robertson said of Rochette, who went on to win the bronze medal. "We've met her a number of times, and she's skated to one of our songs."
The band memorably teamed up onstage for a song with Canadian gold medal-winning figure skaters Jamie Sale and David Pelletier during a public concert at the 2002 Salt Lake City Olympics. Robertson said he and the skaters became good friends afterward and recently teamed up again.
"They taught me how to do a butt lift," Robertson said. "Just the chance to touch her butt was worth it."
Before leaving B.C., Robertson said he managed to catch a Canada-Switzerland women's hockey game, the long program of the men's figure skating and short-track speed skating, which he called the most exciting Olympic sport to watch in person, "next to hockey, of course."
Far from any winter or hockey atmosphere, Robertson and his bandmates will be in West Palm Beach, Fla., on Sunday when Team Canada faces the United States for the gold medal in hockey.
[+] Enlarge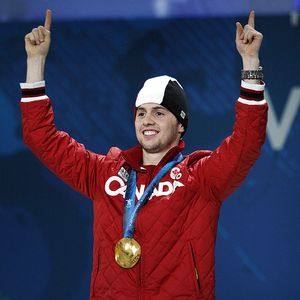 John David Mercer/US PresswireAlexandre Bilodeau's performance and determination have inspired many fans.
Although the U.S. team won the first meeting over Canada last Sunday in the preliminary round and received a bye into the quarterfinals, Robertson believes the extra playoff-round game will help Canada's star-studded roster gel.
The hockey players weren't the only slow starters as many people were criticizing Canada's "Own the Podium" initiative in the first week when some medal favorites falling short. Although the country didn't succeed in its goal of winning the most medals, Canada ranks third with 25 medals and leads all countries with 13 golds after Saturday.
"We're doing pretty well for a country of 33 million," Robertson said.
Hands down, Robertson's favorite athlete so far was moguls skier Alexandre Bilodeau, whom the band got to meet after he won Canada's first gold medal of these Games and the first on its home soil in three tries.
"The guy has been just so cool and inspirational and charismatic. He's just a sweetheart. Just a totally inspirational story with his brother," Robertson said. Bilodeau dedicated his winning run to his brother who has cerebral palsy and has been a source of inspiration in his career.
"I also have got to do a cross-border tip of the hat to Shaun White," Robertson said of the U.S. snowboarder.
Jim Wilkie is editor of The Life and can be reached at espnpucks@comcast.net.
Package module -- Vancouver Fans Life

ESPN.com The Life editor Jim Wilkie shares some of his experiences from the 2010 Winter Olympics in Vancouver.


THE LIFE
MOST SENT STORIES ON ESPN.COM