Commentary
Web's World Cup traffic runneth over
Updated:
June 25, 2010, 5:09 PM ET
By
Ryan Corazza
| Special to ESPN.com
Just before the World Cup began, we noted that some were projecting it to be the biggest event the Web has ever seen.
[+] Enlarge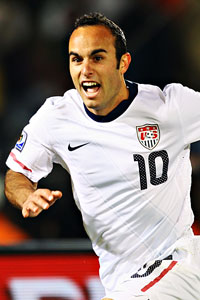 Jeff Mitchell/FIFA/Getty ImagesLandon Donovan, your U.S. team just advanced to the round of 16 and you helped drive Web traffic to a near all-time high.
Two weeks in? There's plenty of evidence to support that.
Start here: On June 11, the first day of the Cup, Web usage surged to an all-time high. Traffic to news sites peaked around noon ET, topping out at 12.1 million visitors per minute, according to measurements from Akamai.
The record holder before that? When Barack Obama won the presidential election in 2008, which notched 8.5 million visitors per minute. That's about a 30 percent increase -- certainly nothing to sneeze at.
Wednesday, as Landon Donovan led the U.S. to a thrilling victory with his goal in the 91st minute against Algeria, Akamai's measurements had traffic at 11.2 million visitors per minute, which, being higher than the Obama surge but lower than the opening day of the Cup, ranks second all time.
It's a safe bet that as the tournament progresses, we're likely to see another day or two pop into the top five, and if the final round produces a thriller, it could eclipse that 12.1 million mark.
Twitter scores big
Twitter has also seen some
record numbers during the World Cup
. According to its blog on June 18, users spit out a whooping 2,940 tweets per second -- an all-time high -- when Japan scored against Cameroon on June 14 for a 1-0 victory.
But a tightly contested Game 7 of the NBA Finals actually topped that last Thursday, as 3,085 tweets per second occurred shortly after the Los Angeles Lakers' win. Call it the Ron Artest effect.
Then Friday, Twitter announced the record was broken again with 3,283 tweets per second Thursday during the Japan's victory over Denmark at the World Cup.
To put these numbers in perspective, Twitter usually sees 750 tweets per second.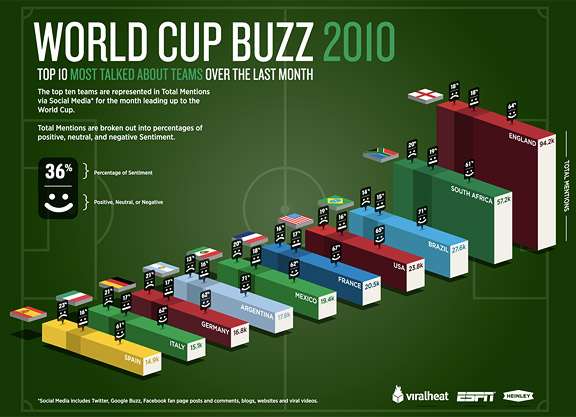 Viral Heat/ESPNThe top 10 most talked about teams from May 10-June 11.
Click here
for a magnified view.
Buzz builds, vuvuzelas blow
So which teams and topics are getting the most buzz online?
In the month leading up to the World Cup, that'd be England, according to Viral Heat (see above graphic). The Three Lions saw around 94,200 social media mentions, which draws from Twitter, Facebook fan page posts and comments, Google Buzz, blogs, websites and viral videos.
ESPN's World Cup Bump
While 6.16 million viewers were watching the U.S.-Algeria game to give ESPN the record for the most-watched soccer game on ESPN networks, digital platforms were reaching other milestones.
ESPN3.com attracted nearly 1.1 million unique viewers for the game, making it the largest U.S. audience for a sports event on the Web, according to an ESPN news release. U.S.-Algeria averaged 328,000 viewers per minute, and combined with the England-Slovenia match, ESPN3.com reached a peak of 513,000 viewers around 11:30 a.m. ET.
ESPNsoccernet.com set a site record for most visits in one day, generating 8.8 million visits and 33.3 million page views, according to the release.
Here are some other notable digital numbers from ESPN:
GameCast for the U.S.-Algeria match reached a record with 1 million visitors, helping ESPN.com set a site record for with 1.7 million concurrent users.
ESPNRadio.com's player peaked at 180,000 listeners for the U.S.-Algeria match, giving it the largest concurrent audience ever for a single stream, according to Ando Media.
Wednesday was the most-trafficked day for World Cup content across all of ESPN's mobile platforms. ESPN's FIFA World Cup 2010 iPhone app delivered 3.2 million visits and 19.9 million page views for the day. Nearly 650,000 users accessed the U.S.-Algeria match via mobile GameCast and generated 7.9 million minutes of usage.
In the week leading up to the tournament, the Web went wild for those darn vuvuzelas, the buzzing horns blown by spectators in the stands that have annoyed many watching the World Cup broadcasts. According to What the Trend, "vuvuzela" was the No. 1 trending topic among World Cup-related topics on Twitter in the week before the tournament.
The vuvuzela buzz has only continued as the event has progressed. Hit Wise tweeted on Tuesday that: "vuvuzela searches [are] up 483 percent this past week vs. previous week. Up 6,900 percent compared to [the] week ending on June 5."
The Web is also having a bit of fun with the vuvuzela meme, with playful websites springing up. In 2006, the Zinedine Zidane head butt kept Web enthusiasts entertained with animated .gifs.
In 2010, the vuvuzela has been the Web's punching bag.
During the first week of the tournament, Mexico was the most tweeted about team, while Cristiano Ronaldo of Portugal was the most tweeted about player, according to What The Trend. The U.S. team didn't crack the Top 10, nor did any U.S. player, which seems to back the notion that Twitter is indeed a global sounding board.
Out of this World Wide Web
Lots of numbers here, but the takeaway is this: In an age in which society is increasingly turning to the Web to capture its thoughts, as well as consume news and information, it makes almost obvious sense that an event with the global reach and popularity of the World Cup is seeing record high Web usage.
It's validating that the Web's real-time nature, and its ability to connect people from around the world on a simple and organized platform, can have massive appeal.
And if pool play has wrought the two biggest Web usage segments the Internet has ever seen, the round of 16 could have much more in store for us.
Ryan Corazza is a freelance writer and Web designer based in Chicago.
SPONSORED HEADLINES
ESPN TOP HEADLINES
MOST SENT STORIES ON ESPN.COM