Commentary
LeBron opens up on hateful messages
Updated:
October 21, 2010, 8:38 PM ET
By
Ryan Corazza
| Special to ESPN.com
LeBron James said he was keeping track of all his haters, using them as motivation heading into the season.
[+] Enlarge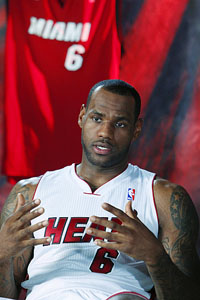 AP Photo/Wilfredo LeeBy sharing hateful messages he received on Twitter, LeBron James is trying to reshape how the public perceives him.
But what we didn't know was he'd start sharing the worst of them with us.
Tuesday on Twitter, James retweeted a series of messages directed at him with some quick responses. He's done this before, but the kicker was they weren't of the positive variety, as usual.
Instead, they were rather negative and offensive.
Read one: "hey good game last night, too bad you're a fraud, BITCH."
Read another: "u r a big nosed big lipped bug eyed [racial slur]. ur greedy, u try to hide ur ghettoness."
And one Twitter user suggested James try speaking "by laying ur head under a moving car."
Yikes.
After practice Wednesday afternoon, James explained why he broadcasted these tweets to his 914,000-plus followers. Like most LeBron moves, it stemmed from a calculated plan.
"I just want you guys to see it also," James said, according to ESPN's Brian Windhorst. "To see what type of words that are said toward me and towards us as professional athletes. Everybody thinks it is a bed of roses and it's not."
No rational mind would argue against the notion these messages were in poor taste and hurtful. James does have a point.
Yet, he's also far from the only athlete or celebrity having to deal with this kind of negativity. When millions have the ability to directly communicate to the rich and famous via Twitter, haters gonna hate, and ignorance will bubble up to the surface.
It's inevitable, though that certainly doesn't make it right.
As James also told Windhorst: "You're always going to have people who love you and who hate you."
But in a time when his public perception has taken a significant hit in the aftermath of "The Decision," James' actions were also straight out of the Don Draper handbook: "If you don't like what they're saying about you, change the conversation."
NFL Social Media Standings

ESPN is teaming up with Viralheat to present the complete rankings of NFL teams based on social media activity. The Life's NFL Social Media Standings page displays the rankings of all teams based on the total mentions computed across Twitter, Facebook, Google Buzz, the real-time Web and viral video sites.
The data is refreshed every 15 minutes and resets every 24 hours.
By drawing attention to these bottom-of-the-barrel attacks and addressing them in such a manner to the assembled media the next day, James has suddenly cast himself as the victim, not the offender.
He's attempted to morph into a sympathetic figure. We're no longer only questioning him, we're questioning ourselves and each other.
And this hasn't gone unnoticed. Judging by the 3,296 comments, 1,349 Facebooks shares and 579 retweets on Windhorst's article alone, it's certainly got people talking.
James has gone from an athlete essentially void of an online presence a few short months ago, a guy described by Windhorst at the time as "not a Facebook or Twitter guy," to jawing back at anonymous strangers who don't really deserve the time or attention.
What a difference a summer makes.
But this strategy can only take him so far.
Come this Tuesday in Boston, when his Miami Heat open their regular season against the Celtics, James will take to the basketball court once again.
The summer of LeBron and the endless, often nauseating sea of opinion and discussion surrounding it will be over. It's time to ball.
There will still be the hate directed at him to his Twitter account, of course. He may make note of it again. He may not.
Either way, it'll likely be of little matter.
Because for the first time since he's decided to take his talents to South Beach, LeBron's game can do the talking for him, and change the conversation all by itself.
On a lighter side of Twitter …
While James may be at odds with some of his followers, Drew Brees used fans on both Facebook and Twitter to crowdsource a baby name for his second child.
On Oct. 8, Brees wrote: "My wife is due any day now with baby boy #2. We have a few names picked out but haven't decided yet. Looking for 'b' names. Suggestions?"
In a follow-up, he added: "We are looking for boy names starting with a 'b' that are uncommon. Not in most baby name books. Thanks to all for any ideas."
And the suggestions did come.
According to Fox Sports Southwest, Brees received more than 10,000 responses.
Brees tweeted Tuesday that his wife had given successful birth to a baby boy.
By Wednesday, the name was official: "Bowen Christopher Brees."
"Thanks to everyone once again for the baby recommendations," he added. "There were some really good ones. A lot of thought went into that decision."
Ryan Corazza is a freelance writer and Web designer based in Chicago who also contributes to ESPN Insider's NBA Rumor Central.
SPONSORED HEADLINES
ESPN TOP HEADLINES
MOST SENT STORIES ON ESPN.COM