Commentary
Montana still climbing to NFL's 'Top'
Updated:
February 11, 2011, 5:10 PM ET
By
Jim Wilkie
| ESPN.com
Football fans have had more material to debate since the NFL released the "Top 100: NFL's Greatest Players" and "Top 10: NFL's Greatest Players" DVDs last month.
[+] Enlarge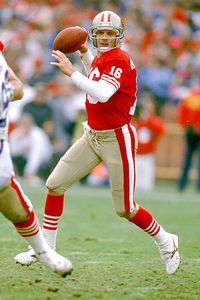 Ron Vesely/Getty ImagesJoe Montana led the 49ers to four Super Bowl victories.
Hall of Famer and three-time Super Bowl MVP Joe Montana was the highest-ranked quarterback and seemed perfectly content with being ranked No. 4 overall. The San Francisco 49ers legend said former players don't get as wrapped up in the debate as others might.
"No, I've never heard any of the players talk about this [all-time rankings]," Montana said by phone from Dallas before Super Bowl XLV. "You never hear them talk about those things."
Montana took some time last week to talk with The Life about his career, Super Bowls then and now and catching flak for telling an interviewer what happened at Notre Dame compared with what was in the movie "Rudy."
The Life: How do you like how the "Top 100: NFL's Greatest Players" DVDs turned out?
Montana: Well, you always want to be No. 1 don't you? [Laughs.] But I can lose to Jerry [Rice, who's ranked first], that's OK. No, I think it's great. You look at it and look at all the guys that are in it and it's great to be just a part of the whole thing. So even if you're down by 100 you're still pretty dang [good]. … People remember you, if you're in that DVD, for the things that you were able to accomplish and that's part of the fun of it.
The Life: I was going to ask you if you had any qualms with the order, but if you're going to lose to anybody Jerry's a good one.
Montana: Oh, yeah. He's the greatest receiver ever to play the game. And I threw to him. [Laughs.]
The Life: You're in there twice really, because you're in a lot of his highlights.
Montana: I am kinda like one and four.
The Life: I don't know how much of the DVDs you've watched, but what goes through your mind when you watch old highlights of yourself in those classic games?
Montana: The games come back to you, it seems like it was just yesterday. And the memories that you have from the highlights are all part of your memory bank and it makes you feel good and it makes you feel bad at the same time because you wish that you were still playing. But my hair's getting a little too gray.
The Life: What's the biggest difference you see during the lead-up to the championship game compared with all the Super Bowl weeks you took part in, in terms of atmosphere and off-field activities?
Montana: I just think it's gotten four or five times bigger than ever, than my last visit. I mean, you look back all the way to '81, wow, you look at all the media attention and plus you have all the different [media] that are available with the Internet, the tweeting and texting and everybody's looking for content, so there's just a lot more people around.
[+] Enlarge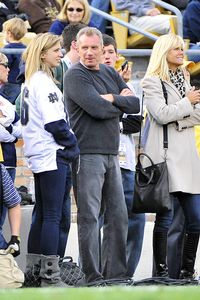 Steven King/Icon SMIJoe Montana, here with his daughter and wife, watch a game last year at Notre Dame, where son Nate plays quarterback.
The Life: Are you having a lot more fun as an ex-player during this week or did you have more fun when you were a player during this week?
Montana: It's a lot more fun when you're a player, by far. [Laughs.]
The Life: It was a different level of scrutiny you were under compared with players today. Everything you do is going to be seen or reported …
Montana: Yeah, it's just magnified because of all the things that I just talked about. That's the hardest part is that … our society really looks for the negative in everybody or in everything whether it's sports or just the newspapers in general. It just seems that's the thing that sells, so that's what they look for. It doesn't matter whether it's sports or like I said the front page of the newspaper.
The Life: Speaking of that and the way things can be twisted around, you had a comment last year about the "Rudy" Ruettiger movie. Were you surprised at how some people responded?
Montana: I was surprised only because you would think that they would understand that it's only a movie. And that it says "based on a true story" for a reason. … I was kind of shocked that it got the response [it did]. It made for a great movie, don't get me wrong. But somebody asked me, did this happen am I supposed to say yes? I don't know, do you expect me to lie and say yes?
The Life: And they kind of took select parts of your response.
Montana: Yeah, yeah, exactly.
The Life: The great comeback against the Cincinnati Bengals in Super Bowl XXIII is a big part of your segment, but they left out the best part when you spot John Candy in the crowd.
Montana: [Laughs.] Yeah, that was a Harris Barton [former Niners lineman] moment. He was always into who was in the stands and who we saw the whole week before. And he had mentioned John Candy, and we were just standing, because TV timeouts are forever and that's kinda what happened.
The Life: Besides your endorsements like this and others, what's keeping you busy nowadays?
Montana: That's just about it. Watching my boys, I've got two boys in college [Nate is a junior quarterback at Notre Dame and Nick was a redshirt freshman QB at Washington last season] that are trying to play this stupid game, so that keeps us moving around the country.
The Life: I'm up in Seattle, so are we going to see you up here more for Nick's games?
Montana: Oh, yeah. For sure. We made a few this year and we're trying to split time between the two boys, so we'll figure it out which games we're going to get to. And hopefully he's got a good fighting chance to be a starter, so that's all you can ask for, an opportunity, you know.
Jim Wilkie is the editor of The Life and can be reached at espnpucks@comcast.net.