Double down on No. 11s
Updated:
November 10, 2011, 8:29 PM ET
ESPN.com
A day like Friday only comes along once every 100 years, so we're marking 11/11/11 with our tribute to the number 11. Besides our photo gallery commemorating some of the most famous 11s in sports, pop culture and history, here is our Top 11 list of some noteworthy 11s in sports:
[+] Enlarge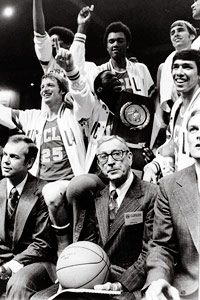 Icon SMICoach John Wooden, the Wizard of Westwood, won 10 of UCLA's 11 NCAA basketball titles.
1. No men's basketball program has won more Division I titles than UCLA's 11. The Bruins' most recent title came in 1995 when they beat Arkansas by 11 points (89-78).
2. Last month the St. Louis Cardinals won their 11th World Series, which is the most among National League franchises. Eleven is also the number of postseason victories it takes to win the World Series.
3. The PGA Tour record for most consecutive tournaments won is 11 by Byron Nelson in 1945. The win streak was from March 11 to Aug. 4.
4. Bill Russell has won 11 NBA titles (1957, 1959-66, 1968-69, all with the Boston Celtics), the most by any player.
5. Henri Richard has won 11 Stanley Cup titles (1956-60, 1965-66, 1968-69, 1971, 1973, all with the Montreal Canadiens), the most by any NHL player.
6. In 2011, Texas Rangers outfielder David Murphy had 111 hits, 11 home runs, 11 stolen bases and grounded into 11 double plays. His name also happens to have 11 letters.
7. Houston Rockets point guard Goran Dragic (also 11 letters) has one career triple-double: On April 13, 2011, at Minnesota, Dragic had 11 points, 11 assists and 11 rebounds.
8. Only two starting quarterbacks have won a Super Bowl wearing No. 11: Super Bowl XXI: New York Giants' Phil Simms (beat Broncos), Super Bowl XXVI: Washington Redskins' Mark Rypien (beat Bills).
[+] Enlarge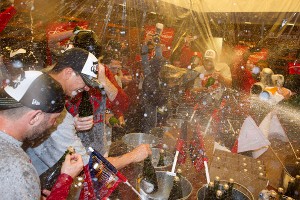 Ron Vesely/Getty ImagesIt was a great year for the St. Louis Cardinals to win the franchise's 11th World Series.
9. The Football Bowl Subdivision (FBS) record for touchdown passes in a game is held by Houston's David Klingler, who threw 11 against Eastern Washington on Nov. 17, 1990.
10. Kelly Slater recently clinched his 11th American Surfing Professionals title. No other surfer has won more than four crowns on the world tour that began in 1976.
11. In 2011, Novak Djokovic reached the finals in 11 events, going 10-1 in those finals
Honorable mention:

In 2008, the New England Patriots won 11 games -- the most by a team that did not make the playoffs in the Super Bowl era.
From 1971-86, Toby Harrah (a palindrome) wore the No. 11 with the Senators, Rangers, Indians and Yankees.
Only one game in NFL history finished with a score of 11-0 (Sept. 4, 1983: Detroit Lions vs. Tampa Bay Buccaneers).
Five FBS teams are currently unbeaten, and the lowest-ranked team among them in the BCS is Houston at No. 11.

Compiled by the ESPN Research Department.

MOST SENT STORIES ON ESPN.COM