Tennessee's relationship with titles anything but rocky
Updated:
June 20, 2008, 2:48 PM ET
ESPN.com
When I think of the name TitleTown USA, Knoxville, Tenn., is the first to pop in my head.
[+] Enlarge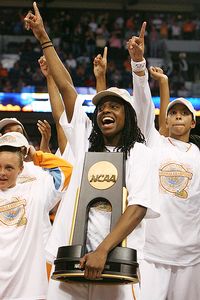 Doug Benc/Getty ImagesThe Vols celebrate the 2008 women's basketball title.
Home to the University of Tennessee Volunteers, it's unmistakable where the population's loyalties lie. Take a tour through downtown Knoxville and you're sure to see orange everywhere. From store windows to front yards the town is steeped in orange.
During football season you are sure to find the game on no matter where you go. If it's not on a TV, you can bet that the store's radio station will be tuned to the game.
During basketball season the crowds flock to "The Summitt" and watch eagerly as the Lady Vols play.
In Knoxville you can be sure that football isn't a sport here; it's a religion.
I'm not going to sit and boast about the number of titles the Lady Volunteers hold. I'm also not going to boast about the many records that Pat Summitt herself holds. That's not what Knoxville is about.
It's about the love of a team. The love of a color. The pride of the population. It's not a matter of if you're a football fan or not; it's about loving the team.
My first trip to Knoxville came at the age of 10. I remember it like it was yesterday, and it's a memory I will never forget. Orange was everywhere. Billboards lined the interstates with giant T's and orange and white. I remember walking through the town seeing everyone in Volunteers shirts. Cars would pass me painted Volunteer orange. I had never seen anything like it and most likely never will.
Knoxville is surely TitleTown USA.
We must look at what that the phrase TitleTown means. We have heard it referred to as represented by Bill Russell's Boston Celtics teams, Brett Favre's Green Bay Packers teams, and as will be talked about in this essay Pat Summitt's University of Tennessee at Knoxville's Lady Volunteers teams.
"Rocky Top"
Pappy_Levi
: Tennessee even has the best fight song of any school in the country hands down.
VolCrazy87
: Any given Saturday during football season you can make a trip to Neyland Stadium and sing "Rocky Top" with 107,000 of your closest friends.
Rocky Top, you'll always be
Home sweet home to me.
Good ole Rocky Top,
Rocky Top Tennessee, Rocky Top Tennessee.
Listen to the whole song
It's where banners are hung, trophies are stored and shining moments are sung about. All in the same place. That's right: The newspaper won't change and the weatherman in the mornings is a constant. That is a TitleTown.
Next, you can just look at the facts about Knoxville itself. Although the relative importance of this East Tennessee city has dropped over the years, it still booms in the hearts, as it did in the late 1800s being the biggest city west of the Mississippi, of many Appalachians, Tennesseans and Carolinians. It is home to sports stars like Todd Helton and Chad Pennington and, of course, the campus of the state's flagship school, the University of Tennessee.
The Vols as they're known have been a huge part of the state for a hundred-plus years. And for good reason. The football team, like the other sports, is a member of the Southeastern Conference and a perennial powerhouse winning six national championships including the very first BCS national championship in 1998.
All that is great, however I would like to mention one other sport Tennessee is pretty good at. In 1976 a young woman named Patricia Sue Head suited up for the silver medal-winning U.S. Olympic women's basketball team. But little did she know that for the next 33 years she would create arguably the most successful sports program of all time and a monument for women's sports.
Pat Summitt is her name [now] and she has won eight championships out of the 29 years of the women's Final Four. Now domination of a whole gender in winning titles (and let me remind you there are only two) is pretty impressive to me.
In conclusion, I didn't even mention Peyton Manning who led his Colts team to the 2006 Super Bowl win, Willie Gault who led the offense of the '85 Bears, and oh yeah, that Celtics team I mentioned, Danny Ainge's nephew even played for us.
So when it comes to titles I have Rocky Top on my mind.
SPONSORED HEADLINES
ESPN TOP HEADLINES
MOST SENT STORIES ON ESPN.COM
"SportsCenter" will announce the winner Monday, July 28, during the 6 p.m. show.
TitleTown USA
Nothing small about sports in Valdosta, Ga.
Finalist
Fans singing New York, N.Y.
TitleTown follows Cardinal rules
Lawrence, Kan., rocks as it chalks up recent title
TitleTown in the Windy City
Parkersburg, W.V., challenges for TitleTown
Tennessee's kinship with titles anything but rocky
Pittsburgh bleeds black, gold and titles
Cross the Golden Gate Bridge into TitleTown
Ann Arbor is a ... TitleTown
Chapel Hill's trophy case makes rivals blue with envy
TitleTown O-H-I-0
L.A. walks, talks, acts like TitleTown
Boston has recent success, history
Detroit is a hockey, baseball, basketball town
Gators swim in success
Green Bay won't give up TitleTown
Louisville tries to slug its way to title
This TitleTown belongs to the Little Leaguers
Massillon, Ohio, earns title stripes in football
ESPN writers, announcers
Green Bay: There is no other TitleTown USA
Chicago: The real TitleTown USA
Three words make L.A. TitleTown
Pittsburgh: So good, they donate champions
Four in nine makes San Antonio TitleTown USA
Other fan submission
Artesia, N.M., lives high school football
Iowa City's hopes pinned on wrestling
Long Beach tries to spike competition
South Bend has golden dreams
List of TitleTown USA nominees