Parkersburg, W.V., challenges for TitleTown
Updated:
July 9, 2008, 11:40 AM ET
ESPN.com
We don't have a lot of people, nor any professional sports teams, but here is a stat for you. AAA is the highest level that a high school can compete at in W.Va. Both schools mentioned hereafter are AAA schools.
[+] Enlarge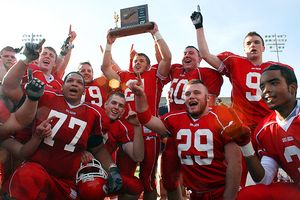 AP Photo/Mollie WoodyParkersburg celebrates a 22-15 win over St. Albans in the Class AAA state championship football game Dec. 1 in Wheeling, W.V.
In Parkersburg, we have accumulated 192 overall state championships in 103 years with 183 if those coming since 1950.
Parkersburg High School alone has 137 championships in its 103 years of existence.
There is also another AAA school in Parkersburg called Parkersburg South High School, who, by the way, has 38 titles in 40 years. Not to be outdone Parkersburg Catholic, a single A school, has 17 state titles of its own. Not bad considering that there are 136 high school teams in West Virginia with 38 in AAA.
We may not have a pro sports team, but in high school sports, Parkersburg as a whole is pretty dominant.
"SportsCenter" will announce the winner Monday, July 28, during the 6 p.m. show.
TitleTown USA
Nothing small about sports in Valdosta, Ga.
Finalist
Fans singing New York, N.Y.
TitleTown follows Cardinal rules
Lawrence, Kan., rocks as it chalks up recent title
TitleTown in the Windy City
Parkersburg, W.V., challenges for TitleTown
Tennessee's kinship with titles anything but rocky
Pittsburgh bleeds black, gold and titles
Cross the Golden Gate Bridge into TitleTown
Ann Arbor is a ... TitleTown
Chapel Hill's trophy case makes rivals blue with envy
TitleTown O-H-I-0
L.A. walks, talks, acts like TitleTown
Boston has recent success, history
Detroit is a hockey, baseball, basketball town
Gators swim in success
Green Bay won't give up TitleTown
Louisville tries to slug its way to title
This TitleTown belongs to the Little Leaguers
Massillon, Ohio, earns title stripes in football
ESPN writers, announcers
Green Bay: There is no other TitleTown USA
Chicago: The real TitleTown USA
Three words make L.A. TitleTown
Pittsburgh: So good, they donate champions
Four in nine makes San Antonio TitleTown USA
Other fan submission
Artesia, N.M., lives high school football
Iowa City's hopes pinned on wrestling
Long Beach tries to spike competition
South Bend has golden dreams
List of TitleTown USA nominees