---
By Lil Wayne and Molly Knight
Lil Wayne's Blog (Podcast Edition): "Tim Tebow has a chip on his shoulder the size of a funyon."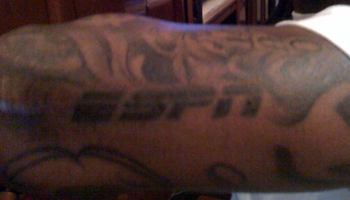 Courtesy Lil Wayne
Weezy is back again with another podcast. This time around, he tackles a litany of topics including the Gators hopes in the BCS title game, the future of Manny Ramirez and what it's like having LeBron James fill in as your hype man.
Read More
---
By Lil Wayne and Molly Knight
Lil Wayne's Blog (Podcast Edition): "I just don't like the Steelers."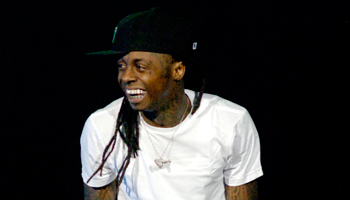 Getty Images
Lil Wayne is back with another edition of our favorite blog here on espnthemag.com. But today, he's filing his first podcast. He talks about how the Celtics and Lakers rivalry will pan out this year ("Two words: Kobe Bryant."), creates his list of the top 5 jerks in sports ("Pacman takes up two, because one side is for Pacman Jones and the other side is for Adam Jones.") and tries to put his presence at ESPN in perspective ("The game of sports now is dominated by youth ... that's where I come in.").
Read More
---
By Lil Wayne
Lil Wayne's Blog: "My closer song? Closing Time by Semisonic."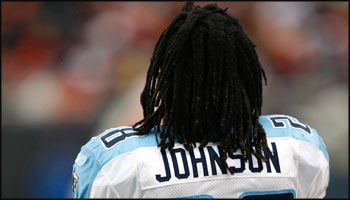 Getty Images
[Want more Lil Wayne? Check out his archive.]
It's been a pretty crazy week for me because my tour is starting up on Sunday and I've got a lot to do before then. In honor of Jimmy V Week—and because I find him so inspirational—I went out and got "Laugh Think Cry" tattooed above my right knee. It's pretty big so I guess you can say it's on my right thigh. In that last speech he gave that's what he says you should do if you want to have a full day, and that's a really smart thing and I wanted to celebrate him by getting the tattoo.
Read More
---
Lil Wayne's Blog: "I do not think Pacman should be in the NFL"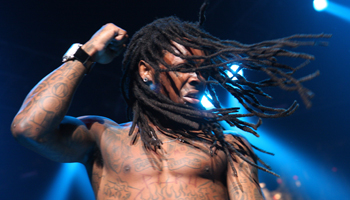 Getty Images
"I'm thinking LeBron and Dwyane Wade could get together and decide to team up and win championships for the next ten years."
Happy Thanksgiving to everybody out there who is reading the blog right now. I think I'm going to be in Atlanta for my cousin's birthday, but unfortunately my mother will be in New Orleans, so I won't get to have any of that gumbo she usually makes me on Thanksgiving, which is a sad situation. I'm trying not to think about it. But someone else is cooking for me, and they love me, so that's really all that matters.
First of all, shout out to Rudy82586. I liked your comment in the last blog. Keep doing what you're doing.
Read More
---
By Lil Wayne
Lil Wayne's Blog: "Rafer and I have an interesting history."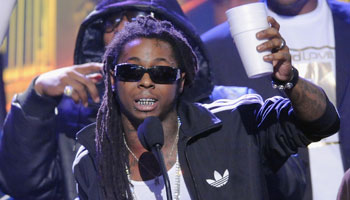 Getty Images
"I've totally ignored Joe Flacco on the blog, and for that I apologize."
If you didn't already know, rappers talk about sports with each other all day. Young Jeezy is a diehard Atlanta fan, so we talk about the Hawks and Josh Smith. They're pretty good this year so he's happy. I probably talk to Nelly the most about what's going on because he's the most competitive and he talks the most, period. He hates to lose like Michael Jordan.
Read More
---
By Lil Wayne
LIL WAYNE BLOG:
"THE COWBOYS SUCK"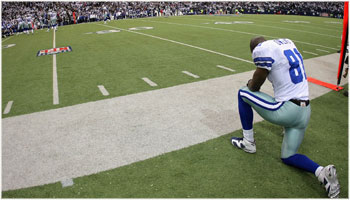 Getty Images
[Ed's note: Lil Wayne's son is about to be born. We do want to thank him for filing this blog with so much currently going on in his life. Want more Lil Wayne? Check out his archive.]
UPDATE: Lil Wayne's son has been born.

Shout out to my man Chris Paul. He called me up on Monday to check on me and congratulate me. It's been a big week—the biggest. I'm about to have a son any minute now. I'm a junior, so he's gonna be the Carter III: Dwayne Michael Carter the third. It's a big moment for me.
Shout out also to Dwayne Bowe again. He still texts me his stats after every game and he got 90 yards over the weekend, so keep doing what you do D-Bowe.
Also, to the Rays: thank you again for showing me so much love. Too much love. You gave me everything I could have possibly wanted in nine innings. I hope to catch one of these World Series games.
Read More
---
Older Entries >



---

LIL WAYNE'S BLOG

LIL WAYNE

Check Lil Wayne's archives here. First of all, can we talk about the Bulls/Celtics series for a minute? That had to b... Read More

THE MAGAZINE EDITOR'S BLOG

GARY BELSKY

Dwight Howard is fronting The Magazine's latest issue—and I especially love the cover image, which shows the ext... Read More

NASCAR

RYAN MCGEE

500 miles is great. 600 miles is better. Driving 1,100 miles in a matter of hours? That's Memorial Day perfection. Bu... Read More

MMA

BY RYAN HOCKENSMITH

If you'd like to see more of 'MMA Submission,' go here. I have a theory: The UFC has never had a more unbeatable gro... Read More

THE GAMER BLOG

JON ROBINSON

Mike "Quick" Swick just knocked me out in under a minute (how's that for somebody living up to their nickname). And by... Read More

BRUCE FELDMAN'S BLOG

BRUCE FELDMAN

The NCAA had an interesting reaction to Wake Forest's decision to drop SAT and ACT test scores as an admission conside... Read More

NHL

E.J. HRADEK

And then there were four ... The San Jose Sharks avoided the ugly section of the history book by scoring a hard-fough... Read More

ACTION SPORTS REPORT

ALYSSA ROENIGK & CHRIS PALMER

[Ed.'s Note: The Action Sports Report is a weekly blog that covers sports from skateboarding to snowboarding to FMX.]... Read More