---
By Ryan McGee
Bring Back Double Duty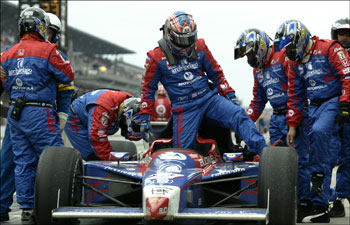 Getty Images
Robbie Gordon used to jump out after the Indy 500 and catch a flight to Charlotte for one more race.
500 miles is great. 600 miles is better.
Driving 1,100 miles in a matter of hours? That's Memorial Day perfection. But sadly, because a very small number of people can't seem to grasp the big picture, no one will have the chance to see if they have what it takes to complete America's two most grueling races in a single day.
Read More
---
By Ryan McGee
The Drive to Darlington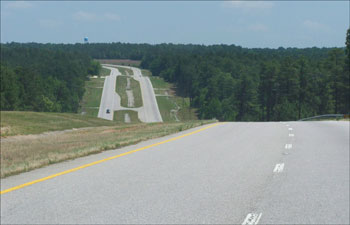 Ryan McGee
The road to Darlington.
Travelling is a pain in the butt. Planes, rental cars, racetrack traffic, layovers, bad hotels, worse food … we all know the drill. But there is one trip each year that I don't mind. In fact, I love it. It's the winding country drive from my home in Charlotte to the Darlington Raceway. It's the drive I took last Saturday afternoon en route to and from the Southern 500.
Read More
---
By Ryan McGee
Why NASCAR Should Be At Churchill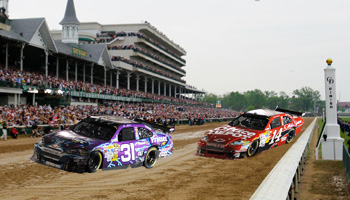 A vision of McGee's dream.
So, Mr. Motorsports Fan, you say want more old school in your modern day NASCAR, a little more yesterday in your Car of Tomorrow? And you, Mr. Trifecta Wheel, you say the only track you prefer to visit is the one that trades in horsepower for actual equine energy?
Well, now I have a solution that will make us all happy. Even if I can't get anyone to buy in. Not yet, anyway. Here it is: The Sprint Cup Series should race each year at Churchill Downs.
Read More
---
By Ryan McGee
Crash, Burn...Learn?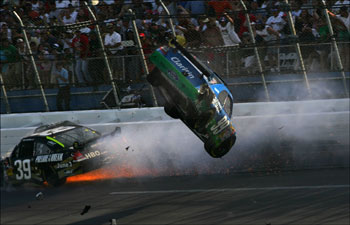 Getty Images
So, Days of Thunder really was real!
And they walked away …
With all due respect to "Gentleman start your engines," these are the four most popular words in motorsports. Nothing is more horrifying than being at a race and witnessing a frightening fireball of a wreck when that feeling slaps you in the gut that says, "Oh man, I think he's dead … "
Read More
---
By Ryan McGee
The NASCAR Advice Columnist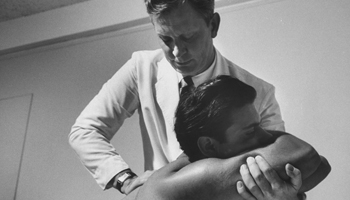 Getty Images
Dr. Racy charges by the hour.

Feeling lost in the motorsports wilderness? Wondering why you can't seem to get your life together or figure out what spring rate to run this weekend at your local short track? Help is here my 5W30 covered brothers and sisters, because Dr. Racy Ryan, the Internet's only motorsports advice columnist, is back on the crankcase. A founding member of the Licensed Order Of Neurosis Experts Y'all (L.O.O.N.E.Y.), I am here to help you find more downforce for your emotional lives. Think of me as the love child of Dr. Joyce Brothers and Frank Cannonball Baker.
Read More
---
By Ryan McGee
To The Top of Rattlesnake Hill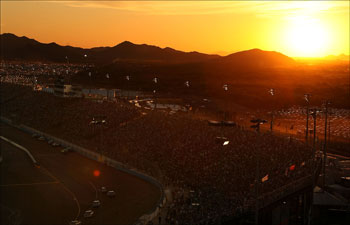 Getty Images
There isn't a view in racing that can beat the peak of Rattlesnake Hill.
In 1997, the first morning of my first trip to the Phoenix International Raceway, I had a list of about 50 things I needed to do, from knocking out some interviews to making sure the ESPN TV reporter I was there to produce had enough hairspray.
But as soon as I could sneak away from my coworkers, I grabbed a track official and pointed to the craggy, rock-covered mountain that cast an early morning shadow over Turn 4.
"How do I get to the top of Rattlesnake Hill?"
Read More
---
Older Entries >



---

LIL WAYNE'S BLOG

LIL WAYNE

Check Lil Wayne's archives here. First of all, can we talk about the Bulls/Celtics series for a minute? That had to b... Read More

THE MAGAZINE EDITOR'S BLOG

GARY BELSKY

Dwight Howard is fronting The Magazine's latest issue—and I especially love the cover image, which shows the ext... Read More

NASCAR

RYAN MCGEE

500 miles is great. 600 miles is better. Driving 1,100 miles in a matter of hours? That's Memorial Day perfection. Bu... Read More

MMA

BY RYAN HOCKENSMITH

If you'd like to see more of 'MMA Submission,' go here. I have a theory: The UFC has never had a more unbeatable gro... Read More

THE GAMER BLOG

JON ROBINSON

Mike "Quick" Swick just knocked me out in under a minute (how's that for somebody living up to their nickname). And by... Read More

BRUCE FELDMAN'S BLOG

BRUCE FELDMAN

The NCAA had an interesting reaction to Wake Forest's decision to drop SAT and ACT test scores as an admission conside... Read More

NHL

E.J. HRADEK

And then there were four ... The San Jose Sharks avoided the ugly section of the history book by scoring a hard-fough... Read More

ACTION SPORTS REPORT

ALYSSA ROENIGK & CHRIS PALMER

[Ed.'s Note: The Action Sports Report is a weekly blog that covers sports from skateboarding to snowboarding to FMX.]... Read More