---
By Ryan McGee
On the Set of "24"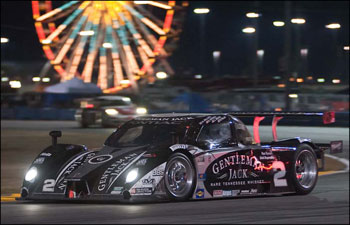 Victor Newman Photography
The ferris wheel is a good perch for the all-night race.
The first time I covered the Rolex 24 Hours of Daytona was in 1996 and I will never forget the bizarre feeling that I had the moment I realized, "Hang on dude, did you say 24 Hours?"
Read More
---
By Ryan McGee
Well Fed, Minus Scoops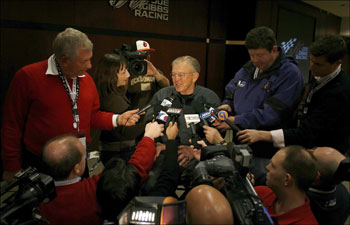 Getty Images
"Two more questions, then it's buffet time."
They come by plane, train and automobile and from all four corners of the media earth. Reporters, columnists, bloggers, Twitterers (did I just make that up?) and more than a few talking heads that look and sound like Ron Burgundy and Wes Mantooth.
Every January they descend on the Charlotte area for the annual preseason NASCAR Media Tour in search of scoops, quotes and free food … which are distributed in reverse order when it comes to quantity.
Read More
---
By Ryan McGee
Ryan McGee's Blog: End of an era
Getty Images
The King's family business is no more.
Petty Enterprises is gone. Like totally gone. Like joined-the-T-Rex-Edsel-and-D.B.-Cooper-in-the-ether gone. So why aren't people making a bigger deal out of this?
Read More
---
By Ryan McGee
Untested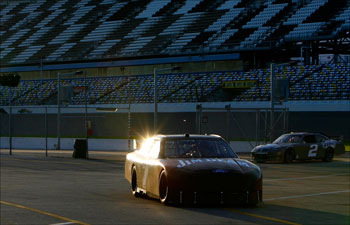 Getty Images
Mostly unpainted cars circling the track still means a lot to team owners. It also meant a lot of money, which is why it doesn't exist this year.
Is it just me, or is it a little too quiet in here?
For the first time since anyone can remember, the first Monday morning of the New Year did not begin with the sounds of 358 cubic inch monsters roaring to life at the Daytona International Speedway. In fact, a quick phone call to the infield revealed that the only noise to be heard were from a couple of weed eaters and two maintenance guys yelling at one another in the garage.
The silence is deafening.
Read More
---
By Ryan McGee
A Racing Drag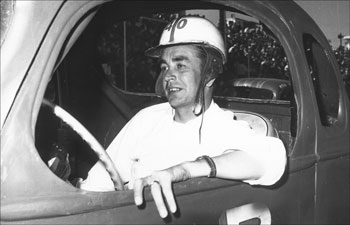 Getty Images
Pee Wee Jones passed away this week at 80. He survived an era with slightly different safety measures. (Look at that helmet!)
You've probably never heard of Pee Wee Jones. And that's a shame. You would have loved him.
While America celebrated the holidays, the family of Phillip Sylvester Jones Jr. were busy calling friends and loved ones to inform them that Jones had passed on Christmas Eve at the age of 80.
Read More
---
By Ryan McGee
Ryan McGee's Blog: 'Twas the Weekend Before Christmas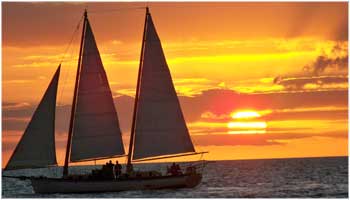 Ryan McGee
Want more of Ryan on racing? Check his archives.
'Twas the weekend before Christmas,
And all throughout Key West,
The island buzzed about NASCAR,
To this I can attest.
Read More
---
Older Entries >



---

LIL WAYNE'S BLOG

LIL WAYNE

Check Lil Wayne's archives here. First of all, can we talk about the Bulls/Celtics series for a minute? That had to b... Read More

THE MAGAZINE EDITOR'S BLOG

GARY BELSKY

Dwight Howard is fronting The Magazine's latest issue—and I especially love the cover image, which shows the ext... Read More

NASCAR

RYAN MCGEE

500 miles is great. 600 miles is better. Driving 1,100 miles in a matter of hours? That's Memorial Day perfection. Bu... Read More

MMA

BY RYAN HOCKENSMITH

If you'd like to see more of 'MMA Submission,' go here. I have a theory: The UFC has never had a more unbeatable gro... Read More

THE GAMER BLOG

JON ROBINSON

Mike "Quick" Swick just knocked me out in under a minute (how's that for somebody living up to their nickname). And by... Read More

BRUCE FELDMAN'S BLOG

BRUCE FELDMAN

The NCAA had an interesting reaction to Wake Forest's decision to drop SAT and ACT test scores as an admission conside... Read More

NHL

E.J. HRADEK

And then there were four ... The San Jose Sharks avoided the ugly section of the history book by scoring a hard-fough... Read More

ACTION SPORTS REPORT

ALYSSA ROENIGK & CHRIS PALMER

[Ed.'s Note: The Action Sports Report is a weekly blog that covers sports from skateboarding to snowboarding to FMX.]... Read More