---
By Ryan McGee
The Timeless Victory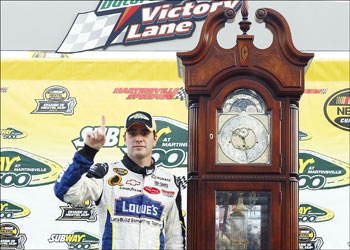 Getty Images
Jimmie Johnson won hist first clock in 2006.
As Denny Hamlin streaked beneath the checkered flag at the Martinsville Speedway one year ago, his mind immediately leaped not to the fact that he had snapped a long, frustrating losing streak or that he'd outrun a still-living Jeff Gordon to the finish line.
"The first thing I thought," the Virginia native admits with a laugh, "Was, dude, I'm getting a clock!"
Read More
---
By Ryan McGee
Starting Five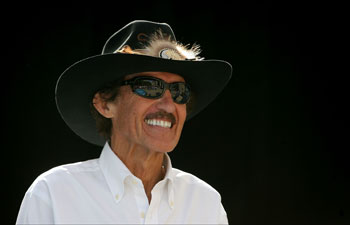 Getty Images
First ballot lock.
Two or three times a week, I drive by the construction site where the NASCAR Hall of Fame and the adjoining NASCAR office tower inch their way up from red clay beneath downtown Charlotte.
And every day my wife shouts at me to stop staring and pay attention to the road.
Read More
---
By Ryan McGee
Hairpocalypse Now
Getty Images
It ages the young and makes young the old. Such an enigma, the beard.
Every Monday on ESPN.com, I do a live NASCAR chat (join us at 2 pm ET for the biggest gearhead block party in cyberspace!). And each week, it never fails how one "are these people serious?" question manages to dominate my inbox.
For the last two weeks, the question that keeps popping up over and over again is either the perfect symbol of why NASCAR fans have become legendary for their tireless dedication to their favorite stars…or proof that they are in need of some very intense psychotherapy.
Exhibit A: Hey Ryan, have you noticed that Jimmie Johnson hasn't run very well since he grew that beard over the winter?
Read More
---
By Ryan McGee
Racy Ryan's NASCAR Advice Column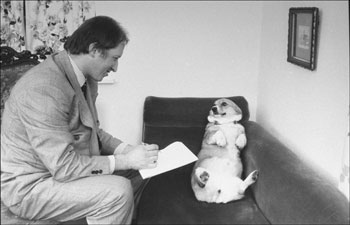 Getty Images
"I worry about Logano." ... "There, there, Tracker."
In today's world, racing and otherwise, we all seem like little lambs lost in the emotional and economical woods.
Well, help is here, my axle grease-covered brothers and sisters, like an NHRA Safety Safari of the mind. I, Dr. Racy Ryan, the Internet's only licensed motorsports advice columnist, am here to heal your wounds and help you find more bite up off the exit of your emotional corners. So light a road flare and turn on the caution lights as we channel the spirits of Ann Landers, Dr. Joyce Brothers and Johnny "Mad Man" Mantz. Let the healing begin.
Read More
---
By Ryan McGee
End of the Road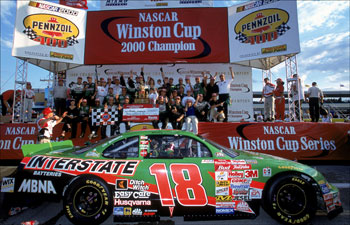 Getty Images
A Pontiac was driven to a series title as recently as 2000.
The announcement came in the form of one simple sentence last week, buried in the middle paragraphs of yet another robotic recession-produced press release.
Pontiac is gone.
Read More
---
By Ryan McGee
Best and Worst of NASCAR So Far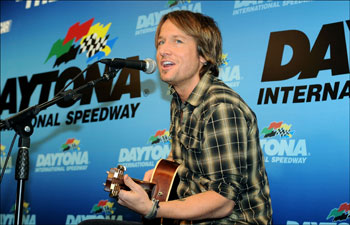 Getty Images
"I've been through the desert in a car with no sponsor / It felt good to be out of the rain."
As any Cup Series racer will tell you, it's time to start thinking about Fontana and getting on with NASCAR's "Regular Season." They'll also tell you that after a dozen days of Daytona Speedweeks, it takes at least that long to shake the sand out of your ears.
With that in mind, let's take a look back at the best and worst of the 51st edition of the Great American Race and all that surrounds it.
Read More
---
Older Entries >



---

LIL WAYNE'S BLOG

LIL WAYNE

Check Lil Wayne's archives here. First of all, can we talk about the Bulls/Celtics series for a minute? That had to b... Read More

THE MAGAZINE EDITOR'S BLOG

GARY BELSKY

Dwight Howard is fronting The Magazine's latest issue—and I especially love the cover image, which shows the ext... Read More

NASCAR

RYAN MCGEE

500 miles is great. 600 miles is better. Driving 1,100 miles in a matter of hours? That's Memorial Day perfection. Bu... Read More

MMA

BY RYAN HOCKENSMITH

If you'd like to see more of 'MMA Submission,' go here. I have a theory: The UFC has never had a more unbeatable gro... Read More

THE GAMER BLOG

JON ROBINSON

Mike "Quick" Swick just knocked me out in under a minute (how's that for somebody living up to their nickname). And by... Read More

BRUCE FELDMAN'S BLOG

BRUCE FELDMAN

The NCAA had an interesting reaction to Wake Forest's decision to drop SAT and ACT test scores as an admission conside... Read More

NHL

E.J. HRADEK

And then there were four ... The San Jose Sharks avoided the ugly section of the history book by scoring a hard-fough... Read More

ACTION SPORTS REPORT

ALYSSA ROENIGK & CHRIS PALMER

[Ed.'s Note: The Action Sports Report is a weekly blog that covers sports from skateboarding to snowboarding to FMX.]... Read More