---
By Jon Robinson
The Gamer Blog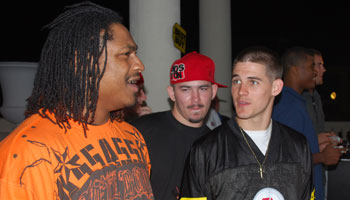 Beast mode was not in effect in Turks and Caicos.
Marshawn Lynch is the first athlete I've ever heard utter these words: "I think I'm overrated in Madden a little bit. You see all those moves? They made me too good in the game."

I met up with Lynch at the Madden Challenge finals in Turks and Caicos, where he was flown in by EA Sports to participate in a Pro-Am tournament against some of the best Madden gamers in the world, one of whom took home $50,000 in cash and prizes in the main event.
Read More
---
By Jon Robinson
The Gamer Blog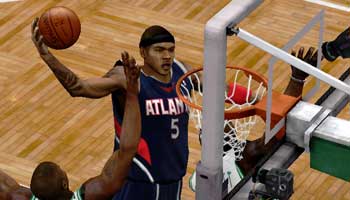 2K Sports
With Smith, it's hard to tell reality from virtual reality.
If Dominique Wilkins is the Human Highlight Film, then the Hawks Josh Smith should be the Human Video Game. The way he seemingly walks on air, swoops in for dunks with thunderous results and swats balls into the crowd with his trademark snarl doesn't make me think of the NBA's all-time greats. It makes me think of the league's greatest game, NBA Jam.

"I like that. I like that a lot," Smith says about the nickname. "They call me J-Smoove right now, but I'm such a fan of video games, I'll take it."
Read More
---
By Jon Robinson
The Gamer Blog: Five Bold Predictions for 2009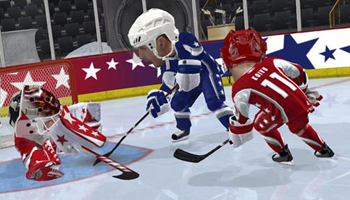 EA Sports
NHL 3 on 3 Arcade gives Jon hope for the future of EA Sports.
If you're a die-hard gamer, 2008 hit some of the highest highs in the history of cyber sports. From NHL 09's EA Sports Hockey League, to the ability to play an online dynasty in NCAA Football 09, to the style and presentation of Sony's MLB 08, games not only did their sports proud, they provided some truly innovative experiences the likes of which had never been seen on home consoles.
On the other hand, 2008 will also be remembered for some of the lowest lows that, as a gamer, I've felt since the NFL decided to sell the exclusive license (or to some, their souls) to EA.
Read More
---
By Jon Robinson
The Gamer Blog: Catching a beatdown from Rams safety O.J. Atogwe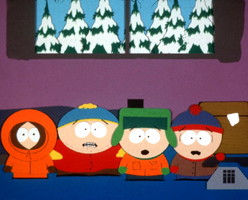 EA Sports
Don't challenge O.J. in Fight Night 3. You will not win.
If you ever get the chance to play Rock Band or Guitar Hero with O.J. Atogwe, the Rams safety has one simple rule: "If you're playing guitar, you can't sit down," he says. "Jimi Hendrix didn't sit down. Slash doesn't sit down. You gotta stand up and you gotta jam. You need to feel the music to play the music, and you can't do that sitting on your couch."
Atogwe, who prefers to play lead guitar in the music titles, is also one of the most hard-core gamers in the NFL, the rare kind of guy who not only talks about being the best but also has the skills to prove it.
Read More
---
By Jon Robinson
The Gamer Blog: You're never too old for MLB 08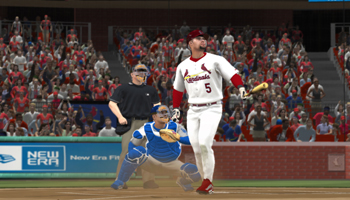 Sony
Jim Stewart knew a time without Pong. Just think about what these graphics look like to him.
If you've ever searched online for the latest baseball rosters to help update your games, chances are you've stumbled across the tireless work of a hardball fanatic named Jim Stewart. But Stewart isn't just some kid who locks himself in his parent's basement all day waiting for the latest trade. In fact, Stewart is a 62-year-old retired police officer and Vietnam vet, who is also the oldest hardcore gamer we've ever come across.
Read More
---
By Jon Robinson
The Gamer Blog: Brandon Lloyd on the Bears NBA 2K9 League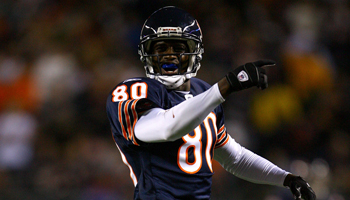 Getty Images
"I'll get you, Grossman, if it's the last thing I do!"
Wander into the Chicago Bears players' lounge after practice and you'll see everything from Brian Urlacher and Robbie Gould looking like Forrest Gump on the ping-pong table, to Greg Olsen destroying all comers at shuffleboard. But if you want to find the most intense competition, look no further than an NBA 2K9 league so fierce, the players involved actually wear basketball jerseys to represent their teams while they play.
Read More
---
Older Entries >



---

LIL WAYNE'S BLOG

LIL WAYNE

Check Lil Wayne's archives here. First of all, can we talk about the Bulls/Celtics series for a minute? That had to b... Read More

THE MAGAZINE EDITOR'S BLOG

GARY BELSKY

Dwight Howard is fronting The Magazine's latest issue—and I especially love the cover image, which shows the ext... Read More

NASCAR

RYAN MCGEE

500 miles is great. 600 miles is better. Driving 1,100 miles in a matter of hours? That's Memorial Day perfection. Bu... Read More

MMA

BY RYAN HOCKENSMITH

If you'd like to see more of 'MMA Submission,' go here. I have a theory: The UFC has never had a more unbeatable gro... Read More

THE GAMER BLOG

JON ROBINSON

Mike "Quick" Swick just knocked me out in under a minute (how's that for somebody living up to their nickname). And by... Read More

BRUCE FELDMAN'S BLOG

BRUCE FELDMAN

The NCAA had an interesting reaction to Wake Forest's decision to drop SAT and ACT test scores as an admission conside... Read More

NHL

E.J. HRADEK

And then there were four ... The San Jose Sharks avoided the ugly section of the history book by scoring a hard-fough... Read More

ACTION SPORTS REPORT

ALYSSA ROENIGK & CHRIS PALMER

[Ed.'s Note: The Action Sports Report is a weekly blog that covers sports from skateboarding to snowboarding to FMX.]... Read More