Born 8/25/85 • Murfreesboro, TN • LHP, Tampa Bay Rays • Drafted by the Dodgers out of high school (where he compiled a 0.43 ERA) but attended Vanderbilt instead • No. 1 overall pick in 2007 by Tampa Bay, signed $8.5 million contract including a $5.6 mil signing bonus • Almost quit baseball to work at McDonald's in college
---
November 6, 2008, 3:56 PM
The NEXT Movie Poster Gallery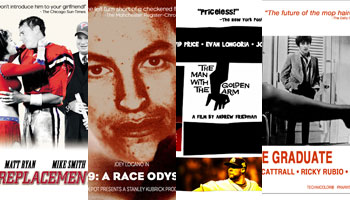 If you haven't noticed, Joey Logano, Matt Ryan, David Price, and Ricky Rubio are all nominees for The Mag's 2009 NEXT Athlete. We've done a pretty extensive job introducing them to you over the course of this week, but here's one more thing to sway your vote (starting Nov. 10!): Movie Posters. Yep, the pop culture circle is complete.
---
November 6, 2008, 9:57 AM
David Price for NEXT:
The Sporting Equivalency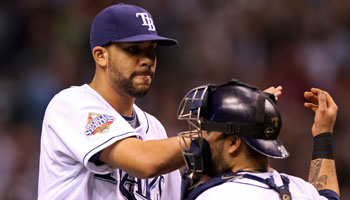 Getty Images
" 'Dirty Deeds Done Dirt Cheap' is my jam."
Every Tuesday, we here at espnthemag.com put together something called "The Sporting Equivalency," wherein we postulate the sports soul mate of various personalities from popular culture. (Check out the archive here.) Today, we're flipping it around and giving you our NEXT candidates' pop culture equivalents. Right now, here's David Price.





David Price's Movies Equivalent: Christopher Mintz-Plasse
You probably know him better as McLovin, the lovable, hormonal teen from last year's Superbad, and you will soon know him as the nerdy ward of Paul Rudd in the upcoming Role Models. Like Price, who has pitched just 14 innings in the Bigs, Mintz-Plasse didn't need to be in a leading role to capture the hearts of movie goers. Give it a few more years and they'll both be household names.



David Price's TV Equivalent: Cleveland BrownSeth MacFarlane
's
Family Guy
centers on the Griffin family. But Cleveland,
the Griffins' deli-owning neighbor
, is a fan favorite. Like Price, who's expected to start anchoring the Rays' rotation as soon as next season, Cleveland will be the leading man in
his own spinoff
on Fox early next year. Here's hoping Price's inevitable "spinoff" doesn't involve a Yankees uniform.

David Price's Music Equivalent: AC/DC
OK, bear with us here. Price has a serviceable changeup, but a hard fastball and an absolutely filthy slider are his bread-and-butter pitches. Hitters know they're coming, but they still can't touch them. The same goes for AC/DC. Their entire catalog can be broken down into three chords and one four-on-the-floor beat, but that doesn't mean it's any less awesome. Can you listen to "Highway to Hell" without throwing your fist in the air and craving Jägermeister? Neither can we.
Check out David Price's NEXT candidate page here.
---
November 5, 2008, 11:37 AM
David Price for NEXT: Fun Facts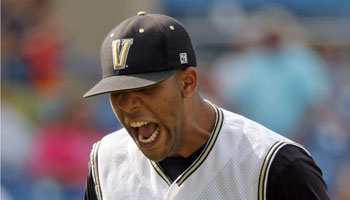 Getty Images
Intensity personified.
You know that David Price is a dominant pitcher, but do you know which respected coach compared him favorably to Sandy Koufax? Read on for some fun facts about Price, and if you want to see more fun facts, go here.
1) He attended Blackman High School in Murfreesboro, Tenn. (ranked the 84th best place to live in U.S. by Money in 2006), where he had a microscopic 0.43 ERA. According to Wikipedia, he is their only notable alumnus.
2) His favorite baseball player of all time is David Justice.
3) At the age of eight, he was already pitching against kids four years his senior. He is also a tremendous bowler and basketball player, and refuses to be anything but the best at Madden.
4) He was the Rays third No. 1 overall pick in their history. The first two were Josh Hamilton (1999) and Delmon Young (2003). Shortstop Tim Beckham was selected by the Rays with the No. 1 overall pick in 2008.
5) He was chosen by his teammates to introduce president-elect Barack Obama at a Tampa rally back in October.
6) After going 11-0 in 15 starts in Single A and Double A, his first professional loss came as a member of the AAA-Durham Bulls. We assume it's because he wasn't wearing his garters.
7) In winning the Dick Howser Trophy (given to the best collegiate baseball player) in 2007, he joined a list of notable recipients that includes Alex Gordon, Jered Weaver, Rickie Weeks, Khalil Greene, Mark Prior, Mark Teixeira, J.D. Drew, Kris Benson, Todd Helton, Jason Varitek and Robin Ventura.
8) Ever doubt he's the real deal? Check out this praise from Pedro Martinez:
"He's amazing, that kid. He's amazing. That kid is very mature for his time in [the pros], and very talented. Oh my God. God bless him and keep him healthy."
9) And
this endorsement from Jim Schlossnagle
, his pitching coach during his time on Team USA.
"You think of a lefty, he's got deception like Dontrelle Willis, but he's got more stuff. I've never seen Sandy Koufax pitch, only on video. But I'm trying to think of a really, really loose arm, loose-bodied lefty that has that has a great fastball, and Koufax is the only guy I can come up with."
10) Aside from Game 7 of the ALCS, the most important moment in his life may have come early on in his college career, when he almost quit baseball because of struggles on the field and in the classroom.
His college coach, Tim Corbin, explains
:
"I talked with him for an hour and was confirming to him that he was in the right place, and these things happen to many people, he was not alone. A lot of things were going to change, and this was just a proving ground in his development as a person and baseball player. After I was done, he gave me a hug like he wouldn't let go. That was the last time I ever had to talk to him about confidence."
---
November 5, 2008, 10:17 AM
David Price for NEXT:
The Video
When you close down a two-time champion Red Sox team in Game 7 of the ALCS, some might argue you've already arrived. In the case of David Price, though, there is so much more still to come. Here now, in his own words: the 2009 NEXT candidate.







---
November 5, 2008, 10:05 AM
SIX WORD STORY CONTEST: NEXT

It's time to declare this year's NEXT athlete, and we've whittled down our list of finalists to Ricky Rubio, Joey Logano, David Price and Matt Ryan. Can you sum up any of them in just six words? Here's an example to get you started:
The best thing since sliced bread. (Joey Logano)
We'll be rewarding the best submissions for each of our finalists next Monday, Nov. 10, so get your entry in today!
---
November 4, 2008, 10:39 AM
David Price For Next:
A Photo Gallery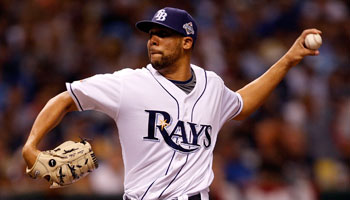 Getty Images
Today, as part of Rays P David Price's candidacy for NEXT, we're rolling out a photo gallery of his evolution from Vanderbilt star to ALCS hero. Check out the gallery here:
---
November 3, 2008, 9:47 AM
Clip Reel: David Price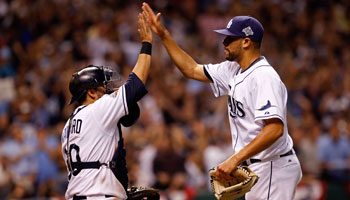 Getty Images
[Unfamiliar with 'Clip Reel?' You can click here for more information.]
Rays pitcher David Price saw only 14 innings in the Bigs this year. But they were huge innings, and certainly not his last. Want proof Price is NEXT? These videos should get you started.
You can access David Price's NEXT candidate page by clicking here.

[For David Price's NEXT page, click here.]
[For more info on NEXT, please click here.]

---
November 3, 2008, 2:29 PM
David Price for NEXT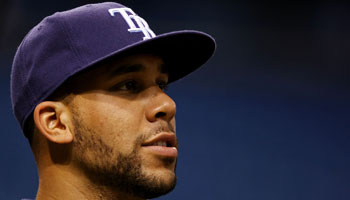 Getty Images
I'm a motivation guy, which is why I love David Price. He has so much talent, but he also seems like he has more determination than anybody—and he's only 23. He has it in his mind that he belongs on that mound, period. Successful people know where they belong in life, and in his mind he is meant to be there. I think he grew up always thinking that he was going to make it: He was a high school All-American and named the best college player in 2007. You don't just get that way. It's either in you or it's not.
They waited too long to put him in when it mattered in the World Series. He was on fire against the Red Sox in the ALCS—2.1 IP, 4 K, 0 ER—and I really don't understand why they went to Balfour and Howell when they had him in the 'pen ready to come in and dominate.
And he will dominate. That's why David Price is NEXT.
You can access David Price's NEXT Candidate page by going here.
---
November 3, 2008, 11:19 AM
The 2009 NEXT Campaign:
And so, it begins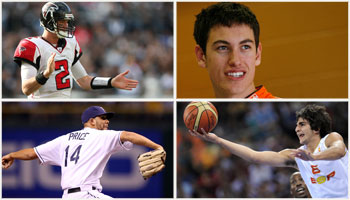 Getty Images
ESPN The Magazine's 2009 NEXT campaign has begun. Unsure of what NEXT is? It's a ten-year concept for The Mag, in which editors and writers work to identify the athletes (and concepts) about to break out. The very first cover of ESPN The Magazine ever was this right here: a NEXT issue spotlighting Kobe Bryant, Eric Lindros, Alex Rodriguez and Kordell Stewart circa winter 1998 (hey, three out of four ain't bad!) Since then, we've selected such icons as LeBron James and Brian Urlacher as NEXT.
The four athletes this year are: Atlanta Falcons QB Matt Ryan, Tampa Bay Rays P David Price, racer Joey Logano, and international hoops savant Ricky Rubio. You—yes, you—will determine, via voting, who gets selected as NEXT athlete.
There's a bunch of stuff for you to poke around through: the overall NEXT homepage can be found here (that'll give ya everything!). The pages for the individual athletes are here:
RICKY RUBIO
JOEY LOGANO
DAVID PRICE
MATT RYAN
On those pages you can find targeted content on the athletes themselves. Voting will run from November 10th to November 17th. Can you figure out who's the next KB24 in here? Start investigating.
---



Ricky Rubio was playing and holding his own against the two best points guards in the world (Deron Williams, Chris Paul) and he is only 18!!
Kyle (Chicago)