FUTURES GAME
by Jeff Bradley, Jerry Crasnick and Keith Law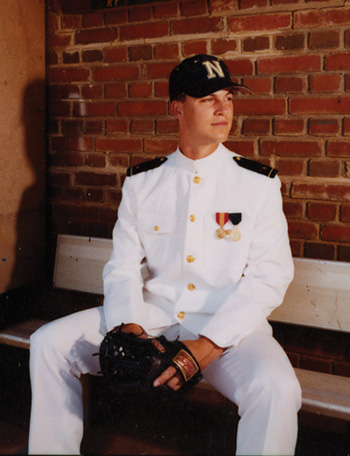 Michael Lewis
Worried your buddies will clown you for watching the MLB draft? Peep our detailed preview of this year's talented class—led by ace righthander Mitch Harris of the Naval Academy—and a few years from now you'll laugh last.
---

Has Mitch Harris' commitment to the Navy affected his status as a top MLB prospect?
With the sun reflecting off the Severn River and the Midshipmen trying to prep for a game amid final exams, senior righthander Mitch Harris sits in the third base dugout of Navy's Max Bishop Stadium, on the first muggy afternoon of May, and recalls the day he chose country over baseball. It wasn't during his senior year at South Point High School in Belmont, N.C., when he proudly received his appointment and made the decision to attend the Naval Academy, the only D1 program that even gave him a look. No, it was two years later, when Harris—previously a relief pitcher and first baseman best known for his bat—morphed into Navy's ace, going 10–3 with a 1.74 ERA and 12-plus K's per nine innings as a sophomore. He had grown to 6'4" and 215 pounds, and after his freshman year, new coach Paul Kostacopoulos wiped the slate clean for the program, putting Harris in the starting rotation. Suddenly, for the first time in his baseball life, people were telling Harris he was a serious big league prospect. Despite all that, he still chose to sign his military service commitment, which bound him to five years of active duty after graduation. "If all I wanted was to play ball, that was my chance to get out." Harris says. "But after two years here, it meant too much to me to just get up and leave. I had to finish what I'd started." Question is, by signing his service commitment, did he finish what he's started in baseball, too? "When I first got here, I threw in the mid-80s," says Harris, who now reaches the low-90s and can hit 94. "I've gotten bigger and stronger, more confident all around." He has also refined a cut fastball, a slider and an off-speed breaking ball, all of which he "throws downhill," says an East Coast scout, meaning that, on the mound, Harris looks taller than he is. He followed up his sophomore season with similar numbers as a junior (8–5, 2.14, 119 K's in 88e innings) and has pitched well this year after missing time with a separated shoulder he suffered in a fall. "He's 22 years old," says Coach Kostacopoulos, "but his arm is a lot younger than that." A year ago, fully aware of Harris' military commitment, Atlanta drafted him in the 24th round. "We saw a kid with a lot of ability and makeup that's off the charts," says scouting director Roy Clark. The Braves knew that if they struck a deal, Harris would have been a part-time pitcher while he finished school and began to serve his active duty. The postdraft conversations stalled, and under baseball's rules Harris went back into the draft pool. This year, even with Baseball America ranking him the No. 2 prospect among all college seniors, his draft outlook seems highly uncertain. Midshipmen with "extraordinary talent" in sports or other fields can appeal to shorten their commitment from five to two years, as hoops star David Robinson did after graduating in 1987, if they agree to serve additional time in the reserves. But because of the war in Iraq, those requests have been put on hold, and five years seems likely for Harris. "I know what commitments I've made," he says. "The honor of being at the Naval Academy means a lot to me. When they play the national anthem before our games, it's not just a song to me and my classmates. We are here to serve our country." Yet he can't deny his baseball dream. "I would love to find a way to serve, to help the Navy, and play," he says. "With me being 22, it would be difficult to put things off for any length of time. Guys are getting released, not getting started, when they're 24 and 25. I'm not trying to get out of anything I signed up for. But I'd love for them to work with me on a compromise." The Army has accommodated West Point football stars, such as defensive back Caleb Campbell, who was a seventh-round pick of the Lions in April. If he makes the team, Campbell will be allowed to work part-time as an Army recruiter to fulfill his commitment. But the Navy doesn't think recruiting while playing sports meets the duty requirement. The club that drafts Harris is, in all likelihood, selecting a part-time baseball player for the foreseeable future. Still, as Kostacopoulous says, "Arms like Mitch's aren't easy to find. Teams will take much bigger risks in the draft than they'd be taking if they took Mitch." Even if they have to wait for him to finish what he's started.
Read More
---

What to watch for at this year's MLB draft
Before they became the talk of the AL East, the Rays were huge in the MLB draft. Coincidence? We think not. For the fourth time since 1999, they're on the clock first, so when the drafting starts on June 5 (2 p.m. ET, ESPN2), you'll want to be as prepared as the suits in St. Pete. Key: 1.

2.

3.

4.

1.
Penny-Pinchers:
Moths fly out of their wallets faster than dollars do. 2.
Safety-Seekers:
They just love low-risk (and low-ceiling) college guys. 3.
Risk-Takers:
If a guy's good—or just looks like he could be—they'll go for it. 4.
Slot-Busters:
They've got Scott Boras on speed dial.
Read More
---

Why the MLB draft always fails at its most basic function
STRIKE ONE Limiting bonuses Every year, the commissioner's office tries to hold down the cost of contracts and bonuses by distributing a list of suggested "slot money," the amount the MLB recommends that teams spend on each selection. The list is unofficial (owners can't impose it without MLBPA approval) and silly (with revenues soaring past $6 billion, all salaries are bound to rise), but most teams stick to it. As a result, signability is as important as talent. Agents can steer clients away from particular clubs simply by demanding above-slot bonuses. Teams that are willing to disregard Bud Selig and invest in the draft (Tigers, D-backs) pay up; teams that aren't (Pirates, Royals) get poor value for their picks. And top-shelf players often fall to better, and better-off, teams. Notably, Detroit has paid above slot for OF Cameron Maybin (No. 10 pick in 2005), LHP Andrew Miller (No. 6 in '06) and RHP Rick Porcello (No. 27 in '07), all of whom dropped because of salary demands. The Yankees, Red Sox and Angels regularly spend above slot, and the Mets, with three of this year's top 33 picks, may be about to join them. STRIKE TWO Restraint of trade Unlike the NBA and NFL, MLB doesn't allow clubs to deal draft choices. If a team is scared off by the demands of a player, it must choose someone else rather than trade the pick. STRIKE THREE Limited reach The MLB draft covers residents of the U.S., plus U.S. territories and Canada. Turning the development of international talent into a free-for-all helps only the wealthiest teams. It's time to do away with the slot system, allow teams to trade picks and make inter-national players subject to the draft. Then the worst clubs would really have access to the best amateurs. Right now, all too often, the rich get richer and the poor get caught looking.
Read More
---

Should these two-way players hit or pitch?
For those who've followed Micah Owings since he played at Tulane, his hitting prowess with the D-backs comes as no surprise. He led the Green Wave with 18 homers as a 1B/RHP in 2005 before Arizona drafted him as a pitcher in the third round. But Owings is just one of several big leaguers whose two-way skills gave teams pause on draft day. Take Orioles outfielder Nick Markakis: Though most scouts preferred him as a lefty pitcher before the 2003 draft, Baltimore believed in his bat and picked him seventh overall. Similarly, James Loney was once deemed to be a better prospect as a southpaw hurler because of his 93 mph fastball; the Dodgers picked him as a first baseman in 2002. This year, MLB execs are scratching their heads over four possible first-rounders with two-way potential. Casey Kelly RHP/SS, Sarasota (Fla.) H.S. As a pitcher, the son of former Yankees second baseman Pat Kelly is aggressive with his fastball and has a solid feel for his secondary stuff. But at the moment, more teams prefer Kelly as an athletic infielder who'll likely end up at third base. Of course, Phillip Fulmer thinks he's a QB: Kelly has signed a letter of intent to play for Tennessee in the fall. Ethan Martin RHP/3B, Stephens County (GA.) H.S. After putting himself in the first-round mix with big numbers as a hitter on the summer showcase circuit, Martin has come on as a pitching prospect. His fastball sat from 91 to 95 mph in a recent outing, and he flashed a sharp, spiking curveball. Like most high school hurlers, Martin needs to improve his command and develop his off-speed stuff. Aaron Hicks RHP/OF, Wilson H.S. (Long Beach, Calif.) The consensus is that he'll be selected as an outfielder because of his five-tool potential, but Hicks throws consistently in the 91 to 93 mph range and gets good action on both his power slider and changeup. Anthony Gose LHP/OF, Bellflower (Calif.) H.S. Although he has expressed a preference to play every day as a position player, Gose is raw as a hitter, and clubs have made it clear that he has more value as a pitcher—because lefties who can light it up at 97 mph are hard to find. If he commits to the mound, Gose will get drafted a lot earlier and increase the value of his signing bonus by as much as $500,000.
Read More
---

Chase Utley proves that stars can be found even in the worst drafts
There's a reason why baseball people rank the first round of the 2000 draft among the sorriest in history. Between Adrián González at the top and Adam Wainwright at No. 29, you'll find a lot of guys you never heard of, like Luis Montañez and Mike Stodolka and Matt Wheatland (see chart). But smack dab in the middle of the carnage, at No. 15, the Phillies landed Chase Utley. Eight years after signing for a $1.78 million bonus out of UCLA, the 29-year-old second baseman has two All-Star appearances, a 35-game hitting streak and a pair of Silver Slugger Awards on his résumé. "He's the best hitter in baseball right now, in my opinion," says Padres pitcher Chris Young. "He's got a short, quick swing combined with a great idea of the strike zone. He makes you come to him—and when you do, he crushes it." In 2006, Utley hit 32 homers, scored 131 runs and stole 15 bases. Last year, he had 22 homers with 103 RBIs, and would have been an MVP candidate if he hadn't missed a month with a broken right hand. This April, he picked up the power pace, leading the majors with 10 home runs. He also has become one of the smartest baserunners in the game. Back in 2001, Baseball America compared Utley to former first-round picks Adam Kennedy and Todd Walker, both line-drive hitters with defensive shortcomings. But Phillies assistant GM Mike Arbuckle, who tracked Utley in Westwood and, before that, at Long Beach Poly High, loved the kid's quick bat, hand-eye coordination, maturity and devotion to detail. Arbuckle says that every time he visited the field, Utley was immersed in drills: "He was just a baseball rat."But while Arbuckle projected him as a .300 hitter, Utley's home run power took the Phillies by surprise. "I didn't envision him being able to get up around 30," Arbuckle says. "As he matured and developed more strength in his hands and forearms, he generated more bat speed. That was the element we were light on." Utley's glove has always been a work in progress. In college, he looked jittery and stiff at second base, and Arbuckle thought he might have to shift to leftfield. Six years ago, after the Phillies traded Scott Rolen to St. Louis, they tried Utley at third in the minors. He returned to second the following spring, and has developed into a competent middle infielder by taking thousands of grounders. The one skill Utley has yet to master is self-promotion. He relies on monotonal cliché-speak when reporters approach him for insights into his game. His approach brings to mind the Zen of Greg Maddux, who goes out of his way to be dull to avoid providing glimpses into his baseball soul. In Utley's world, success is almost solely a reflection of hard work. That's his story, and he's sticking to it. "The more practice, the better," he says. "The more at-bats you have and pitches you see, and the more ground balls you take and game situations you're in, the more comfortable you get." And the more you watch Chase Utley, the more you marvel. He is better than anyone ever expected—something you can't say about the rest of the guys drafted around him.
Read More
---