ON THE VERGE WITH CHRIS BROUSSARD
The ESPN The Magazine senior NBA writer talks shop with seven members of the NBA Draft class of '08
by Chris Broussard (with Ted Bauer and Stephanie Maggiore)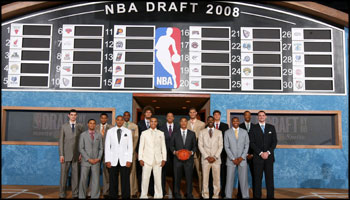 Getty Images
In late July, the NBA hosted an event attended by virtually every first-round pick in the '08 Draft. In between getting photographed for trading cards and signing basketballs, seven of the future league stars took time to sit down with Chris Broussard for candid discussions on life, basketball, music, and a knowledge of their new cities. This page will allow you to access all the video pieces at once. Enjoy, whether you're a Love fan or a Beasley one.
---

---

D-Rose on the perils of celebrity in Chicago
Last week, we rolled out Episode 1 of On the Verge, a recurring web piece where Chris Broussard speaks to 2008 NBA rookies. Watch Michael Beasley and Chris right here. Here now: the only man who can say he was drafted ahead of Beasley, Mr. Derrick Rose. Some key elements here: dude loves candy, isn't a very good bowler, can hardly step outside in Chicago without being mobbed, and almost can't speak when asked to pick the best MJ team of all-time. Enjoy.
Read More
---

---

Anthony Randolph has a Denali, but he's keeping it "factory" for now.
Anthony Randolph was grabbed No. 14 overall out of LSU by the Golden State Warriors this June in the NBA Draft. With Baron now a Clipper, coupled with a ridiculous summer league performance from Randolph, could he be a sleeper pick for ROY? Check out this interview, part of Chris Broussard's On the Verge series: Randolph says his position will be "to play basketball" and admits he bought a car (a Denali!) but kept the system "factory." Humble guy.
Read More
---

Kevin Love on adjusting to life in the Great White North
Kevin Love is from Portland, played his college ball in Los Angeles, was headed to Memphis for a second at the '08 NBA Draft and ultimately ended up in Minneapolis. The Twin Cities is a much different world than what he's accustomed to—more about Prince than the Beach Boys (his uncle was in the latter), more into ice fishing than surfing. Dude knows he's gotta adjust, though, as he tells Chris Broussard in the latest installment of our On the Verge series. Click 'Read More' to see the video interview.
Read More
---

Broussard and Mayo on hype, balling and Three Six Mafia
O.J. Mayo's been making headlines for years: he was on magazine covers before he was in junior high. Still, because of incidents like this, his character and maturity have been called into question. The Memphis Grizzlies can't afford that; they're a promising team (Rudy Gay, Mike Conley Jr, among others) and they need Mayo to shine. He talks about why he will—and why Three Six Mafia is the best musical act out of Memphis—in this interview with ESPN The Magazine senior NBA writer Chris Broussard as part of the On the Verge series.
Read More
---

Jerryd Bayless on life - and Paul Allen!
Familiar with Jerryd Bayless? No? You should be. He's a pure scorer from Arizona headed to a Blazers team that is going to be scary good within the next four years. (Oden, Roy, Aldridge?) Chris Broussard caught a few minutes with the future superstar to talk life, hoops and his newfound respect for Paul Allen—now that he's signing his checks. You can get all the On the Verge content here.
Read More
---

editor.espnmag@gmail.com
Billing or subscription issues? Call 888-267-3684. Go here for change of address.