The 2008 Jimmy V Classic
Prepare yourself for Texas, Villanova, West Virginia and Davidson
by Matt Meyers, Anna K. Clemmons, Ted Bauer and Ishita Singh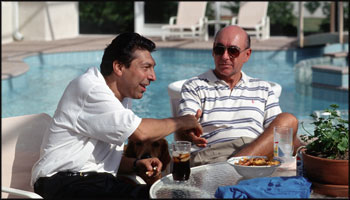 Getty Images
Use the content below to prepare for the 2008 Jimmy V Classic, which will feature Texas, West Virginia, Davidson and Villanova. It seems only right to start with the 1993 ESPYs speech, right?
---

Who are the under-the-radar guys in the '08 Jimmy V Classic you should know about?
It's early in the season, so college basketball rosters can get a big confusing. You're still attempting to get a handle on the new guys while also trying to calculate how Ronald Steele still has eligibility. We'll surely be wowed at the Jimmy V Classic by memorable stars like Steph Curry and A.J. Abrams, but let's not forget some of the under-the-radar players who will be trying to make the most of their trip to the world's most famous arena.
Read More
---

---

---

A look back at some memorable games in previous Jimmy V Classics
What is "Clip Reel?" You'll find this on the Jimmy V Foundation website: "Teams in past Classics have included: Arizona, Gonzaga, NC State, U Mass, Georgia Tech, Temple, Kansas, Penn State, California, North Carolina, Clemson, Louisville, Princeton, Seton Hall, Syracuse, Oklahoma State, Wake Forest, Purdue, South Carolina, Texas, Duke and Kentucky." That's some pedigree. With that in mind, we decided to briefly look back at some of those contests, to contextualize for ya what you're going to see when Davidson, WVU, Texas and Villanova hoop it up on December 9th.
Read More
---

---

What's the best sporting-context speech ever?
WHEN IT COMES TO THE BEST SPORTING SPEECHES (MOVIES AND REAL LIFE!), WE'LL TAKE LOU GEHRIG'S FAREWELL
The 2008 Jimmy V Classic is tomorrow night at "The World's Most Famous Arena." (Do you ever wonder if that title offends people who work at The Bradley Center and stuff?) Jimmy Valvano is famous for being involved in two iconic visual moments: running around looking for someone to hug after the 1983 NCAA Final was done and this speech ("Don't ever give up") at the 1993 ESPYs. To nod to Jimmy V the day before Texas, Villanova, West Virginia and Davidson lock it up at "The Mecca," we're going to attempt to rank the greatest sporting-context speeches ever. Some are real and some will be from movies. For an exhaustive list of these (with clips!), go here.
Read More
---

editor.espnmag@gmail.com
Billing or subscription issues? Call 888-267-3684. Go here for change of address.