How to build a program in two short years.
Bill Curry's quest to bring Georgia State football to life.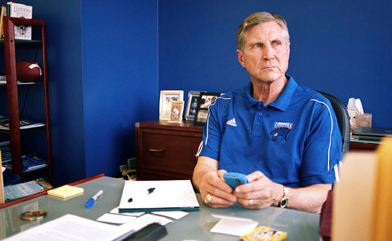 Imke Lass
The Magazine will follow head coach Bill Curry as he invents Georgia State football. The Panthers will play their first regular-season game in September 2010. We'll keep you updated on their progress right here. Should be noted: since this is a video series, each of the links below contains a video. Enjoy!
---
Building a Program: Episode 5
This article appears in the September 7 issue of ESPN The Magazine.
It's always been about the grunt work. Folding socks. Washing jerseys. Tightening helmet screws. Sewing. Getting blocking sleds to the field. This isn't high-profile stuff. But don't confuse profile with importance: For this nascent program -- created from scratch in April 2008 and not set to play its first game until next August -- Jay Bailey has been crucial. "Equipment managers are like top military noncommissioned officers," coach Bill Curry says. "They end up knowing more about the team than the coaches do."
On a June day in his bare office at GSU's temporary football headquarters, Bailey sets down his iPhone and sighs. The school's first-ever equipment manager just got off a call with an Adidas rep, who said the company might not have shoes ready for the first team practice, this month. Turns out, every other school placed its shoe order last November. The start-up Panthers didn't hire Bailey until May. He put in a rush order. And is praying it comes early.
Read More
---

Bill Curry's Building a Program: Episode Four
What's it like to start a college football program from scratch? Very difficult. It's even harder to do it in Georgia, where football is law. That doesn't deter former Kentucky head coach Bill Curry who's taken the project head on at Georgia State University. We'll be following Coach Curry over the course of his program's development (their first full season is 2010). In this episode we meet the offensive and defensive coordinators and ask them to explain Georgia State's philosophy for the next couple of years—after they play tic-tac-toe, of course. You can also read the written feature on the two coaches in the June 1st issue of ESPN The Magazine here.
Read More
---

Bill Curry's Building a Program: Episode Three
What's it like to start a college football program from scratch? Very difficult. It's even harder to do it in Georgia, where football is law. That doesn't deter former Kentucky head coach Bill Curry who's taken the project head on at Georgia State University. We'll be following Coach Curry over the course of his program's development (their first full season is 2010). In this episode they sign their first official recruiting class. The coaches pace around anxiously until their first recruit faxes his letter of intent in: a punter! To read more about this Georgia State's signing day click here.
Read More
---

Bill Curry's Building a Program: Episode Two
Justin Heckert has been following the start-up football program at Georgia State since August. You can read his piece on GSU's first recruiting class here (

). The video embedded here is part of a recurring video series (with text) that you can access here. We were glued to the fax machine. It was February 4th and we were huddled next to it, seated in a semi-circle, like we were waiting for marshmallows to blacken over a campfire. It was National Signing Day and we were there from seven in the morning until nearly four in the afternoon in the hallway of the Georgia State University football offices. And we really didn't move. It was a compulsory situation, because the faxes that might come through were the most important things in the world.
Read More
---

---

Building a program: The Trailer
Veteran coach Bill Curry is in the process of building a football program at Georgia State, and The Mag will be there chronicling every step along the way. Now, we present a teaser trailer of what's to come of the first year of coach Curry's program. You can check out all of the continuing Mag coverage right here, and be sure to check back soon for more video updates.
Read More
---

Is launching Georgia State football worth the time, effort and expense? (11/3/08)
This is the second installment of a two-year project in which ESPN The Magazine will follow head coach Bill Curry as he invents Georgia State football. Check here for further dispatches from GSU. It's Sept. 30, and head coach Bill Curry and six members of his staff are meeting in a conference room at the Georgia State football office. Outside in the waiting room, a digital clock as large and flat as a plasma TV ticks down the days (703), hours (six), minutes (seven) and seconds (23, 22, 21 … ) until the first Panthers team takes the Georgia Dome field. Inside, Curry is told that more than 200 season tickets have already been sold at $100 a seat; there's a debate over prospective recruits whose names crowd a dry-erase board; and there's anticipation as the group awaits a graphic designer to pitch logos for uniforms and apparel that may someday outsell those "Georgia State Football—Still Undefeated" T-shirts at the student bookstore. GSU, a commuter school that its leaders would rather not call a commuter school anymore, began this football program partly to keep students on campus, partly to tap alumni donations, partly to expand its campus and, perhaps mostly, to be perceived as more relevant. "In the substantive regions of education, leadership, research and instruction, the presence of a football program does not make a school more relevant, or better at all," Curry says. "But in a media-driven culture that thrives on celebrity, that thrives on recognition, that literally derives its sustenance from a public presence, then football is incredibly important, especially in this part of the country." Maybe so, but that alone doesn't pay the bills. Georgia State football has a $1.25 million budget, which will rise to $3 million a year by the first kickoff, in 2010. In a 2006 football feasibility study, GSU not only asked students if they'd be willing to pay extra every semester but also inquired how many of them went down the street to Georgia Tech games or over to Athens to experience the thrum of Georgia's football atmosphere. If GSU had a team, how many would be willing to come? "So many answered, 'Yes, I would come—because it would be my team,' " says Mary McElroy, athletic director at GSU. "It has been said that, yes, football would make us more relevant—that it'll put us on the map." "I was skeptical," says senior Elijah Sarkesian, editor of the university's student newspaper, the Signal. "A lot of students weren't happy with that $85 increase. But just looking at the excitement that's been going on around campus, even in two months, and realizing how much the football team will increase our stature, I've decided it makes my degree more impressive. It might not have any initial impact, but I'm looking at down the road, five, 10, 20 years." Thirteen years ago, South Florida started a football program from scratch too and held its first team meeting under a tree. Now the Bulls are a top-20 team. "Football is exposure for a university," says USF president Judy Genshaft. "It gives you a national presence. A football program is a front porch to the university. It opens up conversation so that I can start to tell you about the university, the resources and assets that it has." In mid-August, before the digits began to click on the countdown clock, Curry was the guest speaker at the GSU freshman convocation. Wearing a robe and cap, he put on a pair of sunglasses to try to get his young audience's attention. "You're going to have a very rich experience at this marvelous institution," he said. "I'm very thrilled to be a freshman with you. And, we're going to have a football team." The gym erupted.
Read More
---
---